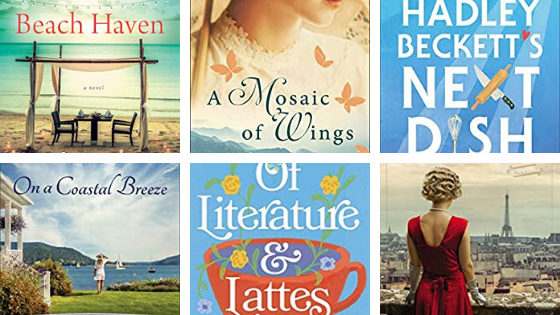 Below is a list of Christian novels releasing April and May of this year. Some authors I have read and loved, others I have yet to get acquainted with. Whether these authors are new-to-you or beloved friends, I hope you can find a new favorite book among this list.
---
The House at the End of the Moor
Michelle Griep
Releases April 1st
What Can a London Opera Star and an Escaped Dartmoor Prisoner Have in Common?

Opera star Maggie Lee escapes her opulent lifestyle when threatened by a powerful politician who aims to ruin her life. She runs off to the wilds of the moors to live in anonymity. All that changes the day she discovers a half-dead man near her house. Escaped convict Oliver Ward is on the run to prove his innocence, until he gets hurt and is taken in by Maggie. He discovers some jewels in her possession—the very same jewels that got him convicted. Together they hatch a plan to return the jewels, clearing Oliver's name and hopefully maintaining Maggie's anonymity.
Happy Valley
Lin Stepp
Releases April 2nd
With Grandpa suffering a heart attack, Juliette Hollander saw little choice but to head back to their Tennessee mountain farm in Happy Valley to help out. She didn't expect, or want, to leave behind her life and work in North Carolina to return to her grandparents' home so soon. Nor did she imagine meeting, and working with, the mysterious man she met briefly last summer and never thought to see again.
Walker Logan spent the last two years traveling the United States, seeing the beauty of the country and running from his past. But an old rock house he sees while hiking near Abrams Creek Campground unexpectedly calls to his soul. With danger close behind, he never stayed in one place long enough to put down roots. Yet now, with a new vision, he decides to take the risk.
Flight Risk
Cara C. Putnam
Releases April 7th
Savannah Daniels has worked hard to build her law practice, to surround herself with good friends, and to be the loyal aunt her troubled niece can always count on. But since her ex-husband's betrayal, she has trouble trusting anyone.
Jett Glover's father committed suicide over a false newspaper report that ruined his reputation. Now a fierce champion of truth, Jett is writing the story of his journalism career—an international sex-trafficking exposé that will bring down a celebrity baseball player and the men closest to him, including Savannah's ex-husband.
When Jett's story breaks, tragedy ensues. Then a commercial airline crashes, and one of Savannah's clients is implicated in the crash. Men connected to the scandal, including her ex, begin to die amid mysterious circumstances, and Savannah's niece becomes an unwitting target.
Against their better instincts, Jett and Savannah join ranks to sort the facts from fiction. But can Savannah trust the reporter who threw her life into chaos? And can Jett face the possibility that he's made the biggest mistake of his life?
Beach Haven (The Carolina Coast Series Book 1)
T.I. Lowe
Releases April 7th
Free-spirited Opal Gilbert seems to have everything she needs to keep living a happy life in Sunset Cove as she refurbishes vintage furniture to sell at her funky ocean-side boutique, Bless This Mess. Until Lincoln Cole, a new-to-town ex-Marine nursing deep wounds and harboring hurts he can't seem to shake, wanders into her shop. Opal knows a person in need when she sees one and offers Lincoln a job in her workshop. But the brooding former soldier has no interest in Opal's offer. Thanks but no thanks.
But then a hurricane strikes, damaging Bless This Mess. Feeling guilty for how he treated Opal, Lincoln decides to help her repair the store. And soon it becomes clear Opal wants to restore not only her business, but also help Lincoln find restoration. As much as Lincoln tries to keep her at arm's length, Opal's well-meaning meddling begins to heal his wounds . . . and capture his heart almost before he realizes it.
Clik here to read my 5-Star review of T.I. Lowe's novel
Lulu's Cafe
The Socialite
J'Nell Ciesielski
Releases April 14th
Glamour, treachery, and espionage collide when an English socialite rushes to save her sister from the Nazis.
As the daughter of Sir Alfred Whitford, Kat has a certain set of responsibilities. But chasing her wayward sister, Ellie, to Nazi-occupied Paris was never supposed to be one of them. Now accustomed to the luxurious lifestyle that her Nazi boyfriend provides, Ellie has no intention of going back to the shackled life their parents dictate for them—but Kat will stop at nothing to bring her sister home.
Arrested for simply trying to defend himself against a drunken bully, Barrett Anderson is given the option of going to jail or serving out his sentence by training Resistance fighters in Paris. A bar owner serves as the perfect disguise to entertain Nazis at night while training fighters right below their jackboots during the day. Being assigned to watch over two English debutantes is the last thing he needs, but a payout from their father is too tempting to resist. Can Barrett and Kat trust each other long enough to survive, or will their hearts prove more traitorous than the dangers waiting around the corner?
Mortal Sight (The Colliding Line Book 1)
Sandra Fernandez Rhoads
Releases April 14th
When Worlds Collide, Shadow Wrestles Light
Seventeen-year-old Cera Marlowe wants a normal life; one where she and her mom can stop skipping town every time a disturbing vision strikes. But when a girl she knows is murdered by a monster she can't explain, Cera's world turns upside down.
Suddenly thrown into an ancient supernatural battle, Cera discovers she's not alone in her gifting and vows to use her visions to save lives. But why does John Milton's poem Paradise Lost keep interrupting her thoughts?
In a race against time and a war against unearthly creatures, will decoding messages embedded in the works of classic literature be enough to stop the bloodshed and protect those she loves?
The Chisholm Bride
Kathleen Y'Barbo
Releases April 14th
Stubborn Hearts Clash on a Cattle DriveEliza Gentry's pursuit of marriage to the son of her family's sworn enemy has cost her greatly. Furious at his daughter's choices, her father sends her off with the cattle drive heading toward Fort Worth and the Barnhart ranch, but under the watchful eye of Wyatt Creed, a Pinkerton man he has hired to see to her safety. With danger at every turn—not the least of which to his heart—can Wyatt Creed keep his focus with Eliza Gentry around? Is the Chisholm Trail a place for falling in love or a place to die at the hands of cattle thieves?
The Lost Lieutenant (Serendipity & Secrets Book 1)
Erica Vetsch
Releases April 21st
He's doing what he can to save the Prince Regent's life . . . but can he save his new marriage as well?
Evan Eldridge never meant to be a war hero–he just wanted to fight Napoleon for the future of his country. And he certainly didn't think that saving the life of a peer would mean being made the Earl of Whitelock. But when the life you save is dear to the Prince Regent, things can change in a hurry.
Now Evan has a new title, a manor house in shambles, and a stranger for a bride, all thrust upon him by a grateful ruler. What he doesn't have are all his memories. Traumatized as a result of his wounds and bravery on the battlefield, Evan knows there's something he can't quite remember. It's important, dangerous–and if he doesn't recall it in time, will jeopardize not only his marriage but someone's very life.
Readers who enjoy Julie Klassen, Carolyn Miller, and Kristi Ann Hunter will love diving into this brand-new Regency series filled with suspense, aristocratic struggles, and a firm foundation of faith.
Stay with Me (Misty River Romance Book 1)
Becky Wade
Releases May 5th
A mysterious letter alluding to a secret in her parents' past brings Genevieve Woodward back to her Blue Ridge Mountains hometown, but she's also in need of a break from a high-profile career that has left her dangerously burned out and concealing a powerful secret of her own. When she wakes inside an unfamiliar cottage to find the confused owner staring down at her, she can no longer ignore the fact that she needs help.
Sam Turner has embraced his sorrow and his identity as an outsider. The solitary, disciplined life he lives on his historic farm is the life he's chosen for himself. The last thing he wants is to rent his cottage to a woman as troubled as she is talkative. Yet, he can't force himself to turn her away right when she needs him most. 
As Genevieve researches her family's history and her and Sam's emotions deepen, they will have to let go of the facades and loneliness they've clung to and allow light to illuminate every hidden truth.  
Hadley Beckett's Next Dish
Bethany Turner
Releases May 5th
Celebrity chef Maxwell Cavanagh is known for many things: his multiple Michelin stars, his top-rated Culinary Channel show To the Max, and most of all his horrible temper. Hadley Beckett, host of the Culinary Channel's other top-rated show, At Home with Hadley, is beloved for her Southern charm and for making her viewers feel like family.
When Max experiences a very public temper tantrum, he's sent packing to get his life in order. When he returns, career in shambles, his only chance to get back on TV and in the public's good graces is to work alongside Hadley.
As these polar-opposite celeb chefs begin to peel away the layers of public persona and reputation, they will not only discover the key ingredients for getting along, but also learn the secret recipe for unexpected forgiveness . . . and maybe even love. In the meantime, hide the knives.
Fan-favorite Bethany Turner serves up a heaping helping of humor and romance with this thoroughly modern story centered on cooking, enemies, and second chances.
Click here to read my 5-Star review of Bethany Turner's novel
Wooing Cadie McCaffrey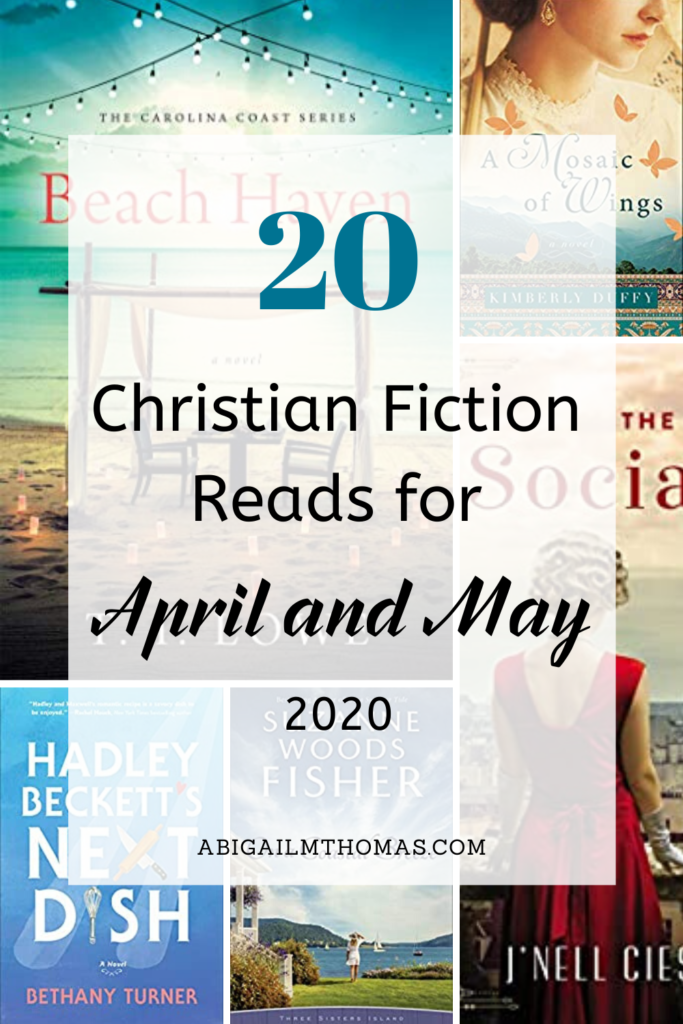 Someone Like You
Karen Kingsbury
Releases May 5th
One frozen embryo. Two families with life-long secrets. And a guy who never planned to fall in love again.

Maddie Baxter West is shaken to the core when she finds out everything she believed about her life was a lie. Her parents had always planned to tell her the truth about her past: that she was adopted as an embryo. But somehow the right moment never happened. Then a total stranger confronts Maddie with the truth and tells her something else that rocks her world—Maddie had a sister she never knew about. Betrayed, angry, and confused, Maddie leaves her new job and fiancé, rejects her family's requests for forgiveness, and moves to Portland to find out who she really is.

Dawson Gage's life was destroyed when London Quinn, his best friend and the only girl he ever loved, is killed. In the hospital waiting room, London's mother reveals that London might have had a sibling. The frozen embryo she and her husband donated decades ago. When Dawson finds Maddie and brings her to Portland, the Quinns—her biological parents—welcome her into their lives and hearts. Maddie is comforted by the Quinns' love and intrigued by their memories of London, who was so much like her. Is this the family and the life she was really meant to have?

Now it will take the love of Dawson Gage to help Maddie know who she is…and to help her find her way home.
This Wandering Heart (Madison River Romance Book #1)
Janine Rosche
Releases May 5th
In the first entry in the Madison River Romance series, Keira Knudsen gets the traveling opportunity of a lifetime, but when she reunites with her first love, Robbie, she learns that even a wandering heart needs a home….
No one in the quaint town of West Yellowstone, Montana knows that unassuming geography teacher Keira Knudsen moonlights as sensational travel blogger Kat Wanderfull. No one, that is, except for her first love, Robbie Matthews, who has just discovered the woman he is falling for online is the same one that broke his heart five years ago.
But Robbie has another problem: the mother of his daughter, Anabelle, has resurfaced after a three-year absence determined to rip Anabelle away from him. Robbie needs a steady paycheck for a chance at custody, and now, on the eve of a grand adventure that could give Keira a chance to flee her old, troubled life once and for all, she is in need of assistance.
With so much broken trust between them, Keira and Robbie must keep an arms-length away to make this partnership work. But the more time they spend together, exploring majestic places and sharing new experiences, the closer they get–until their secrets and dreams threaten to cost them everything.
The Water Keeper
Charles Martin
Releases May 5th
Murphy Shepherd is a man with many secrets. He lives alone on an island, tending the grounds for a church with no parishioners, and he's dedicated his life to rescuing those in peril. But as he mourns the loss of his mentor and friend, Murph himself may be more lost than he realizes.
When he pulls a beautiful woman named Summer out of Florida's Intracoastal Waterway, Murph's mission to lay his mentor to rest at the end of the world takes a dangerous turn. Drawn to Summer, and desperate to find her missing daughter, Murph is pulled deeper and deeper into the dark and dangerous world of modern-day slavery.
With help from some unexpected new friends, including a faithful Labrador he plucks from the ocean and an ex-convict named Clay, Murph must race against the clock to locate the girl before he is consumed by the secrets of his past—and the ghosts who tried to bury them.
With Charles Martin's trademark lyricism and poignant prose, The Water Keeper is at once a tender love story and a heartrending search for freedom.
A Mosaic of Wings
Kimberly Duffy
Releases May 5th
It's 1885, and all Nora Shipley wants, now that she's graduating from Cornell University as valedictorian of the entomology program, is to follow in her late father's footsteps by getting her master's degree and taking over the scientific journal he started. The only way to uphold her father's legacy is to win a scholarship, so she joins a research expedition in Kodaikanal, India, to prove herself in the field.
India isn't what she expects, though, and neither is the rival classmate who accompanies her, Owen Epps. As her preconceptions of India–and of Owen–fall away, she finds both far more captivating than she expected. Forced by the expedition leader to stay at camp and illustrate exotic butterflies the men of the team find without her, Nora befriends Sita, a young Indian girl who has been dedicated to a goddess against her will.
In this spellbinding new land, Nora is soon faced with impossible choices–between saving Sita and saving her career, and between what she's always thought she wanted and the man she's come to love.
Unyielding Hope (When Hope Calls Book 1)
Janette Oke
Releases May 5th
As a young girl, Lillian Walsh lost both her parents and a younger sister. Now in her twenties, after enduring the death of her adoptive mother, Lillian must find her place in the world. Just as her adoptive father is leaving for an extended trip to his native Wales, a lawyer appears at the door to inform Lillian that she has inherited a small estate from her birth parents–and that the sister she had long believed dead is likely alive.
When she discovers that her sister, Grace, is living in a city not far away, Lillian rushes to a reunion, fearful that the years of separation will make it hard to reconnect.
When the two sisters meet, Grace is not at all what Lillian expected to find. Though her circumstances have been difficult, Grace has big dreams. Can Lillian set aside her own plans to join her sister in an adventure that will surely change them both?
On a Coastal Breeze (Three Sisters Island Book 2)
Suzanne Woods Fisher
Releases May 5th
For Madison Grayson, life is good. Newly licensed as a marriage and family therapist, she can't wait to start her practice. Despite the unfortunate shortage of eligible bachelors on the island–they're all too young, too old, or too weird–Maddie feels like she's finally found her sweet spot. Not even one panic attack in the last year. Not one.
And then Ricky O'Shea drops in. Literally. Floating down from the pure blue sky, the one man in the world she hoped never to see again–the one who'd been her archnemesis from kindergarten through her senior dance–parachutes into town, landing on Boon Dock, canopy draping behind him like a superhero. Ricky O'Shea. Now Pastor Rick, the new minister on Three Sisters Island.
Time to panic.
With wit and a bit of whimsy, bestselling author Suzanne Woods Fisher invites you back to Three Sisters Island where family, forgiveness, and a second chance at love await.
Click here to read my 5-star review of book 1 in the Three Sisters Island series On a Summer Tide
Of Literature and Lattes
Katherine Reay
Releases May 12th
After fleeing her hometown three years earlier, Alyssa Harrison never planned to return. Then the Silicon Valley start-up she worked for collapsed and turned her world upside down. She is broke, under FBI investigation, and without a place to go. Having exhausted every option, she comes home to Winsome, Illinois, to regroup then move on as quickly as possible. Yet, as friends and family welcome her back, Alyssa begins to see a place for herself in this small Midwestern community.
Jeremy Mitchell moved from Seattle to Winsome to be near his daughter and to open the coffee shop he's been dreaming of for years. Problem is, the business is bleeding money—and he's not quite sure why. When he meets Alyssa, he senses an immediate connection, but what he needs most is someone to help him save his floundering business. After asking for her help, he wonders if something might grow between them—but forces beyond their control soon complicate their already complex lives, and the future they both hoped for is not at all what they anticipated.
With the help of Winsome's small-town charm and quirky residents, Alyssa and Jeremy discover the beauty and romance of second chances.
Click here to read my review of Katherine Reay's novel
The Printed Letter Bookshop
Unveiling the Past
Kim Vogel Sawyer
Releases May 12th
Mysteries, family secrets, and the love of a true Father are found at the heart of this gripping novel from the bestselling author of Bringing Maggie Home
Newlyweds Sean Eagle and Meghan DeFord are no strangers to pain and loss. As cold-case detectives, they know intimately the anguish family members endure after the murder or disappearance of a loved one. But when a new case hits too close to home, it threatens to pull loose the fragile cords of their young marriage.

Sheila Menke was just a girl when her father left for work and never returned. An investigation revealed he had embezzled enough to start a new life elsewhere, but Sheila could never accept the court's criminalization of her father. Meghan reluctantly takes the case, secretly fearing it will stir up buried feelings about her own biological father. And while Sean investigates the mysterious death of two young brothers, he longs to start a family. But Meghan worries that with a negligent mother and an absentee father as her parenting examples, she might never be fit for motherhood.

As they delve deeper into the past, both Meghan and Sheila must choose to either stumble along the road of bitterness and resentment or walk the difficult path toward forgiveness and healing. When the cases begin to break wide open, these young women are poised to discover that while earthly fathers may fail, there is one in heaven who is a father to the fatherless.
Carolina Breeze (Bluebell Inn Romance Book 2)
Denise Hunter
Releases May 19th
A jilted bride. A struggling innkeeper. And a romantic mountain getaway that changes everything.
Rising Hollywood star Mia Emerson is looking for a safe place to land in the wake of a public breakup and scandal, and she finds it in the lake town of Bluebell, North Carolina—the location of her canceled honeymoon. She wants nothing more than to hide and wait for the tabloids to die down.
Soon after her arrival at the Bluebell Inn, Mia meets Levi Bennett, who runs the inn along with his two younger sisters. Drawn to one another from the start, Mia trusts Levi to keep her location from the press, and Levi confides in Mia about the financial state of the inn—a secret he's been keeping from his sisters.
When Mia and Levi discover an old journal that hints at a rare diamond necklace hidden in the inn, they set off on a treasure hunt to find the long-lost heirloom. What they don't expect to surface are feelings they thought were safely locked away. Mia and Levi must decide if falling in love again is too big a risk—or if it will uncover a treasure of its own instead.
This Bluebell Inn romance takes us to a quiet North Carolina retreat that holds more secrets than it shares.
Masquerade at Middlecrest Abbey
Abigail Wilson
Releases May 26th
In this new Regency romance, Elizabeth knows she must protect her heart from the charm of her new husband, Lord Torrington. She is not, however, prepared to protect her life.
When the widowed Lord Torrington agreed to spy for the crown, he never planned to impersonate a highwayman, let alone rob the wrong carriage. Stranded on the road with an unconscious young woman, he is forced to propose marriage to protect his identity and her reputation, as well as his dangerous mission.
Trapped not only by her duty to her country but also by her limited options as an unwed mother, Miss Elizabeth Cantrell and her infant son are whisked away to Middlecrest Abbey by none other than the elder brother of her son's absent father. There she is met by Torrington's beautiful grown daughters, a vicious murderer, and an urgent hunt for the missing intelligence that could turn the war with France. Meanwhile she must convince everyone that her marriage is a genuine love match if her new husband has any hope of uncovering the enemy.
Determined to keep her son's true identity a secret, Elizabeth will need to remain one step ahead of her fragile heart, her uncertain future, and the relentless fiend bent on her new family's ruin.
---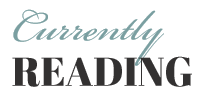 Disclosure: As an Amazon Associate, I do earn a very small commission from qualifying purchases.