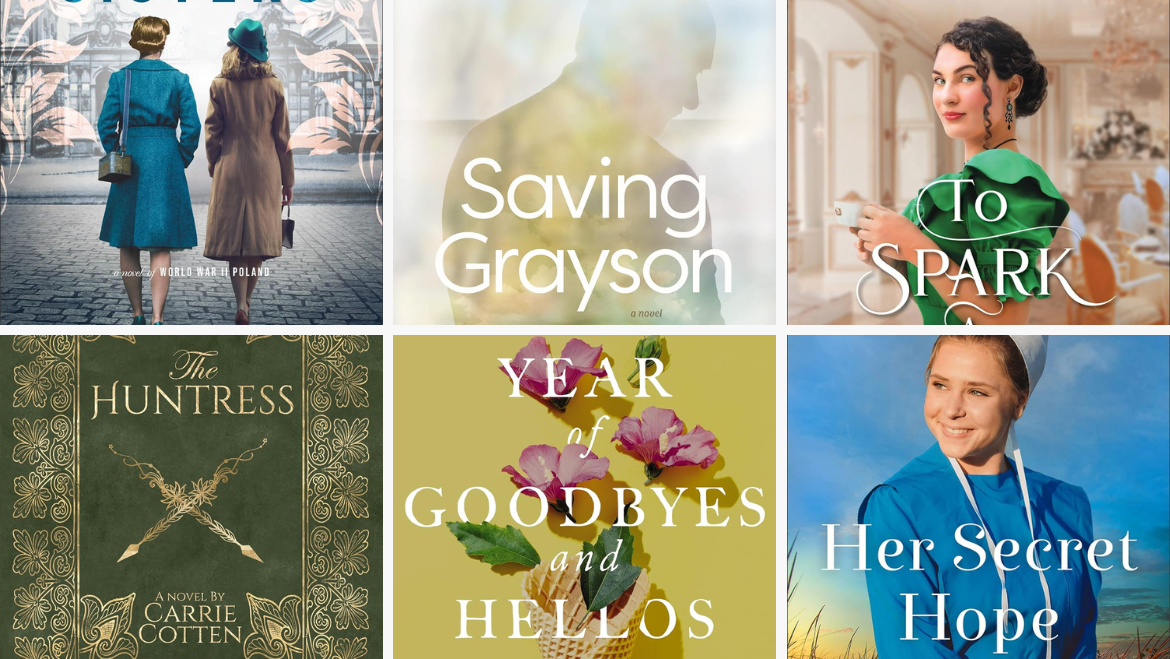 Okay, does anyone else know where this year went? October is almost over, and my brain is still at the beginning of the month! There is no way the last two months of the year start next week. But the reality is just that, so it's the perfect time to check out upcoming Christian fiction releases!
I'm super excited for The Huntress by Carrie Cotten, let me just tell you. I "met" (online) Carrie when she was getting ready to publish her very first book, Dreamwalker, and I have been in love with her writing since. This new novel is amazing, I'm not gonna lie. And I just had to order it in the hardcover because…well…just look at that cover!
Oh, and To Spark a Match by Jen Turano? As soon as I finished listening to the first book in The Matchmakers series (A Match in the Making), I purchased the paperback and preordered book 2.
Honestly, there are so many books on here that look interesting. Whatever book you find for yourself, be sure to leave some love with a review! Preordering also helps the author by boosting up their ratings. And share, share, share!
---
November Books
Knowing You (Pictures of the Heart #3)
Tracie Peterson
Releases November 7th
Could a captivating art exhibit hold the key to truth–and love?

Budding artist May Parker is captivated by the Japanese exhibits at the Alaska-Yukon-Pacific Exposition and longs to know more about her mother's heritage–which her mother refuses to speak of because of the heartache she left behind in Japan. Wanting to experience more of the exhibits, May works as a Camera Girl–but her curiosity leads her into danger when a suit of samurai armor becomes the target of an elusive art forger.

After ten years apart, May is reunited with her childhood friend Lee Munro, a police detective assigned to keep a watchful eye on the exposition. Their friendship immediately begins to blossom with hints of something more, but when they become entangled in a dangerous heist involving the samurai armor and their love is threatened, can they overcome the odds against them?
Releases November 7th
Jemmah has always thought of herself as perfectly ordinary . . . until she faces extraordinary circumstances.

When her mother, the Persian king's famous senior scribe, is kidnapped, Jemmah and her sister must sneak undetected into enemy territory to rescue her. But infiltrating their adversary's lands proves easier than escaping them. Fleeing through dangerous mountain passes, their survival depends on the skills of a stranger they free from prison: a mysterious prince named Asher.

Asher is not who the world believes he is. Despite his royal blood, he has had to climb his way out of poverty to forge success from nothing. A manufacturer of some of the best weaponry in the East, Asher has only one goal: to destroy his father. But following his escape from prison, Asher is irresistibly drawn to Jemmah, unaware that she guards her own secret.

Jemmah must convince Asher to give up everything he has worked for, all for the sake of a higher purpose he's not sure he believes in. The fate of the Persian empire―and possibly the Judean people―hang in the balance and in the persuasive power of one ordinary woman.
The Warsaw Sisters: A Novel of WWII Poland
Amanda Barratt
Releases November 7th
On a golden August morning in 1939, sisters Antonina and Helena Dąbrowska send their father off to defend Poland against the looming threat of German invasion. The next day, the first bombs fall on Warsaw, decimating their beloved city and shattering the world of their youth.

When Antonina's beloved Marek is forced behind ghetto walls along with the rest of Warsaw's Jewish population, Antonina turns her worry into action and becomes a key figure in a daring network of women risking their lives to shelter Jewish children. Helena finds herself drawn into the ranks of Poland's secret army, joining the fight to free her homeland from occupation. But the secrets both are forced to keep threaten to tear the sisters apart–and the cost of resistance proves greater than either ever imagined.

Shining a light on the oft-forgotten history of Poland during WWII and inspired by true stories of ordinary individuals who fought to preserve freedom and humanity in the darkest of times, The Warsaw Sisters is a richly rendered portrait of courage, sacrifice, and the resilience of our deepest ties.
Releases November 7th
From master storyteller Angela Hunt, a powerful story of a family's journey toward healing and hope after an unimaginable loss.

Seventeen-year-old Maddie is left reeling after the unexpected passing of her beloved father. No one has any idea why he betrayed them all so spectacularly, but that's exactly what his death feels like: a betrayal. With their world shattered, Maddie's grieving mother sends her to spend a few months with her grandparents, thinking a change of scenery will do her good.

Susan and Frank, Maddie's grandparents, are heartbroken over the loss of their son, but they welcome Maddie as an addition to their long-empty nest. Maddie settles in and makes friends at her new school, but she still wrestles with why her father took his own life. Then an unexpected twist throws all their lives into fresh turmoil, testing the very fabric of their faith. How Susan helps her granddaughter find hope, even as they both struggle with grief, makes this touching tale of love and recovery a must-read.
Releases November 7th
Sometimes secrets just won't stay hidden . . .
Now from USA Today bestselling author and Christy Award Hall of Fame inductee Tamera Alexander comes the story of two women from different centuries living in the same house who share strikingly similar journeys.

Claire Powell's life is turned upside down when her beloved husband admits to a "near affair." But when Stephen accepts a partnership with an Atlanta law firm without consulting her and buys a historic Southern home sight-unseen―it pushes their already-fractured marriage to the breaking point. Claire's world spirals, and she soon finds herself in a marriage she no longer wants, in a house she never asked for.

In 1863, Charlotte Thursmann, pregnant and trapped in a marriage to an abusive husband, struggles to protect her unborn child and the enslaved members of her household. Desperate, she's determined to right the evils her husband and others like him commit. But how can one woman put an end to such injustice? Especially if her husband makes good on his threat to kill her?

Both Claire and Charlotte discover truths about themselves they never realized, along with secrets long hidden that hold the power to bring God's restoration―if only they choose to let it.
Releases November 7th
An inspiring fiction story from the bestselling author of War Room

Grayson Hayes doesn't remember things as well as he used to, but he's sure his time is running out. Diagnosed with early-onset Alzheimer's, he realizes he has a small window of time left to right a terrible injustice―he just can't remember what it is.

Convinced of the importance of his mission, he embarks on a journey to the small West Virginia town of his childhood hoping he can put together the fractured pieces of his memory and set things right. But as the past becomes more clear, he wonders if God forgives the sins he can't remember.

A thought-provoking story with challenging themes, this book deals with issues like
what it's like to care for a loved one with memory loss,
how to live when you feel like you're losing yourself,
what it is that gives value to a human life, and
the eternal power of forgiveness and second chances.
Saving Grayson is a wrenching yet hopeful story of a journey to right unknown wrongs and of holding on to what you know even when it feels like everything is slipping away.
Her Secret Hope (A Season in Pinecraft #3)
Shelly Shepard Gray
Releases November 7th
Almost two years after Lilly Kurtz first traveled to Pinecraft, Florida, with friends, she's decided to make a fresh start there. She's ready to be new-and-improved Lilly, a Lilly without a past, a Lilly with no secrets. At first, everything goes well. She gets a job, her coworkers feel like family, and she enjoys reconnecting with her friends. But it turns out the past is reluctant to be left behind.

When Lilly meets hardworking farmer Eddie Byler, she can't get him off of her mind. But then she discovers that Eddie actually lives just a few miles from her hometown in Ohio. Lilly knows that he's not going to like it when he finds out what secrets she's been running from. And she knows she could never follow the man she's falling in love with back to a place where she's never felt accepted.

Will Lilly have to give up on love in order to find peace? Or could it be that love is actually the solution to all of her problems?
To Spark a Match (The Matchmakers #2)
Jen Turano
Releases November 14th
After five unsuccessful Seasons on the marriage mart, Miss Adelaide Duveen has resigned herself to the notion that she's destined to remain a spinster forever–a rather dismal prospect, but one that will allow her to concentrate on her darling cats and books. However, when she inadvertently stumbles upon Mr. Gideon Abbott engaged in a clandestine activity during a dinner party, Adelaide finds herself thrust into a world of intrigue that resembles the plots in the spy novels she devours.

Former intelligence agent Gideon Abbott feels responsible for Adelaide after society threatens to banish her because of the distraction she caused to save his investigation. Hoping to return the favor, he turns to a good friend–and one of high society's leaders–to take Adelaide in hand and turn her fashionable. When danger surrounds them and Adelaide finds herself a target of the criminals in Gideon's case, the spark of love between them threatens to be quenched for good–along with their lives.
Releases November 20th
Betrayed by their allies, the last of the Picts have escaped to the innermost part of an endless, dark forest, content to remain hidden there forever. Made queen at just a child, Cyrene has given all of her life and heart to the task of making sure her people are never terrorized again.

When a handsome stranger from the kingdom that betrayed them falls injured at the boundary of her village, she's forced to choose between mercy and duty.

The second son of a ruling monarch, Duncan would never be considered for the throne, neither did he wish to be. But when a plague sweeps through the land, he is the only one of royal blood left standing. Returning to the tower that holds too many dark memories, the truth of his father's tangled reign begins to unravel and Duncan is once again forced into a role he never wanted.
Rocky Mountain Promise (Sisters of the Rockies #2)
Misty M. Beller
Releases November 21st

Lorelei Collins possesses a soft heart for any animal in need, so when she finds a buffalo calf bawling beside its lifeless mother, she can't help but bring it home to raise on the ranch she and her sisters are building in the Rocky Mountain wilderness. Little does she realize that its white coloring is rare and considered sacred by Native Americans, which makes it highly valuable to them and European trappers alike. Men soon begin to visit their ranch to regard the marvel, with some trying to woo Lorelei into marriage and others trying to steal the calf outright.

When the men's advances become more sinister, Lorelei approaches Tanner Mason, the quiet and mysterious owner of the new trading post, with an idea: she and the calf will move to his post, along with her family's trusted Blackfoot friend. This will solve both their problems by bringing customers to his trade room and protecting her family from the trouble brought on by so many strangers. Yet as the danger travels with her, Lorelei and Tanner are faced with a threat greater than anything they're prepared for–one that will test the limits of their abilities and the love growing between them.
This Passing Hour (Amish Memories #2)
Leslie Gould
Releases November 28th
After the death of her parents, Mennonite Brenna Zimmerman relocates to the Lancaster County farm of her Old Order Amish grandparents. There, she befriends Rylan Sanders, a disabled veteran, and commits to rising above her own grief to help him as much as she can. But when things take a turn for the worse, Brenna finds herself at a loss for what to do.

As Brenna struggles, her Mennonite friend Johann Mazur, a soldier in the Ukrainian Army, encourages her to distance herself from Rylan. But when she discovers that Rylan's army buddies are withholding secrets that could help with his psychological healing, Brenna is torn between her feelings for Johann and her commitment to help Rylan.

Inspired by the story of her distant relative who served with the Red Cross and supervised German POWs during World War II, Brenna considers her own future and must decide whether she has the courage to give up the comforts she craves for the life she truly wants.
December Books
Ruth's Ginger Surprise (Heart of the Amish)
Anne Blackburne
Releases December 1st
Ruth Defies Authority to Hold on to her Family Farm
Full of faith, hope, and romance, this new series takes you into the Heart of Amish country.

Ruth Helmuth has never been rude in her life; trust her to choose the bishop of her Amish community for her first time!

Ruth has worked hard to keep body and soul together since her husband, Levi's, death. She tends her herd of goats, making her living from the milk and fiber she gets from them, all while running a farm and household by herself—and very competently, thank you! How could she imagine the bishop suggesting she should give it all up to another family, who will "make better use of the space"?

Enter widower Jonas Hershberger, owner of a pair of adorable dimples and father of a charming 4-year-old daughter. Jonas is in need of a larger place to house his growing business. Ruth's big red barn may be just the ticket. Little Abigail is in need of a new mother. Ruth might be just the ticket there, too!

Can two independent souls learn to work together for their mutual good? And will they be willing to explore what grows between them? Or will Ruth's fear over her "big secret" and Jonas's caution about allowing someone new to get close to his young daughter, kill their love before it has a chance to grow?

Luckily for both of them, God's plan involves the stubborn pair getting a little help in the form of a wise, elderly friend; a quirky orange kitten; and a smart little girl who takes one look at Ruth and decides she would make her the perfect new mother!
The Juliet Code (Freddie and Grace Mystery #3)
Pepper Basham
Releases December 1st
Newlyweds Lord and Lady Astley Finally Reach Their Honeymoon Destination Only to Encounter a New Mystery in Need of Solving

Frederick and Grace Percy finally make it to Italy to enjoy a delayed honeymoon and explore the beauties of the historic city of Venice. To their surprise, their friend, Detective Jack Miracle, is also in the city, investigating a series of art heists starting at the house of eccentric millionaire, Laraby Covington. Drawn into a world of boat races, mysterious houses, and parties of the rich and unusual in Venice, Frederick and Grace learn of the existence of the Juliet paintings, (Renaissance paintings feature Shakespeare's tragic heroine) rumored to hold a secret code to an underground vault of similarly treasured artwork assumed lost over the centuries. As Freddie and Grace are pulled deeper into the mystery and their beloved Detective Jack disappears, can they use their wits and work as a team to find the thieves and Jack before it's too late.

The Juliet Code is a Freddie and Grace Mystery, sequel to The Mistletoe Countess and The Cairo Curse.
A Winter by the Sea (On Devonshire Shores #2)
Julie Klassen
Releases December 5th
Royalty comes to Sidmouth, bringing unexpected danger and the sweet possibility of romance. . . .

When the Duke and Duchess of Kent and their daughter–the future Queen Victoria–rent neighboring Woolbrook Cottage for the winter, the Summers sisters are called upon to host three of the royal family's male staff in their seaside house. But they soon realize they've invited secrets and intrigue into their home.

Meanwhile, Emily Summers longs to become an author. A local publisher offers to consider her novel if she will first write a Sidmouth guidebook for him. Emily agrees and begins researching the area with help from the Duke of Kent's handsome private secretary. But a surprise visitor from her past shows up at Sea View, leaving Emily torn between the desires she's long held dear and her budding dreams for the future.

Return to the Devonshire coast with the Summers sisters, where loyalties are tested, secrets come to light, and new love emerges.
The Year of Goodbyes and Hellos
Kelly Irvin
Releases December 5th
Two sisters seek a new balance in work, family, and love when one receives a diagnosis that sets the clock ticking.
Determined to save Sherri's life, Kristen drops everything to guide her sister on the harrowing cancer treatment journey. When she's unable to balance the strain of caring for her patients, being a wife and mother, and her frantic efforts to save her sister, Kristen's carefully balanced life crumbles, starting with her marriage. Desperate to regain her footing, she vows to rebuild her broken relationships . . . as soon as she's sure Sherri will beat the odds stacked against her.
Unlike her sister, Sherri Reynolds has worked to cultivate balance in her life. Her children, her job as a teacher, and her strong faith keep her grounded—until her diagnosis sends her spiraling into the scary world of what-ifs and unknown outcomes. Sherri faces the agonizing realization that family history may be about to repeat itself. With the clock ticking, she's determined to use whatever time she has left to heal old wounds and restore relationships.
Calling on the Matchmaker (A Shanahan Match #1)
Jody Hedlund
Releases December 12th
Haunted by the death of her sister, Finola Shanahan has resolved that she's not worthy of a family of her own and commits to spending her days caring for immigrants in the slums. When Finola sabotages yet another unwanted relationship her parents arranged for her, her father calls upon the local Irish matchmaker, who pairs her with successful wagonmaker Riley Rafferty. Finola quickly realizes her usual tricks won't work on him, however, as she cannot outsmart or outwit the dashing, determined, and daring man.

A candidate in the St. Louis mayoral election, Riley is confident a union with the wealthy Shanahan family will help solidify his chances of winning–and even more assured he and Finola can make a difference together. When a cholera outbreak begins to take St. Louis by storm, they must navigate a burgeoning attraction and growing danger testing all they know about love and sacrifice.