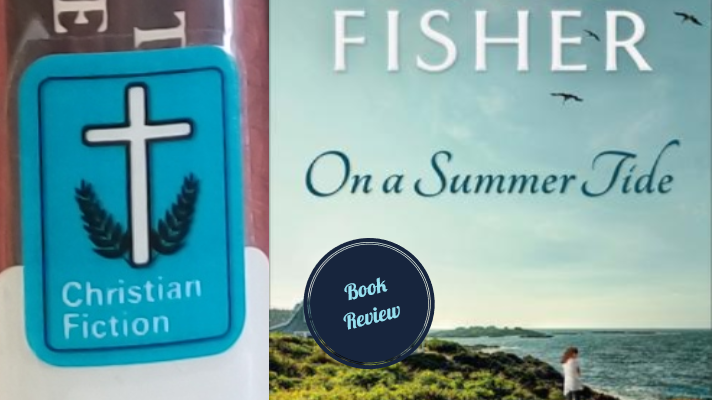 I am thrilled to be a new reviewer for Interviews & Reviews! This opportunity opens up more books for my reading pleasure as long as I review them (which of course I love to do!)
That being said, the first book I reviewed is On a Summer Tide by Suzanne Woods Fisher

---
"See? It grows on you, this big dream. That's the thing about dreams. They're contagious."
This quote is a description of just one of the themes running through Suzanne Woods Fisher's heartwarming story, On a Summer Tide.
Paul Grayson has a big dream that his daughters are having a tough time getting behind. During their struggles, other themes begin to appear, including loss, grief, brokenness, acceptance, and renewal, which weave their way through the story from beginning to the very end. Each Grayson sister, Cam, Maddie, and Blaine, also struggle with their own vision of self, silently comparing themselves against the others. What comes from this is frustration, annoyance, jealousy, but also awe and love.
Not a single member from the Grayson family is untouched by story's end.
Suzanne Woods Fisher has a wonderful way of intertwining the seriousness of hurt and growth with the comedic. Names such as the Never Late Ferry for a ferry with no schedule, and Baggett and Taggett, the local sporting goods shop where Sunday services are held, are only a couple examples of this humor. Even the name of the dock, Boon Dock, brings a sense of humor whether intended or not. Characters such as Paul Grayson and Peg Legg are also used to lighten the mood and bring a little comic relief.
The author also has a way of allowing you into the family, understanding each character a little more through their own eyes and the eyes of others. You are on this journey with them.
I found it very difficult to put this book down, and often times could be found in my room reading when I should have been doing something a little more productive.
By the end of the book, my heart was full. I waited and watched as the characters' feelings began to release themselves from their hiding places, and the decisions made from them. God is in our plans, and this story shows how He works all things for good.
Would I recommend this book? Most definitely.
This book was provided courtesy of Baker Publishing through Interviews & Reviews.
The text above is from the review I posted on Interviews & Reviews, Amazon and Goodreads.
Now for a little more info:
Paul Grayson is a widower with three daughters. His profession, a sports announcer, kept him away too often from his family and he missed out on the Grayson family life. But a bout of laryngitis that never seemed to heal abruptly ended his career.
Paul and his wife Corinna had met one summer while working at Camp Kicking Moose, a summer camp on a small, remote island off the coast of Maine. As they married and started a family they shared a dream of one day owning that very same camp in hopes that it would continue to be enjoyed for generations to come.
When Paul explained his dream to his grown daughters (the youngest was 19), it was already a done deal. The house, their childhood home, was sold. The camp was bought. And he wanted their help in this new endeavor.
I'm sure you can imagine how well that went over.
For different reason, different life choices, all three girls found their way onto the island with dad and started to make it their new home. The process was slower for some, especially Cam whose big dream was moving to London with her adopted son, Cooper, and continue strong in her career.
---
Dreams have a way of touching people in different ways. If it's God's Will, it can be done. He orchestrates the "how."
Now it's your turn. I would love to hear your story of a dream that came to be, or one that fizzled out or took a turn on the path. Where did God meet you? Did he change something for you where now you look back and think, "If He hadn't done that I would never have made it here?"
Let me know in the comments, on Facebook, or use the contact form. I'd love to hear your story.
---
Currently Reading:
Also, don't forget to subscribe to this blog and never miss a post!

Disclosure: As an Amazon Associate, I do earn a very small commission from qualifying purchases.