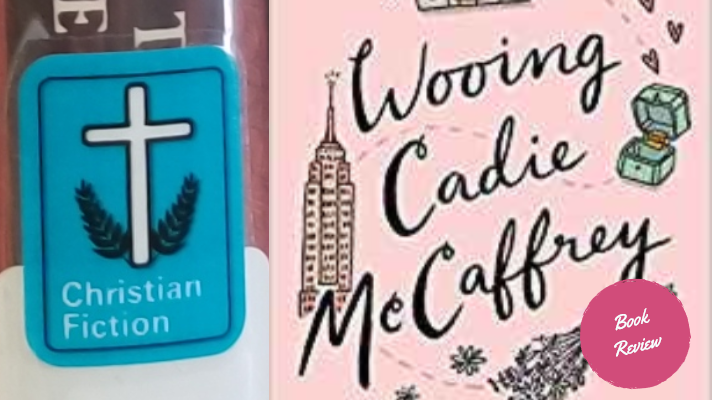 It's another Christian Fiction book review! Wooing Cadie McCaffrey was such a fun read. My Goodreads review is below:
---
Wooing Cadie McCaffrey by Bethany Turner

My rating: 5 of 5 stars

There is no doubt that Bethany Turner knows her romantic comedies. Not only has she scattered them throughout her novel, she has created one of her very own. A true Rom-Com itself, Turner's book is set in iconic NYC and comes complete with laughter, sweet moments, and characters you want to slap for wasting precious time by not communicating.

What places Wooing Cadie McCaffrey above the movies we watch is the Spirit-filled messages that come from even the most unlikely of characters. Though slow in maturation, these words of wisdom reveal the struggles that Cadie is facing, struggles she herself may not have realized. All throughout the story, Cadie is questioning whether Will loves her enough, loves her as much as she loves him. Was their relationship a waste of time because it was leading nowhere?

As the story continues to unfold, it's evidenced that the relationship Cadie has with her parents, especially her mom, is a strenuous one. Will she ever be good enough for her mother?

At first, all I could think about was how I'd never felt the need to be perfect for my dad, but for my mom, I'd never really believed anything less was acceptable.
And if less than perfect wasn't acceptable, I had certainly never been acceptable. (pg. 251)

What Cadie struggles with throughout the entire novel is the feeling of being loved and accepted. She makes assumptions that may or may not be true, but she doesn't have the fortitude to find out. She chooses to believe what seems easiest for her, including a revelation her mother brings to the table near the book's end.

In Cadie's struggle against a sin she had committed, her mother reveals a hidden truth that had been hiding inside Cadie even after her confession to God:

"You asked for forgiveness and you got it. That's the end of the sentence. It's just not the end of the story, and I think that's where you're struggling. God erased it. It's gone. Can you say the same?" (pg. 253)

Wooing Cadie McCaffrey goes beyond the typical Rom-Com that many of us are so used to. It delves into the struggles that many may face instead of brushing them off and moving on. It's a story of love, revelation, and self-acceptance, and I would recommend it to anyone who could use a light, messy comedy with a deeper message.

This book was provided by Baker Publishing Group through Interviews & Reviews.



View all my reviews
Other Books by Bethany Turner
Learn More about Bethany Turner
---
My Reading List
Reading Next
Recently Finished
Non-Fiction
Disclosure: As an Amazon Associate, I do earn a very small commission from qualifying purchases.