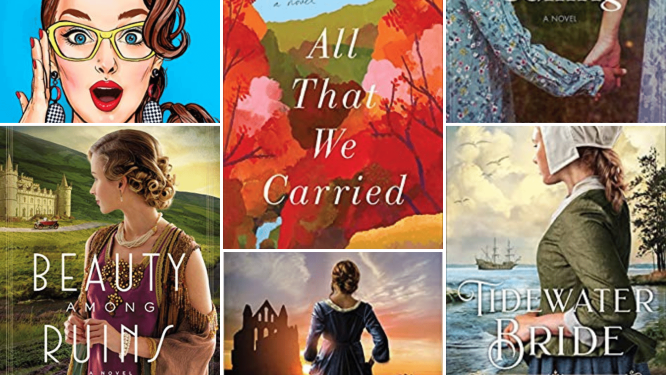 Happy New Year! Though I have no idea what this year will bring for us, I can let you in on all the amazing books that are set to release this year! What better way is there than to kick off a new year with books?
As I always try to do, the books below have multiple forms, mostly paperback and Kindle, but also audiobook and hardcover, etc. This way you can chose the format you prefer and start reading!
Do you have a favorite Christian author but never see them here? Let me know, and I'll be happy to add them to my list!
---
The Thief of Blackfriars Lane
Michelle Griep
Released January 1st
There's Often a Fine Line Between a Criminal and a Saint

Constable Jackson Forge intends to make the world safer, or at least the streets of Victorian London. But that's Kit Turner's domain, a swindler who runs a crew that acquires money the old-fashioned way—conning the rich to give to the poor. When a local cab driver goes missing, Jackson is tasked with finding the man, and the only way to do that is by enlisting Kit's help. If Jackson doesn't find the cabby, he'll be fired. If Kit doesn't help Jackson, he'll arrest her for thievery. Yet neither of them realize those are the least of their problems.
The Discovery Saga
Wanda E. Brunstetter
Released January 1st
A Young Amish Couple Faces Insurmountable Odds​
It was to be a short trip to Indiana that might help Luke Stoltzfus build a business that will support his young wife. But when Meredith hears that the bus her husband was on burned in a snow-induced accident and his personal effects were found among the rubble, she is left without hope. Harboring a secret she had planned to share when he returned, she must find a way to go on alone.

In a Philadelphia hospital, a battered man is brought in from being mugged in a bus station, but his memories have been wiped clean. His caregivers and new friends call him Eddie, but even as his body heals, his soul longs for a missing part locked away in his injured brain.

As the seasons pass from winter to spring to summer, Meredith moves in with her parents and slowly allows old friend Jonah Miller to make her smile again. But even while life must go on, Meredith grieves.

Follow the journeys Meredith and Eddie take, and see the amazing way their lives are brought together.
Originally released in a 6-part serial, now you can have The Discovery–A Lancaster County Saga all in one book.
Tidewater Bride
Laura Frantz
Releases January 5th
Selah Hopewell seems to be the only woman in the Virginia colony who has no wish to wed. True, there are too many men and far too few women in James Towne. But Selah already has her hands full assisting her father in the family's shop. And now she is in charge of an incoming ship of tobacco brides who must be looked after as they sort through their many suitors.
Xander Renick is perhaps the most eligible tobacco lord in the settlement. His lands are vast, his crops are prized, and his position as a mediator between the colonists and the powerful Powhatan nation surrounding them makes him indispensable. But Xander is already wedded to his business and still grieves the loss of his wife, daughter of the Powhatan chief.
Can two fiercely independent people find happiness and fulfillment on their own? Or will they discover that what they've been missing in life has been right in front of them all along?
Bestselling and award-winning author Laura Frantz takes you to the salty shores of seventeenth-century Virginia in this exploration of pride, honor, and the restorative power of true love.
Endless Mercy (The Treasures of Nome #2)
Tracie Peterson
Releases January 5th
Madysen Powell has always been a forgiving person, but when her supposedly dead father shows up in Nome, Alaska, her gift for forgiveness is tested. With the recent loss of her mother, she searches for answers, leaning on Granny Beaufort, a neighbor in town, who listens with a kind heart. Still, Madysen is restless and dreams of performing her music around the world. The arrival of a traveling show could prove just the chance she needs, and the manager promises more than she ever dreamed.
Daniel Beaufort arrives in Nome, searching for his own answers after the gold rush leaves him with only empty pockets. Still angry about the death of his loved ones, he longs to start fresh but doesn't have high hopes until he ends up helping at the Powell dairy making cheese. Drawn to the beautiful redhead with big dreams, will deceptions from the past tear apart any hope for the future?
All Through the Night
Tara Johnson
Releases January 5th
With her stammering tongue and quiet ways, Cadence Piper has always struggled to be accepted. After the death of her mother, Cadence sets her heart on becoming a nurse, both to erase the stain her brother has left on the family's honor and to find long-sought approval in the eyes of her father. When Dorothea Dix turns her away due to her young age and pretty face, Cadence finds another way to serve . . . singing to the soldiers in Judiciary Square Hospital. Only one stubborn doctor stands in her way.
Joshua Ivy is an intense man with a compassionate heart for the hurting and downtrodden. The one thing he can't have is an idealistic woman destroying the plans he's so carefully laid. When the chaos of war thrusts Cadence into the middle of his clandestine activities, he must decide if the lives at stake, and his own heart, are worth the risk of letting Cadence inside.
Everything changes when Joshua and Cadence unearth the workings of a secret society so vile, the course of their lives, and the war, could be altered forever. If they fight an enemy they cannot see, will the One who sees all show them the way in the darkest night?
Night Bird Calling
Cathy Gohlke
Releases January 5th
From award-winning author Cathy Gohlke, whose novels have been called "haunting" (Library Journal on Saving Amelie) and "page-turning" (Francine Rivers on Secrets She Kept), comes a historical fiction story of courage and transformation set in rural Appalachia on the eve of WWII.
When Lilliana Swope's beloved mother dies, Lilliana gathers her last ounce of courage and flees her abusive husband for the home of her only living relative in the foothills of No Creek, North Carolina. Though Hyacinth Belvidere hasn't seen Lilliana since she was five, she offers her cherished great-niece a safe harbor. Their joyful reunion inspires plans to revive Aunt Hyacinth's estate and open a public library where everyone is welcome, no matter the color of their skin.
Slowly Lilliana finds revival and friendship in No Creek—with precocious eleven-year-old Celia Percy, with kindhearted Reverend Jesse Willard, and with Ruby Lynne Wishon, a young woman whose secrets could destroy both them and the town. When the plans for the library also incite the wrath of the Klan, the dangers of Lilliana's past and present threaten to topple her before she's learned to stand.
With war brewing for the nation and for her newfound community, Lilliana must overcome a hard truth voiced by her young friend Celia: Wishing comes easy. Change don't.
Dreams of Savannah
Roseanna M. White
Releases January 5th
Cordelia Owens can weave a hopeful dream around anything and is well used to winning the hearts of everyone in Savannah with her whimsy. Even when she receives word that her sweetheart has been lost during a raid on a Yankee vessel, she clings to hope and comes up with many a romantic tale of his eventual homecoming to reassure his mother and sister.
But Phineas Dunn finds nothing redemptive in the first horrors of war. Struggling for months to make it home alive, he returns to Savannah injured and cynical, and all too sure that he is not the hero Cordelia seems determined to make him. Matters of black and white don't seem so simple anymore to Phin, and despite her best efforts, Delia's smiles can't erase all the complications in his life. And when Fort Pulaski falls and the future wavers, they both must decide where the dreams of a new America will take them, and if they will go together.
All That We Carried
Erin Bartles
Releases January 5th
Ten years ago, sisters Olivia and Melanie Greene were on a backcountry hiking trip when their parents were in a fatal car accident. Over the years, they grew apart, each coping with the loss in her own way. Olivia plunged herself into law school, work, and a materialist view of the world–what you see is what you get, and that's all you get. Melanie dropped out of college and developed an online life-coaching business around her cafeteria-style spirituality–a little of this, a little of that, whatever makes you happy.
Now, at Melanie's insistence (and against Olivia's better judgment), they are embarking on a hike in the Porcupine Mountains of Michigan's Upper Peninsula. In this remote wilderness they'll face their deepest fears, question their most dearly held beliefs, and begin to see that perhaps the best way to move forward is the one way they had never considered.
Michigan Notable Book Award winner Erin Bartels draws from personal experience hiking backcountry trails with her sister to bring you a story about the complexities of grief, faith, and sisterhood.
Active Defense (Danger Never Sleeps #3)
Lynette Eason
Releases January 5th
As a former field surgeon in Afghanistan, Heather Fontaine is used to life-or-death situations. She just didn't expect them to follow her home. When she returns from a party to find that someone has broken into her house–and threatened her friends–she assumes it is the stalker who has been following her and creeping her out. She hopes to find safety and peace of mind by leaving the city and hiding out in a small town. But trouble has followed her even there.
Luckily, a stalker isn't the only one watching Heather. Travis Walker has been secretly watching out for her for weeks. As owner of his own security agency, it's what he does. Together, Travis and Heather must figure out who wants her dead–and why–before it's too late.
Bestselling and award-winning author Lynette Eason will have you looking over your shoulder as you dive into this fast-paced, suspense-filled story about losing control and finding something even better.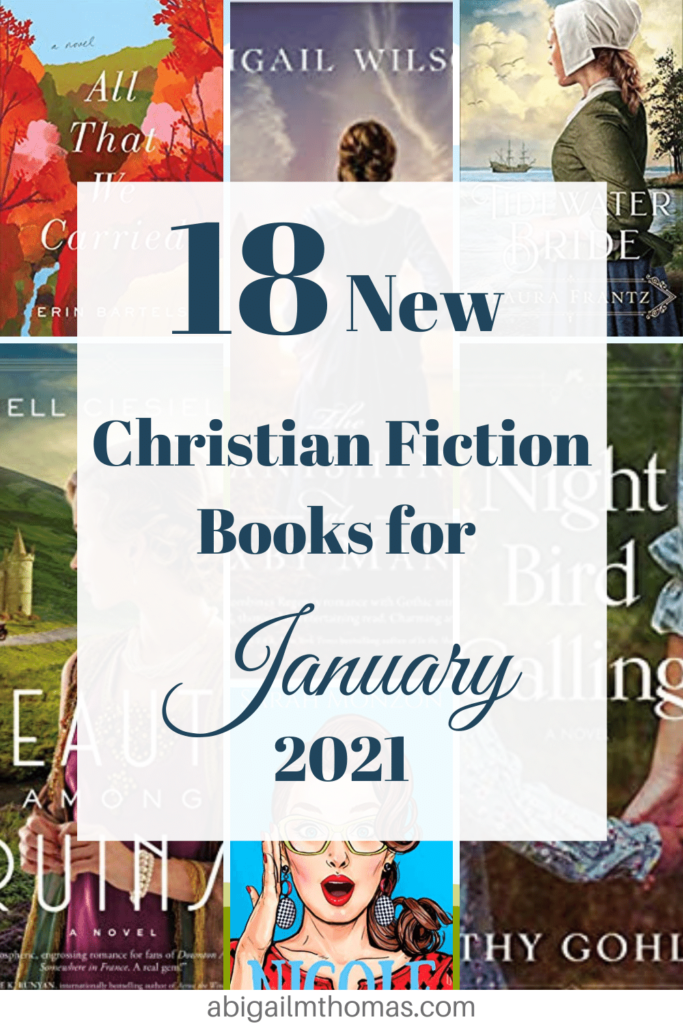 Court of Swans (A Dericott Tale #1)
Melanie Dickerson
Releases January 5th
Where there is wealth and power, there's always someone willing to do anything to take it.
England, 1381: Delia's idyllic life as daughter of an earl is shattered when her father dies and his wife accuses Delia's seven brothers of treason and murder. The youngest is only ten years old, but this doesn't stop the guards from hauling them off to the Tower of London. There they await a grim fate, as child-king Richard II is executing anyone who poses a threat to his throne. Delia is their only hope for pardon and freedom.
Sir Geoffrey did not expect his first assignment as captain of the guard to be the arrest of boys so young. He dutifully imprisons the brothers, but he can't ignore the sense, rooted in personal experience, that injustice and treachery are at work.
Determined to rescue her brothers, Delia secures a position as a seamstress for the queen. Her quest is all but impossible as the executions continue. Sir Geoffrey offers to be her ally, but should she trust him in a court where everyone has an agenda?
Faith's Mountain Home
Misty M. Beller
Releases January 5th
Nate Long has always watched over his identical twin brother, Aaron, even when it put him on the wrong side of the law. When Aaron is wounded in a shootout, the brothers are taken to Settler's Fort to recover. As Nate works to make reparations for their past, he marvels at the nursing Aaron receives under the care of a woman with all the reason in the world to resent him.
Laura Hannon knows what it is to start over, and she knows Nate's newfound faith is real. What she can't look past is how far he allowed himself to be led astray by his brother's weaknesses.
As a fledgling trust grows between Nate and Laura, they stumble upon a mysterious cave in the mountains that may not be as uninhabited as it seems. While working together to unravel the secrets surrounding the cave, will the new lives they seek for themselves include love, or does too much stand between them?
Nicole (Sewing in SoCal #3)
Sarah Monzon
Releases January 7th
Who has time to date when she's trying to raise a miniature human by herself AND save the planet from its irresponsible inhabitants? Not to mention my winning personality (snort) and my curves-have-curves figure (eyeroll) don't exactly attract the opposite sex. Unfortunately, none of these reasons have stopped my best friends and SoCal sewing sisters from taking on the archaic role of matchmakers, and they're not beneath a little bribery if that's what it takes to get my cooperation. Let's just say everyone has their weak spot, and donations to my favourite charities is mine.
If I were to consider a romantic relationship, my dream guy certainly wouldn't be immature, everything-is-a-game Dr. Drew Bauer. The man raises my body temperature faster than global warming does the Earth's! But life seems determined to keep throwing us together, especially now that one of my SoCal sewing sisters is engaged to his best friend, in which case there can only be one of two outcomes:
I kill him in a fit of annoyance.
My common sense escapes me, and I fall in love with him.
Honestly, I'm not sure which would be worse.
Still the One: A Deep Haven Novel
Susan May Warren & Rachel D. Russell
Releases January 12th
Cole Barrett, former Army Ranger, has a new mission objective. Sell his grandfather's house and put Deep Haven, a place that holds too many hurts, in his rearview mirror as fast as possible. Recently divorced, single, and unattached, Cole just wants a new life as a US Marshal. One where he can forget the past and start new.
Unfortunately, there's a tenant in the garage apartment who's refusing to move. Even worse? It's his childhood crush, Megan Carter, and her son.
Wedding planner and single mom Megan Carter loves Deep Haven. To her, it's the place where she makes dreams come true-at least, everyone else's. Her big dream is to purchase the Black Spruce Bed & Breakfast to turn it into a premier event venue and, if she can stay booked for enough weddings over winter, she'll have the needed funds to buy the inn, move out of Grandpa Barrett's garage apartment, and finally give her nine-year-old son, Josh, the life he deserves. She just needs four thousand dollars in the next thirty days.
Still, she's oh, so close…until Cole Barrett returns to Deep Haven. Even if he's not back to fulfill a silly childhood promise to marry her, but she never expected him to evict her! The last thing she needs is more expenses. Or for another man to walk into her heart…and break it.
When a blizzard strikes Deep Haven, and Megan is overrun with wedding catastrophes, it takes a former Ranger to step in and help. Besides, the more he comes to her rescue, the sooner she'll be able to move out…and he can move on. And that's what they both want, right?
A Heart's Gift
Lena Nelson Dooley
Releases January 12th
Is a marriage of convenience the answer?
Franklin Vine has worked hard to build the ranch he inherited into one of the most successful in the majestic Colorado mountains. If only he had an heir to one day inherit the legacy he's building. But he was burned once in the worst way, and he doesn't plan to open his heart to another woman. Even if that means he'll eventually have to divide up his spread among the most loyal of his hired hands.
When Lorinda Sullivan is finally out from under the control of men who made all the decisions in her life, she promises herself she'll never allow a man to make choices for her again. But without a home in the midst of a hard Rocky Mountain winter, she has to do something to provide for her infant son.
A marriage of convenience seems like the perfect arrangement, yet the stakes quickly become much higher than either of them ever planned. When hearts become entangled, the increasing danger may change their lives forever.
Oath of the Brotherhood
Carla Laureano
Releases January 12th
When evil threatens, who will find the faith to fight it?
In an island kingdom where the Old Ways hold fast and a man's worth lies entirely in his skill with the sword, Conor Mac Nir is a musician and a follower of a forbidden faith—problematic for any man, but disastrous for the son of the king.
When Conor is sent away to a neighboring kingdom to secure a treaty, he learns that his ability with the harp is a talent that traces back to the magical foundations of a once-united Seare. But his newfound home is soon placed in peril, entangling Conor in a plot that has been unfolding since long before his birth.
Only by leaving both kingdoms behind and committing himself to an ancient warrior brotherhood can Conor discover the part he's meant to play in Seare's future. But is he willing to sacrifice everything—including the woman he loves—to follow the path his God has laid before him?
Lethal Intent
Cara Putnam
Releases January 12th
If they expected silence, they hired the wrong woman.
Caroline Bragg's life has never been better. She and Brandon Lancaster are taking their relationship to the next level, and she has a new dream job as legal counsel for Praecursoria—a research lab that is making waves with its cutting-edge genetic therapies. The company's leukemia treatments even promise to save desperately sick kids—kids like eleven-year-old Bethany, a critically ill foster child at Brandon's foster home.
When Caroline's enthusiastic boss wants to enroll Bethany in experimental trials prematurely, Caroline objects, putting her at odds with her colleagues. They claim the only goal at Praecursoria is to save lives. But does someone have another agenda?
Brandon faces his own crisis. As laws governing foster homes shift, he's on the brink of losing the group home he's worked so hard to build. When Caroline learns he's a Praecursoria investor, it becomes legally impossible to confide in him. Will the secrets she keeps become a wedge that separates them forever? And can she save Bethany from the very treatments designed to heal her?
This latest romantic legal thriller by bestseller Cara Putman shines a light on the shadowy world of scientific secrets and corporate vendettas—and the ethical dilemmas that plague the place where science and commerce meet.
Beauty Among Ruins
J'nell Ciesielski
Releases January 12th
In Ciesielski's latest sweeping romance, an American heiress finds herself in Scotland amid the fallout of the Great War, and a wounded Scottish laird comes face-to-face with his past and a woman he never could have expected.
American socialite Lily Durham is known for enjoying one moment to the next, with little regard for the consequences of her actions. But just as she is banished overseas to England as a "cure" for her frivolous ways, the Great War breaks out and wreaks havoc. She joins her cousin in nursing the wounded at a convalescent home deep in the wilds of Scotland at a crumbling castle where its laird is less than welcoming.
Alec MacGregor has given his entire life to preserving his home of Kinclavoch Castle, but mounting debts force him to sell off his family history bit by bit. Labeled a coward for not joining his countrymen in the trenches due to an old injury, he opens his home to the Tommies to make recompense while he keeps to the shadows. But his preference for the shadows is shattered when a new American nurse comes streaming into the castle on a burst of light.
Lily and Alec are thrown together when a series of mysterious events threatens to ruin the future of Kinclavoch. Can they put aside their differences to find the culprit before it's too late, or will their greatest distraction be falling in love?
The Vanishing at Loxby Manor
Abigail Wilson
Releases January 26th
A story of second chances and secrets, this mysterious Regency romance will transport you to 19th-century England as one young lady reunites with her childhood love to find his missing sister.
Her friend is missing.
After five years abroad, Charity Halliwell finally returns to Loxby Manor, the home of dear friends—and her lost love. No longer a young girl, she is now haunted by a painful secret and the demise of her dreams. Instead of the healing and happiness she hopes to find, she encounters a darkness lurking in the shadows of the once-familiar house. When her friend, Seline, disappears the very night of her arrival, Charity is determined to uncover the truth.
Her only hope is the man who broke her heart.
Branded a coward, Piers Cavanaugh has lived the last five years as an outcast far from his family home. When his sister presumably elopes with a stable hand, Piers joins forces with an unlikely partner—the one woman he thought he'd never see again. Together they launch an investigation that leads to strange nightly meetings in the ruins of an old abbey and disturbing whispers of a secret organization. The more they learn, the more desperate the situation becomes.
The house seems determined to keep its secrets.
As they struggle to piece together the clues, Charity and Piers also endeavor to rebuild their friendship. One cryptic letter changed everything between them. To find happiness they will have to overcome the grief and shame keeping them apart. But first they must discover why Seline vanished and confront the growing fear that she may never return.