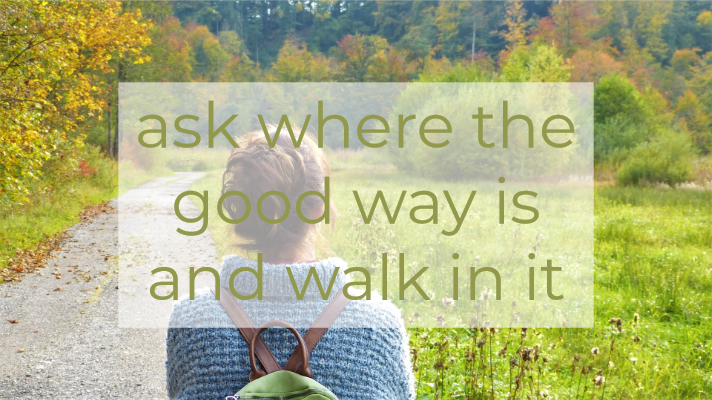 This is the very first post of my new blog. I had been writing on and off on a different blog since 2012, but I was never very consistent with it. I've also come to realize something that maybe I should have known all along. I realized recently that I have a writing theme, one that my previous blog may have hinted at but never fully acknowledged.
My theme is the Path, specifically the choices that we make. God has a path set out for us. In Jeremiah we are instructed to:
"Stand at the crossroads and look; ask for the ancient paths, ask where the good way is, and walk in it, and you will find rest for your souls."

Jeremiah 6:16
Our journey on God's path starts with a pause. We need to pause our life for a moment, take a deep breath, and look at the paths before us. We have a choice from this day on to make, and that's whether or not we want to follow God's path. What are the good paths? We may feel we have been following it all along, but have we? Sometimes we need to stop and look again.
Look at where we are at this moment. If we have started following God, are we still on the path that he has placed in front of our feet, or did we somehow stray somewhere along the way? Perhaps we're straddling two different paths at the same time. Sometimes our feet find a trail that's not part of the original path, and we decide to follow it. In life this could mean that we decided we "knew" what was best for us and didn't look to God to make sure we were making the right decision. We could have followed the way of pride instead of humbling ourselves in a situation that was set before us. We started making something else our god such as TV, social media, money, self-resentment, looking to others for affirmation.
If you read through the Bible, you will find the word path all throughout, from Old Testament to New. God's in this, and he wants us all to be there with him. I know it's not always easy, and finding out that we have strayed is hard, but for every path that leads us away from Him, God has one that leads us back. And the great thing about this is that he is always waiting for us, always willing to welcome us back.
Even in the smallest matters we can be seen as the prodigal son or the lost sheep. He is the Father who welcomes us home, the shepherd who leaves the 99 and guides us back to him.
But this path, this journey, is one that we must choose to make. God gives us free will. In that we choose whether we want to walk his way or ours. God wants us to come to him, but he will never force us because that's not the relationship he wants from us. God tells us that his yoke is easy and his burden light (Matt 11:30). Our burden weighs us down, sometimes so much that we can't walk, or we wander about aimlessly. We get stuck and tend to lose hope. But when we chose to give our burdens to him, that's when we can rise again and walk. Walk the right path. Walk his path.
And walking that path is a constant choice. Constant. That's why, under my name on the top of this blog, I have "Choosing to walk God's path one day, one hour, one moment at a time." Because that is what we need to do. Every day, every hour, every moment of our lives we have this choice to make, and it won't stop until Jesus comes again.
I look forward to making this journey with you and working together to choose the right path.
---
Oh, Lord, you are good. Your ways are true, and they are right. Lord, thank you for the image of the path. Thank you for allowing me to follow it, but not forcing my feet. Thank you that you are the lamp unto my feet and the light unto my path, Lord. I know that I will not always choose what is right, but I praise and thank you, Lord, for setting before me a way to return to you. Every time. No matter how big or how small. Lord, thank you. In the name of our most precious Lord and Savior Jesus Christ, Amen.
---