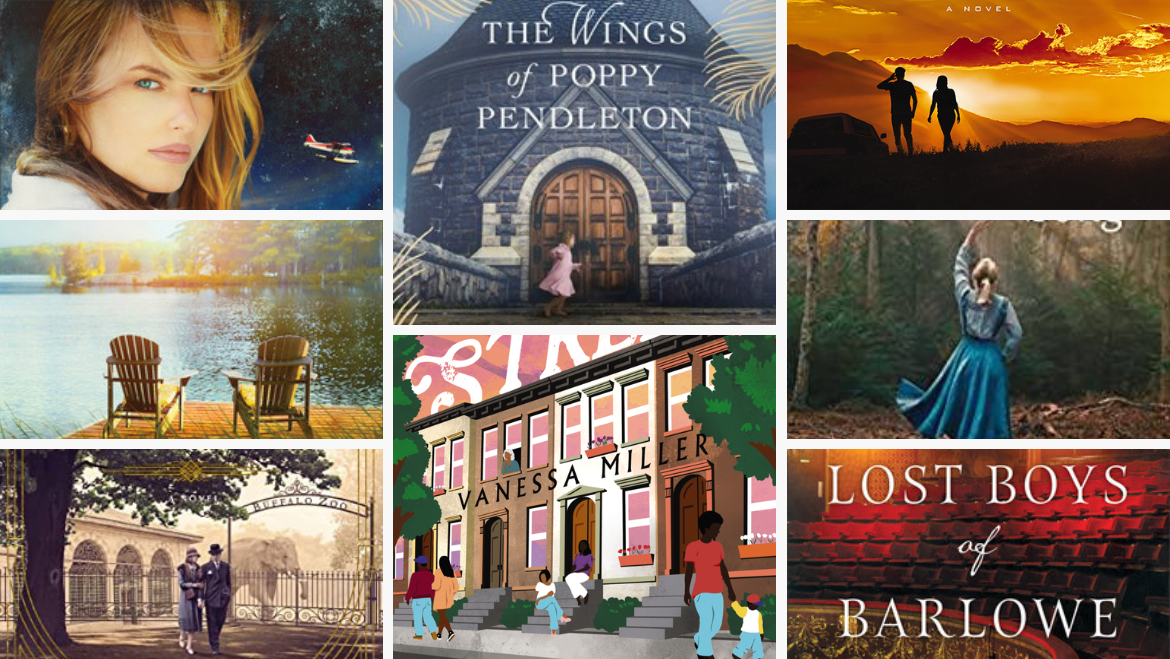 I can't believe it's Fall already. Perhaps not "calendar Fall" just yet, but school is back in session, the nights are cooler, the leaves are turning, and pumpkin spice is everywhere. That, my friends, is Fall enough for me. Oh, and let's not forget about the brand-new books releasing in September and October! It's a perfect time to pick a book (or 2, or 3…), curl up on the couch and start reading.
Brynn and Sebastian Hate Each other by Bethany Turner was a fun romance that got mixed reviews. I gave it a 4 (Read review here).
I love that 3 of the books on this list are from NY State, that they span the entire state, and they're places I'll be this year. My next book is The Letter Tree by Rachel Fordham. That one takes place in Buffalo, NY – about an hour from me in Western NY. More specifically, it takes place at the Buffalo Zoo (been there, done that). My husband and I will be heading to the 1000 Islands in Central/Northern NY for our anniversary soon, the place where The Wings of Poppy Pendleton by Melanie Dobson takes place. And in November, my family will be boarding a cruise ship with my husband's family in Brooklyn, NY. Hm…that would be The Light on Halsey Street by Vanessa Miller.
Go. Find your books and start reading. Enjoy!
---
September Books
Brynn and Sebastian Hate Each Other (A Love Story)
Bethany Turner
Released September 5th
She's a sunny morning-show host. He's a cynical ex-reporter. They're destined to hate each other . . . Aren't they?
Brynn Cornell has to be stuck in a nightmare. Just last week, she was riding high as cohost of the popular morning show Sunup. She's America's Ray of Sunshine—the girl-next-door beauty who drives up TV ratings while never exuding anything but her trademark positivity and poise. All it took was one huge on-air mistake to expose her snarky side to the world and make it all come crumbling down. Now she's back in her hometown of Adelaide Springs, Colorado, in a last-ditch attempt to convince viewers she's not the mean girl they think she is. All she has to do is apologize and capture some feel-good footage reminding everyone she's just a girl from humble beginnings who's grateful for her big break, and she might manage to preserve both her career and her image. But this town holds painful memories that she's not ready to face.
Sebastian Sudworth was on the fast track to the journalist hall of fame. A superstar reporter with a reputation for being in the center of the action, his fearless, relentless coverage of major events around the globe was winning him awards and accolades—until something snapped inside him and he vanished from the scene under mysterious circumstances. Sebastian sought refuge in tiny Adelaide Springs, working odd jobs and trying to blend in as a scruffy mountain town citizen.
When Sebastian is assigned to chauffeur Brynn around town, Brynn is sure he can see right through her carefully cultivated, sunny persona. But she's determined to do what it takes to maintain her image and save her career—so she'll just have to charm the socks off Sebastian the same way she charmed her viewers. Easier said than done. It's no picnic to play nice around someone you hate . . . especially when you might be crazy about them.
Released September 5th
Two girls' lives are irrevocably intertwined the summer of 1985 in the streets of Brooklyn, New York, and neither will ever be the same in this coming-of-age story that spans decades.
In the summer of 1985, Lisa Whitaker is a church kid headed to college on a scholarship while her best friend, Dana, is floundering in the wake of her mother's latest eviction. Though Lisa tries to help, their paths diverge. Fifteen years later, Lisa has a beautiful family and is stepping into her dream job as the director for a social services organization. Everything is going right—until her future is snatched away by identity theft. Her life begins to unravel, and Lisa wants nothing more than to see the woman responsible pay for her crimes.
When she was a teenager, Dana Jones always felt alone in this world. Her mother was addicted to drugs, her boyfriend was entering a life of crime, and it seemed Dana, too, was heading down the wrong path. The only bright light was her friendship with Lisa. Now, in the new millennium, Dana finally gives herself permission to dream—to believe she is stepping into better days. But when the betrayal of their friendship comes to light, it will take a lifetime to forgive the destruction that youthful summer in Bed-Stuy set in motion.
In this latest story from beloved author Vanessa Miller, two girls from the Bed-Stuy neighborhood of Brooklyn, New York, find that their paths have been woven together by the love of community and a friendship that is tested by time, betrayal, and unforgiveness.
Released September 5th
Until then may I use my time as you desire . . .

In 1985, Old Order Amish couple Celeste and Vin Lantz have been married for six years. Vin is a carpenter by trade but an artist in his heart. He is especially captivated by drawing portraits, which the Amish consider idolatry. Knowing they could be shunned, Celeste is shocked to discover that Vin has secretly been sketching her and their sons. When she confronts Vin, they argue and Vin storms off . . . and seems to disappear, leaving Celeste to wonder if he chose his art over his family.

When he leaves the house that night, Vin seeks peace on his favorite mountain overlook. But he takes a fall and wakes to find himself injured and lost. Vin soon realizes just how far he has traveled―not only in distance but back in time, to 1822 Ohio, a place that provides the freedom he craved but where he is separated from his beloved wife and children. Vin is saved by the kindness of strangers and gradually learns to survive and even to use his skills to help his new friends in this unfamiliar time and place. But all the while he prays desperately for God to return him to his family, before Celeste makes a new life without him.

For fans of Amish romance and time-slip novels comes a gripping story of faith, freedom, redemption, and the truest desires of the heart by New York Times bestselling author Cindy Woodsmall.
Released September 5th
For the past five years, FBI Special Agent Risa Jacobs has worked in the violent crimes against children division of the Houston FBI. She's never had reason to believe there's a target on her back . . . until now.

When the long-awaited reunion between Risa and her brother, Trenton, ends in tragedy, Risa is riddled with guilt, unable to cope with the responsibility she feels over his death. On leave from the FBI, Risa returns to her former career as an English teacher at a local college, only to see her past and present collide when one of her students, Carson Mercury, turns in an assignment that reads like an eyewitness account of her brother's murder, with details never revealed publicly.

Alarmed by Carson's inside knowledge of Trenton's death, Risa reaches out to her former partner at the FBI. Special Agent Gage Patterson has been working a string of baby kidnappings, but he agrees to help look into Carson's background. Risa and Gage soon discover their cases might be connected as a string of high-value thefts have occurred at properties where security systems were installed by Carson's stepfather and children have gone missing. There's a far more sinister plot at play than they ever imagined, and innocent lives are in danger.

For fans of romantic suspense comes a heart-pounding thriller about loss, betrayal, and finding the strength to trust again.
Wildflower Falls (A Riverbend Romance #4)
Denise Hunter
Released September 12th
He's here to train her horses, and then he's moving on. She's keeping her true identity a secret. But their spark complicates both of their plans.
When her mother's death leaves Charlotte Simpson bereft, she hopes the Robinson clan will accept her as one of their own and help fill the void. But a startling discovery dashes her hopes and leaves her wondering if she will ever know the father she's always longed for.
Horse trainer Gunner Dawson has experienced profound loss and intends to avoid it. So he lives on the move without forming close bonds or putting down roots. When Charlotte hires him to work with her horses and help expand her ranch, he commits to staying for a few months. But he doesn't count on getting caught up in Charlotte's search for her biological father. Or on falling in love—with Riverbend Gap or with Charlotte. This time, he's not sure if he'll be able to move on—or if he even wants to.
The queen of heartwarming, small-town love stories returns to Riverbend Gap with a deeply satisfying tale of love's healing power.
Releases September 19th
In this compelling new time-slip mystery, a little girl goes missing from her family's castle in the Thousand Islands of New York. Eighty-five years later, a journalist teams up with a woman living on Koster Isle to find out what happened to Poppy, once and for all.

1907. On the eve of her fifth birthday, Poppy Pendleton is tucked safely in her bed, listening to her parents entertain New York's gilded society in their Thousand Islands castle; the next morning, she is gone, and her father is found dead in his smoking room.

1992. Though Chloe Ridell lives in the shadows of Poppy's castle, now in ruins, she has little interest in the mystery that still captivates tourists and locals alike. She is focused on preserving the island she inherited from her grandparents and reviving their vintage candy shop. Until the day a girl named Emma shows up on Chloe's doorstep, with few possessions, save a tattered scrapbook that connects her to the Pendleton family. When a reporter arrives at Chloe's store, asking questions about her grandfather, Chloe decides to help him dig into a past she'd thought best left buried. The haunting truth about Poppy, they soon discover, could save Emma's life, so Chloe and Logan must work together to investigate exactly what happened long ago on Koster Isle.
Releases September 26th
Two women–a century apart–embark on a journey to healing, faith, forgiveness, and romance.

In 2012, art historian Gwen Morris travels to England's Lake District to appraise the paintings and antiques of an old family friend, hoping to prove herself to her prestigious grandfather. While at Longdale Manor, she meets David Bradford–the owner's handsome grandson–who is desperate to save the crumbling estate by turning it into a luxury hotel. When Gwen stumbles upon a one-hundred-year-old journal and an intricately carved shepherd's staff similar to one in a photo of her parents, she's left searching for answers.

In 1912, after her father's death, Charlotte Harper uncovers a painful family secret she can only confess to her journal. She and her family travel to the Lake District to stay on a sheep farm, hoping eventually to find a home with Charlotte's grandfather at Longdale Manor, but old wounds and bitter regrets make it a difficult challenge. As Charlotte grows closer to shepherd Ian Storey and rebuilds her shattered faith, she must decide whether she will ever trust in love again.
The Wind Blows in Sleeping Grass
Katie Powner
Releases September 26th
For the first time in his life, Pete has everything to lose.

After years of drifting, fifty-year-old Pete Ryman has settled down with his potbellied pig, Pearl, in the small Montana town of Sleeping Grass–a place he never expected to see again. It's not the life he dreamed of, but there aren't many prospects for a high-school dropout like him.

Elderly widow Wilma Jacobsen carries a burden of guilt over her part in events that led to Pete leaving Sleeping Grass decades ago. Now that he's back, she's been praying for the chance to make things right, but she never expected God's answer to leave her flat on her face–literally–and up to her ears in meddling.

When the younger sister Pete was separated from as a child shows up in Sleeping Grass with her eleven-year-old son, Pete is forced to face a past he buried long ago, and Wilma discovers her long-awaited chance at redemption may come at a higher cost than she's willing to pay.
The Secrets Beneath (Treasures of the Earth #1)
Kimberly Woodhouse
Releases September 26th
Some secrets can only stay buried for so long. . . .

Anna Lakeman has spent her life working alongside her paleontologist father, drawing intricate sketches at every dig. When they find dinosaur bones near their home in Wyoming Territory, they're given the opportunity of a lifetime and are swiftly caught up in the competitive era of the Bone Wars. But after her father becomes sick and Joshua Ziegler, an old beau, returns for the summer, Anna's world is upended, and the practical, orderly life she has made for herself shatters.

Medical student Joshua Ziegler left his hometown to forget Anna, the one woman he truly loved and deeply hurt. But when he returns, time hasn't erased the feelings they've always had for each other. After Joshua's nephew goes missing–just like his sister did years ago–and Anna's job is threatened, tensions mount and dangerous secrets are unearthed.
Releases September 26th
Cora Matthews's life is a mess. A broken engagement and the unexpected death of her mother have left her wondering if things will ever return to normal. Whatever "normal" is.

It certainly isn't what she finds at Moonberry Lake. After she receives her family's dilapidated lakefront lodge as an inheritance–with a surprising condition attached–Cora finds her life overrun by a parade of eccentric neighbors who all have something to say and something to teach her.

As Cora works to put her life back together, she must decide if she is willing to let go of the past, open her heart to love, and embrace the craziest version of family and home she could ever have imagined.
Releases September 26th
Trudy Yoder shares a passion for birding with Micah Weaver–and she has an even greater passion for Micah. Their friendship is finally turning romantic when Micah abruptly grows cold. Worse still, he wants to leave Stoney Ridge.

Micah Weaver thought he was over Trudy's older sister. A year and a half ago, Shelley had broken his heart when she ran away from Stoney Ridge to pursue a singing career in Nashville. Then, out of the blue, she's started to leave distressing phone messages for him.

When the bishop asks for volunteers to scout out a possible church relocation in Tennessee, Micah is the first to raise his hand. Despite scant details, he's confident he can find Shelley. After all, his reputation as a field guide is based on finding birds that don't want to be found.

What Micah doesn't know is that what you're looking for isn't always what you find.
October Books
Against the Wind (Secrets of Sweetwater Crossing #2)
Amanda Cabot
Releases October 3rd
Doctor-in-training Louisa Vaughn has no intention of remaining in Sweetwater Crossing. She's just there for a few days to help a friend. But she can't abandon the injured man she finds at the side of the road. Until his broken leg heals, she'll serve as the town's doctor and midwife. She may not be fully qualified yet, but surely she's better than nothing.

Josh Porter's plans to win his grandfather's challenge and fulfill his father's final wish to gain full control of the family business hit a roadblock when he breaks his leg. But his enforced stay in Sweetwater Crossing gives him new ideas about the expansion of the company into new territory–ideas Louisa could help turn into reality.

If only the town were more accepting of Louisa's talents! Someone is determined to convince her to abandon her dream of healing others. Can Josh help her uncover the person behind the threats before it's too late? And is there any future for them together when neither of them plans to stay?
Releases October 3rd
Bertie Jenkins has spent forty years serving as a midwife for her community in the Great Smoky Mountains of East Tennessee. Out of all the mothers she's tended, none affects her more than the young teenager who shows up on her doorstep, injured, afraid, and expecting, one warm June day in 1943. As Bertie and her four sisters tenderly nurture Songbird back to health, the bond between the childless midwife and the motherless teen grows strong. But soon Songbird is forced to make a heartbreaking decision that will tear this little family apart.

Thirty years later, the day after his father's funeral, Walker Wylie is stunned to learn he was adopted as an infant. The famous country singer enlists the help of adoption advocate Reese Chandler in the hopes of learning why he was abandoned by his birth parents. With the only clue he has in hand, Walker and Reese head deep into the Appalachian Mountains to track down Bertie Jenkins, the midwife who holds the secrets to Walker's past.
Releases October 3rd
When MacThomas Pockets finished his last tour as part of the Scottish Special Forces, he was hired to consult for a film director to finesse some scenes that weren't working. In a twist he never saw coming, he ended up moving to L.A. to work as the bodyguard for movie star Maybe Joe Sue.
It didn't take long for Pockets to realize there were two Joe Sues: The Joe Sue the public saw with her perfect life and her Hollywood husband. And the private Joe Sue: the one with the traumatic youth that no amount of pills could cover up, who desperately wanted a child of her own.
Even after their paths diverged, he continued to track Joe Sue's life. Only a few would notice when the bottom fell out. But he did. And that's when he stepped in.
One man seeks to answer the question: How far would you go—really— to save someone you love? And in the masterful hands of New York Times bestselling author Charles Martin, finding the answer will take readers on an intense and heart-wrenching journey to the very end.
Into the Fire (Undaunted Courage #1)
Irene Hannon
Releases October 3rd
As a former smokejumper, arson investigator Bri Tucker knows her way around fires. But after a mysterious blaze takes the life of a former colleague, Bri inherits a curious puzzle from him that raises questions about several fiery deaths. Someone, however, doesn't want her picking up where he left off in search of answers.

When she teams up with ATF Special Agent Marc Davis to solve the puzzle, the danger escalates. But will they manage to track down the person behind the mysterious deaths before their budding romance–and maybe even their lives–go up in flames?

The bestselling and award-winning queen of romantic suspense is back with a brand-new series that is sure to get your adrenaline pumping as you burn through the pages to discover the truth.
The Lost Boys of Barlowe Theater
Jaime Jo Wright
Releases October 10th
It promises beauty but steals life instead. Will the ghosts of Barlowe Theater entomb them all?

Barlowe Theater stole the life of Greta Mercy's eldest brother during its construction. Now in 1915, the completed theater appears every bit as deadly. When Greta's younger brother goes missing after breaking into the building, Greta engages the assistance of a local police officer to help her unveil the already ghostly secrets of the theater. But when help comes from an unlikely source, Greta decides that to save her family she must uncover the evil that haunts the theater and put its threat to rest.

Decades later, Kit Boyd's best friend vanishes during a ghost walk at the Barlowe Theater, and old stories of mysterious disappearances and ghoulish happenings are revived. Then television ghost-hunting host and skeptic Evan Fisher joins Kit in the quest to identify the truth behind the theater's history. Kit reluctantly agrees to work with him in hopes of finding her missing friend. As the theater's curse unravels Kit's life, she is determined to put an end to the evil that has marked the theater and their hometown for the last century.
Shadows at Dusk (Missing in Alaska #2)
Elizabeth Goddard
Releases October 17th
Montana Detective Trevor West is desperate to learn what happened to his sister, who went missing in Alaska over a year ago, leaving nothing but a few photographs as clues to her whereabouts. At the advice of Police Chief Autumn Long, Trevor enlists the help of an experienced bush pilot. If Carrie James can't help him find the places in the photographs, no one can.

But Carrie has her own agenda. Grieving the death of her closest friend and the only person she could trust, Carrie will help Trevor find his sister on one condition–that he help her track down her friend's killer.

As the two close in on the answers they crave, they'll face dangers and connections they could not have imagined. They'll have to learn to trust one another–and face the dark secrets of the past–if they are ever to discover the truth and bring a killer to justice.
Marshaling Her Heart (Wyoming Sunrise #3)
Mary Connealy
Releases October 17th
Will their lives and romance survive the trouble coming their way?

Becky Pruitt has always prided herself on knowing everything that's happening on her successful ranch, so an unexpected admission from her foreman, Nate Paxton, comes as quite a surprise. With the notorious Deadeye Gang on the loose, Nate–a former U.S. Marshal–believes Becky's ranch is the best spot for a group of Marshals to use as a base to hunt them down.

The timing couldn't be more crucial for the town of Pine Valley, and Becky feels obligated to help. But after escaping the grasp of her harsh father, she's never liked giving up control, of her life or her ranch. If there's anyone she can trust with her ranch, and her heart, it might be Nate. But the outlaws won't go away quietly, and as danger draws ever nearer, Becky and Nate are faced with impossible choices that will test their growing bond.
Julia Monroe Begins Again (Beignets for Two)
Rebekah Millet
Releases October 24th
Samuel was back. It seemed unfair to be blindsided. And in church no less. Shouldn't there be a commandment about that? Thou shalt not step foot inside thy ex's place of worship.

Julia Monroe has just turned forty and has high hopes for a fresh start after the last decade of her life abruptly left her a young widow and a single mom. With both her boys off to college, she can finally focus on expanding her New Orleans-based cleaning business. Julia is ready for new beginnings–but God has other plans. Samuel Reed, the ruggedly handsome Green Beret who shattered her heart over twenty years ago, has returned to town and is the kind of distraction she never saw coming.

After their first interaction in years leaves her mind spinning and her emotions out of control, Julia knows she needs to avoid him if she wants any chance of preventing history from repeating itself, but her meddling best friend keeps throwing them together. And now it seems inevitable that the man who was hard to forget might just be impossible to resist.
Releases October 31st
Mere words can't end their families' feud, but the Campbell heir and the Bradshaw heiress plan to write a future together.
Buffalo, NY, 1924
Laura Bradshaw adores stories with happily ever afters. But since her mother died seven years ago, the Bradshaw Shoe Company heiress has been as good as locked away in a tower. Her overbearing father cares little for her dreams, throwing himself instead into his tireless takedown of his competitor, the Campbell Shoe Company. However, Laura has been gifted with a reprieve: a mysterious friend with whom she's been exchanging letters.
As heir to the Campbell Shoe Company, Isaac Campbell is a sought-after bachelor who has never felt an inkling of desire for the women who constantly bat their eyes at him. His thoughts are consumed by an oak tree in the Buffalo Zoo—or rather, the mystery woman he exchanges letters with courtesy of the tree. She's been one of Isaac's only joys in a life consumed by his father's tireless hatred of Bradshaw. A hatred that, Isaac is coming to realize, may affect him more personally than he ever imagined.
When Laura's father orchestrates a match between her and an important business owner, she resolves to pursue her only chance at freedom. But Isaac believes their story isn't bound for a tragic ending. He's certain there's more to the Bradshaw-Campbell feud than meets the eye. And he won't stop digging until he uncovers the truth that might bridge the divide between him and the woman whose words have captured his heart.