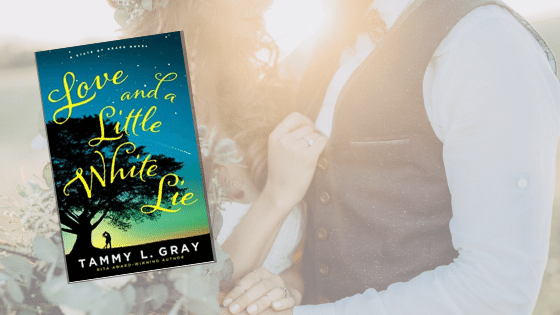 Tammy L. Gray is another new-to-me author, and I'm thrilled to say that the first book I've read by her was a success. Five stars for this romantic story with a deeper message of faith, loss, and reconciliation.
Book Description
---
January Sanders grew up believing karma was more reliable than an imaginary higher power, but after suffering her worst heartbreak in 29 years, she's open to just about anything, including taking a temporary position at her aunt's church. Keeping her lack of faith a secret, January is determined to use her photographic memory to help Grace Community's overworked staff, all while scraping herself off rock bottom.
What she doesn't count on is meeting the church's handsome and charming guitarist, who not only is a strong believer, but has also dedicated his life to Christian music. It's a match set for disaster, and yet January has no ability to stay away, even if it means pretending to have faith in a God she doesn't believe in.
Only this time, keeping secrets isn't as easy as she thought it would be. Especially when she's constantly running into her aunt's landscape architect, who seems to know everything about her past and present sins and makes no apologies about pushing her to deal with feelings she'd rather keep buried.
Torn between two worlds incapable of coexisting, can January find the healing that's eluded her or will her resistance to the truth ruin any chance of happiness?
My Review
---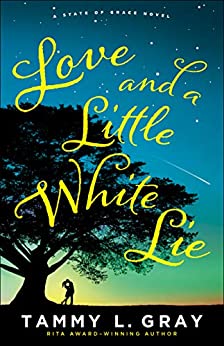 Love and a Little White Lie is a touching story of lost and found. When 29-year-old January "Jan" Sanders travels across the country to follow a man who ends up breaking her heart, she finds herself unable to return home. Instead, she is taken in by her Aunt Doreen who encourages her to fill a part-time position at the local mega church, something that doesn't quite make sense to Jan, a self-proclaimed Agnostic.

But what do you do when you're mending a broken heart and still need money in your bank account? You lie. Or at least, Jan lies. At first, it was a lie by omission as Pastor Thomas never did ask her if she was a Christian, but soon, after meeting the cute worship guitarist, Cam, she actually speaks a lie, one that allows him to continue to think she is who she's not.

Of course, as all good authors do, Tammy L. Gray adds in an unlikely character who knows the truth about her and challenges her with it. Dylan, a landscape architect who spends most of his time taking care of Aunt Doreen's property, is a man who has been nursing his own wounds from a marriage gone bad. Yet, despite this, he tends to show up in front of Jan when she needs him…and when she doesn't.

I enjoyed reading this novel and watching as Jan wrestled to keep her identity hidden while at the same time feeling guilty for doing so, especially when she falls for a devoted Christian like Cam. But it wasn't only this aspect that I liked. I loved watching how Jan interacted with the characters at Grace Community Church, at her aunt's property, and at the nursing home Jan shows up at to read to Mrs. Cox, the mother of a parishioner. Jan acts selflessly as she steps out of her comfort zone to help people she never knew, people who have what she doesn't: faith in God.

One thing that bothered me a little was how Cam handled himself when he and Jan started dating. Though it didn't get far, it got a little too physical for someone who was "a good boy." However, I will give the author credit for showing that even someone sheltered like Cam was, he has his failings, too.

Love and a Little White Lie was a quick read…er…listen (it was an Audible purchase), and I was hooked from the very beginning. Because it was an audiobook, I will say that the reader was perfect for the job. Well, almost perfect. I would have loved a different voice for Dylan's character, but still, the charm was there, and it didn't take away from the five-star rating I feel this book deserves.

As always, there are so many layers in this story, and as always, I can only tell you to Go. Read. If you love contemporary romances filled with a God-inspired message, stories of loss, of finding yourself, and even the added bonus of reconciliation, this story is one you'll want to pick up.
---

Find more info and books from Tammy L. Gray on her website
---