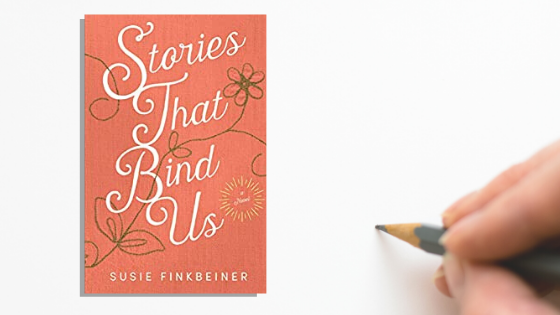 I am enjoying reading new-to-me authors this year right alongside those authors I've already come to know and love. This is the best part about reading and learning about new books coming out. Most are a hit, some are a miss, but either way, it's always a fun adventure.
Below you will find my review of Stories That Bind Us by Susie Finkbeiner. This is the first time I've read a book by this author, even though I had planned on reading another book by her last year, All Manner of Things.
After reading this book, there is no doubt that I will be adding more of her books to my TBR. Perhaps you'll enjoy her, too
---
Book Description
Betty Sweet never expected to be a widow at 40. With so much life still in front of her, she tries to figure out what's next. She couldn't have imagined what God had in mind. When her estranged sister is committed to a sanitarium, Betty finds herself taking on the care of a 5-year-old nephew she never knew she had.
In 1960s LaFontaine, Michigan, they make an odd pair. Betty with her pink button nose and bouffant hair. Hugo with his light brown skin and large brown eyes. But more powerful than what makes them different is what they share: the heartache of an empty space in their lives. Slowly, they will learn to trust one another as they discover common ground and healing through the magic of storytelling.
---
My Review
5 Stars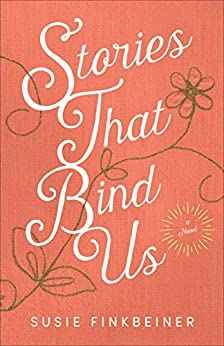 Author Susie Finkbeiner brings readers a beautiful, heartwarming story of everyday life and struggles set against a backdrop of the Civil Rights movement in the early 1960s. When Betty Sweet's husband passes away unexpectedly, Betty is left feeling helpless and without purpose. But when her sister, Clara, arrives at Betty's doorstep with a nephew she never knew about, Betty begins to find a new purpose. With this new purpose comes forgiveness, understanding, and revelations about a social injustice Betty never really paid attention to before. Not until it becomes personal to her.

Admittedly I struggled a bit at the beginning of this story. I was a little confused and couldn't figure out why some of the content was written, but as I continued to read, I noticed a pattern, and I appreciated the contrast between the present and Betty's reflections of the past. They went together so perfectly and made the story even more genuine.

The stories that Betty told her nephew, Hugo, were odd, but I could see the beauty in them, and I loved that she included Hugo in the storytelling process. Each story Betty created seemed to be based on a place the two could visit together. Other stories she told were stories her own mother had told her and Clara as children, stories that remained with her to this day, though Betty always wanted to change the ending to a more happy one while her mother didn't think a story needed a happy ending.

The issue of race was clearly evident in this story as Hugo was the child of a white mother and a black father, something not as common in the 1960s, and definitely not as accepted. Susie Finkbeiner did a wonderful job showing this issue without shoving it in the reader's face. Hugo's complexion was noticed and eventually questioned, but he was loved just as he should have been. And when there was a conflict, Betty held herself perfectly. Oh, what a sweet heart Betty has.

As I was reading, I also paid attention to the issues of mental health. Betty and Clara's mother had died in a mental health facility when they were children, and Clara struggled with mental health as an adult (and quite possibly before). When Clara entered the hospital, I found myself comparing and contrasting it to the asylum in Jocelyn Green's Veiled in Smoke, set during the Chicago Fire, and the present-day representation of mental health in Sharon Garlough Brown's Shades of Light. I love it when a historic book makes me think and allows me to reflect on where we have been and where we are now.

God was not forgotten while this book was being written, yet He is shown in Betty's struggle to attend church and to pick up her Bible, something she did on a regular basis before becoming a widow.

There are so many components of this story that seem simple on the outside but have a depth all their own, but I won't go into everything. What I will say is that I loved this story. There were many times I had to hold back a tear as the words touched me, but other times I found myself smiling and even laughing.

I highly recommend this story to anyone who enjoys relaxing with a book and slowly drinking in all it has to offer. Someone who will appreciate immersing themselves into a family that may not be perfect, but knows how to love.
This book was provided courtesy of Baker Publishing Group/Revell, through Interviews & Reviews.
---

Discover more about Susie Finkbeiner on her website
---