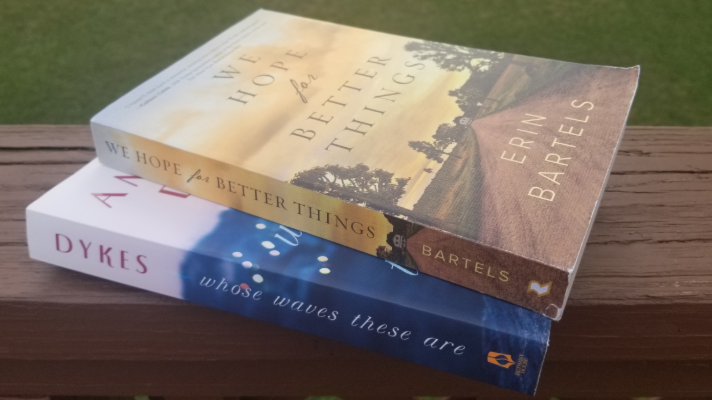 This year in my reading adventures, I have read 2 books that were debut novels. I love the idea of picking up a brand new book from a brand new author. One day, I would love to be in their shoes.
---
The first author you may have seen in a couple of my previous posts.
Erin Bartels' novel, We Hope for Better Things, made its appearance in January, 2019.
The reviews she received for her debut novel are telltale signs that she is going to be one to watch for. Her reviews seemed to waver between 4 and 5 stars, with an average of just over 4 stars according to Amazon and GoodReads.
I personally gave it about a 4, which in my opinion is still pretty good. It was a great novel, and I loved the idea behind it: 3 women, one family, 3 different time periods, 1 house. How do their stories come together? What significance does the house play in their lives?
I just wasn't "in love" with it. This, however, does not mean that I won't read more of her work. I feel that Erin can only improve from here, and I'm looking forward to seeing if this is true.
At the moment, I am patiently waiting for Erin Bartels' next novel to arrive on my doorstep. The Words Between Us comes out in September. I have already head great things from this novel from those who have received their advanced copy of the book.
Check out the reviews for The Words Between Us at Interviews & Reviews and Goodreads.
Learn more about Erin Bartels on her website
---
I very recently finished a book by another new author. This is not an author I have talked about on here previously, but she is one I am happy to tell you about.
Amanda Dykes' debut novel, Whose Waves These Are, made its appearance in April, 2019.
The reviews for this book reflect my own; mostly fives with the occasional four thrown in for good measure. Her average star rating on Goodreads and Amazon is a 4.60.
I gave this book a 5. It was a little slow getting into it, and I wasn't sure exactly what I was going to think, but the more I read, the more I fell in love. I found myself lost in the lives (past and present) of the people who live in the fictional town of Ansel-by-the-Sea, Maine.
Honestly, there was a point toward the end of the book where I thought to myself, "I don't want this book to end!" I was in deep. It was a slow (ish) read, but it needed to be. There was so much depth to Amanda Dykes' novel, just like the sea the town resided on.
Keep an eye out for a review on my site, probably in September.
psst…subscribe to my blog and you'll know exactly when it happens! >>>
For now, you can check out reviews for Whose Waves These Are on Amazon or Goodreads.
Learn more about Amanda Dykes on her website
---
I'm looking forward to reading more debut Christian fiction novels. If you know of any new authors, let me know!