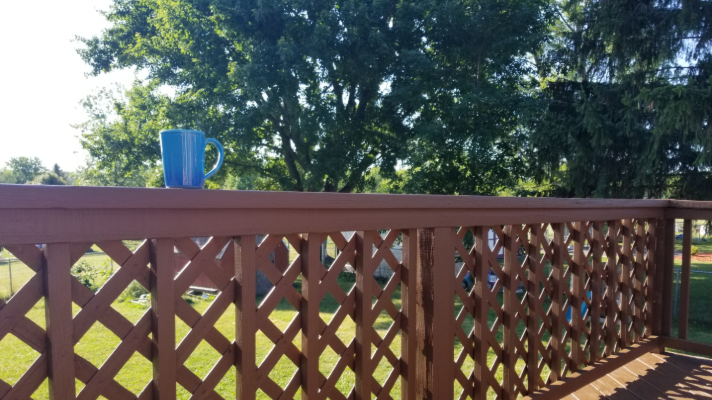 At exactly 6:15 AM, like clockwork, Grace opens her eyes to a brand new day. It's been a long time since she has needed an alarm clock; her body somehow knows this is her time, the only real time she has to herself. Quietly, she pulls the covers off, stands, and carefully replaces the covers back to their original position, careful not to wake Travis. She gathers up her clothes, a pair of jean shorts with legs that modestly touch the top of her knees, and a soft, short-sleeve gray t-shirt with the word "Blessed" printed on the front. This is a dance she has perfected over time, like a waltz with smooth but sure movements. 1-2-3, 1-2-3. After grabbing a pair of underwear and a bra, she heads to the bathroom to shower.
Grace relishes the effect the water has as it pours over her, waking her senses. Fog from the early morning begins to lift from her brain, leaving her with clarity. She lingers a moment longer then turns off the water and dries off. Once she is dressed, Grace follows her nose to the kitchen where the coffee has already finished brewing. Her programmable coffee maker has been a godsend on these mornings, her own personal butler without the conversation.
She grabs her favorite mug from the cabinet—blue with the words Fun, Faithful, Fabulous, scrolled in a rainbow sheen, a gift from her kids—and fills it with the steaming hot caffeine liquid, smiling as she breathes in its aroma. She is sure heaven smells like coffee, with maybe a hint pine and camp fire as well. Yes, that's what heaven smells like.
Mug in hand, she makes her way toward the sliding glass doors leading out onto the deck. As she walks, the living room comes into her periphery, and she notices something is not quite right. Turning, she sees a labyrinth of couch cushions on the floor, left there from last nights fort. Shaking her head and laughing at the memory, she lets it go. She knows she'll have to clean that up, but she's in no hurry.
Instead, she continues toward the door and slides it open, the sun greeting her as she steps out onto the deck, a constant friend promising warmth and companionship as she goes about her morning routine on this peaceful summer morning.
This is the only time of day she can rely on a routine going according to plan. Once she summons the troops from their beds, she knows that nothing will go exactly as it should, as much as she would have liked it to. But it doesn't bother her. Grace loves her children and her husband, and she couldn't be happier.
soaking in the sun's rays, she begins to pray. Lord, Heavenly Father, thank You for this beautiful morning, for your peace, and for this time that I can spend with You. Thank You, Lord, for my family—
At that moment Grace's thoughts slip, and she's looking into the past. Patrick. The first child she and Travis took into their home as foster parents. He was a teenager, fifteen-years-old, finishing up tenth grade. She had such high hopes for him, knew she could be his savior. Travis was more realistic; he warned her that it might not go the way she thought. Patrick had a sad childhood, and all they could do was show him love. What came next would be up to him.
But she wasn't prepared for what came next. School had ended, and summer vacation was already in full swing when a police officer arrived on their doorstep. "Are you Patrick Reed's parents?" the officer had asked when they opened the door.
"We're his foster parents," Travis responded. "Is there something wrong?"
"Do you know about the robberies that have been happening in your neighborhood?"
Grace had looked at the officer, standing in his blue uniform on their front stoop, tall and slender, a no-nonsense look about him. She didn't like where this was heading. "Officer, I assure you it wasn't Patrick. He's been hanging out in his room. I wish he would get outside and see the sun, but you know teenagers."
"Ma'am, we caught him trying to break into a house over on Chestnut just now. He's in the car as we speak."
Grace rests her elbows on the deck's railing, head in her hands. She remembers the grief she felt when he was taken away. She was angry; not at Patrick, but at God. How could God let this happen to him? Hadn't he been through enough? He was just a child, for goodness sake. God had failed Patrick, and so had she. She wanted to be his savior, but in the end she could do nothing for him.
She still remembers what her pastor said to her back then when Travis invited him over to talk. "Grace, I know it hurts, and I'm sorry this happened. But Grace, listen. You can't save everyone." He had reminded her who the true Savior was, and that He knew what He was doing. "Some plant the seed, some water it. The reaping is not for us."
Deep down, she knew he was right, but it was hard. Almost impossible. But she had her other children to think about, her own flesh and blood who were still little at that time, her oldest only eight. She had to be a good mom to them. And her call as a foster parent was not done. Though she didn't know how she would be able to open her heart again to another foster child, she knew she needed to.
It's been five years. Where is he, she wonders. What is he doing with his life now that he's twenty? She may never know. Although visiting this past is not an everyday occurrence, there's not a day that goes by when she doesn't pray for him. Walking through this experience has prepared her for the life of a foster parent. No longer does she have grand schemes of being a savior. Now, she focuses on just loving whoever comes through the door, trying her best to help in any way she can, praying that each child can return to a healthy, happy home with their real family.
Saying goodbye to a child still brings a sense of grief, but she knows her duty, her calling, and she trusts God to work in the lives of these children. It's all she can do. That, and pray.
Her thoughts turn to her Bible she had grabbed before stepping through the door, and she turns to today's reading: Proverbs 31. A description of the virtuous wife, Scripture she has read time and time again throughout her marriage. This morning, as she comes to verse twenty-five she is struck anew with these words:
Strength and honor are her clothing;
She shall rejoice in time to come.
She opens her mouth with wisdom,
And on her tongue is the law of kindness.
She watches over her household,
And does not eat the bread of idleness.
Her children rise up and call her blessed
She smiles and sends another thanks to God along with a few prayer requests. "You're always good, Lord, and I'm sorry for the times when I fail to see that. Thank You for being patient with me always. I love You, Lord. In Your Name, I pray, Amen."
Sensing she's now on limited time, she closes her Bible and finishes her coffee. Taking a deep, cleansing breath, she makes her way back inside and returns her Bible to its resting place atop a small table near the door, ready to be picked up for tomorrow morning's routine.
"Mommy," a small voice floats through the living room as Grace places the last cushion back on the couch. A little girl with strawberry-blond hair comes into view wearing her pink princess nightgown. Grace is not her mommy, not really, but at two-years-old, little Serena gives this title to any woman who takes care of her. Not that Grace minds. She considers herself a mother to any child who walks into her life, whether they came from her or from another.
Closing the distance between them, Grace reaches down and pick up Serena, holding her close. "Good morning ma'am," she says as she snuggles with her princess, "do you want to help me wake up the others?"
A tired smile lights up Serena's face. "Yes," she says decidedly. Together, they walk toward the bedrooms, ready for the day to truly begin.