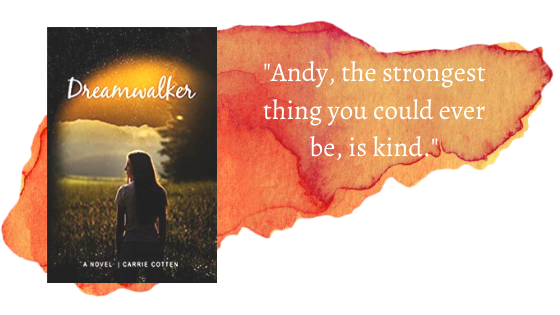 I'm excited to share this book review with you today! I met Carrie Cotten on Instagram, and she is a fun, southern, farming mama. Dreamwalker is her first book, and I'm in love with it. I was thrilled to be on her launch team, which is how I was able to get a sneak peak into her debut novel. This story is suspense with a bit of romance and a hint of the supernatural (at least, that's what I'm saying).
Dreamwalker is already out for the Kindle, but the paperback releases May 31st.
---
Book Description
Even among special agents, Andromeda Stone is special. Her unique ability to walk in the dreams of others has placed her in the services of a secret government research and defense facility known only as The Agency. She always assumed it was because of her gift that she felt out of place, even among her family; but as she faces an entirely new, and dangerous, mission; perhaps it's something deeper that sets her apart.
My Review
Now, I know I said I loved this book (I did!), but I did end up giving it a 4. Honestly, it deserves a 4.5 or, rather, a 9 out of 10. That's how amazing this book was. It just, for me, had a few flaws that I know will be fixed as Carrie Cotten continues to hone her craft.
So with that, on to the review!
Carrie Cotten describes her writing as "gripping fiction," and I would have to agree. From the very beginning, I was curious, but as I continued on, I was hooked. I had to know what exactly was happening and didn't want to put the book down, though life and priorities had other ideas on that subject.
Agent Andy Stone is a dream walker, someone who can walk inside another's dreams and communicate with them. As a government agent, her gift is used to locate missing people, expose terrorists, and learn the truth about certain "targets." Though Andy sees it as her duty, she struggles with her newest case, or target, Dovanny Taklos. Dovanny is an evil man who can manipulate others into doing his bidding, and he is after Andy and her ability.
The author doesn't leave you in the dark about who is good and who is not, at least not for too long. As a reader, I found myself wondering good and bad right along with Andy. Who could she trust? Though someone seemed trustworthy, were they? Slowly, the answers were solidified, and it was what I thought, or at least had hoped, would be true.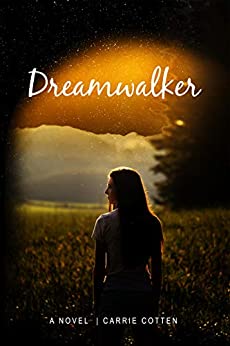 The Christian aspect was very prevalent throughout the novel, and I thought it was well done including the "call to action" at the very end of the book. Andy was never raised to believe in a higher being, yet she always felt like there was someone or something that created order in this world. And though she would talk to this "being," she had no idea who it was. But God was always placing His children in her path, those people who would begin to plant the seeds of faith in her, though they were never pushy about it.
At times the idea that Andy could walk in dreams seemed odd to me, and I found myself questioning this ability and why God would give her this type of ability. But then Carrie Cotten would write how God had a special purpose for others in the Bible: Sampson's strength, Joseph's dreams, Esther's courage. These examples allowed more plausibility to Andy's gifts and the gifts of those women who came before her.
I enjoyed this novel and am looking forward to Carrie Cotten's second book. I would recommend this story to anyone who loves gripping suspense with a bit of romance in the mix (I know I didn't talk about that, but it's there and I love it).
---
Head on over to Carrie Cotten's website to learn more about her
and pre-order Dreamwalker!
Follow Carrie Cotten
---