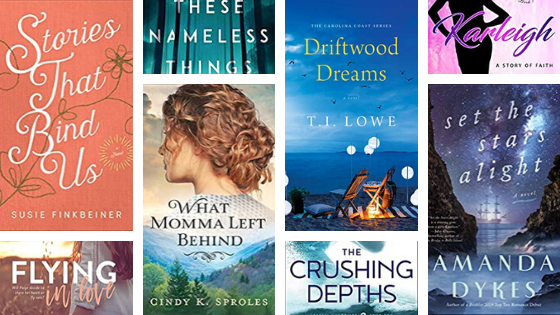 I couldn't help it! Only one month this time because, well, there were way too many great books coming out in June! So here is a list of books that I felt you should know about. As I always do, I chose books that had more than one medium. I'm sure the books that are Kindle only are amazing, but I like to give my readers more options. These books have at least a Kindle version and paperback if not audio.
Does a beautiful cover grab you as it does me? Just look at the covers below Oh. My. Goodness. They are wonderful. A great cover doesn't always make a great story, but it helps bring attention to the book and ups the possibility for readership. Yeah, I'm a sucker for covers.
You may notice that some of these books are the second book in a series. I only put those in if I've mentioned the first in a previous blog post. This is also why you might not see a book you've been waiting for (if it's not the first in a series).
My prayer is that you find something that grabs you and that you show some love to these amazing authors! I would love to know what books interest you. Don't see on on this list that should be? Comment below!
Happy reading!
---
Driftwood Dreams (Book #2 The Carolina Coast Series)
T.I.Lowe
Releases June 1st
Josie Slater has allowed the circumstances anchoring her in Sunset Cove to become a life sentence. Since her mother's death years before, she's spent most of her waking hours helping her dad run the Driftwood Diner. As her best friends, Opal and Sophia, make their dreams come true, Josie watches her own art school aspirations drift on by. But when a French-speaking Southern gentleman from her past moves back from Europe, Josie is launched into a tizzy of what-ifs and I-sure-do-hope-sos.
August Bradford left Sunset Cove six years ago to sow some life oats and conquer his ambitious career goals. Finally ready to lay down some roots, the successful artist is back in town and determined to win Josie's heart. When he enlists Josie's help in the preparations for a children's art camp, Josie finds herself unleashing her artistic side in a way she hasn't since before her mother's death. August hopes to convince Josie to paint a life with him, but the problem is convincing her to let go of her apprehensions and give him—and her dreams—a fair chance.
I've read book #1 in this series, Beach Haven, and it was such a fun read. Click here for my review on Goodreads. I've already pre-ordered Driftwood Dreams and T.I. Lowe's third book in the series, Sea Glass Castle.
The Way of Love (Book #2 Willamette Brides)
Tracie Peterson
Releases June 2nd
Faith Kenner is pursuing her dream to become a doctor at Willamette University's medical college so she can use her gift for healing to help those in need, especially the native populations forced onto reservations and then neglected. When she meets Andrew Gratton, a handsome riverboat captain who has been injured on his ship, she uses her skills to tend his wound, and a friendship grows between them. Andrew admires her strength and willingness to stand her ground, and Faith appreciates his intelligence and compassion. But Faith holds a secret that means their friendship can never become anything more, so she must bury her feelings for Andrew as best she can.
When her fellow students put together lectures to speak out against Oregon's racist laws and policies, Faith is eager to participate. But some powerful men have other plans for their state, and soon Faith is caught in the middle of a plot to push the local Indian tribes to rebel. As she and Andrew fight for the rights of others, their love for each other grows. Can they trust that God has a way toward love for them, or will her secret stand in the way of their one chance for true happiness?
At Love's Command (Book #1 Hangars Horsemen)
Karen Witemeyer
Releases June 2nd
Haunted by the horrors of war, ex-cavalry officer Matthew Hanger leads a band of mercenaries known as Hanger's Horsemen who have become legends in 1890s Texas. They defend the innocent and obtain justice for the oppressed. But when a rustler's bullet leaves one of them at death's door, they're the ones in need of saving.
Dr. Josephine Burkett is used to men taking one look at her skirts and discounting her medical skills. What she's not used to is having a man change his mind in a heartbeat and offer to assist her in surgery. Matthew Hanger's dedication to his friend during recovery earns Josephine's respect, and when she hears of her brother's abduction, he becomes her only hope for rescue.
Matt has stared down ruthless outlaws, betrayal, and injury, but when a bossy lady doctor crawls under his skin, his heart is tempted to surrender. And when she is caught in the crossfire, he may have to sacrifice everything–even his team–to save her.
Stories That Bind Us
Susie Finkbeiner
Releases June 2nd
Betty Sweet never expected to be a widow at 40. With so much life still in front of her, she tries to figure out what's next. She couldn't have imagined what God had in mind. When her estranged sister is committed to a sanitarium, Betty finds herself taking on the care of a 5-year-old nephew she never knew she had.
In 1960s LaFontaine, Michigan, they make an odd pair. Betty with her pink button nose and bouffant hair. Hugo with his light brown skin and large brown eyes. But more powerful than what makes them different is what they share: the heartache of an empty space in their lives. Slowly, they will learn to trust one another as they discover common ground and healing through the magic of storytelling.
Award-winning author Susie Finkbeiner offers fans a novel that invites us to rediscover the power of story to open the doors of our hearts.
If I Were You
Lynn Austin
Releases June 2nd
1950. In the wake of the war, Audrey Clarkson leaves her manor house in England for a fresh start in America with her young son. As a widowed war bride, Audrey needs the support of her American in-laws, whom she has never met. But she arrives to find that her longtime friend Eve Dawson has been impersonating her for the past four years. Unraveling this deception will force Audrey and Eve's secrets—and the complicated history of their friendship—to the surface.
1940. Eve and Audrey have been as different as two friends can be since the day they met at Wellingford Hall, where Eve's mother served as a lady's maid for Audrey's mother. As young women, those differences become a polarizing force . . . until a greater threat—Nazi invasion—reunites them. With London facing relentless bombardment, Audrey and Eve join the fight as ambulance drivers, battling constant danger together. An American stationed in England brings dreams of a brighter future for Audrey, and the collapse of the class system gives Eve hope for a future with Audrey's brother. But in the wake of devastating loss, both women must make life-altering decisions that will set in motion a web of lies and push them both to the breaking point long after the last bomb has fallen.
The Key to Everything
Valerie Fraser Luesse
Releases June 2nd
Peyton Cabot's fifteenth year will be a painful and transformative one. His father, the heroic but reluctant head of a moneyed Savannah family, has come home from WWII a troubled vet, drowning his demons in bourbon and distancing himself from his son. A tragic accident shows Peyton the depths of his parents' devotion to each other but interrupts his own budding romance with the girl of his dreams, Lisa Wallace.
Struggling to cope with a young life upended, Peyton makes a daring decision: He will retrace a journey his father took at fifteen, riding his bicycle all the way to Key West, Florida. Part declaration of independence, part search for self, Peyton's journey will bring him more than he ever could have imagined–namely, the key to his unknowable father, a reunion with Lisa, and a calling that will shape the rest of his life.
Through poignant prose and characters so real you'll be sure you know them, Valerie Fraser Luesse transports you to the storied Atlantic coast for a unique coming-of-age story you won't soon forget.
What Momma Left Behind
Cindy K. Sproles
Releases June 2nd
Worie Dressar is 19 years old when influenza and dysentery ravage her Appalachian Mountain community in 1898, leaving behind a growing number of orphaned children with no way to care for themselves. Worie's mother has been secretly feeding a number of these little ones on Sourwood Mountain. But when she dies suddenly, Worie is left to figure out why and how she was caring for them.
Plagued with two good-for-nothing brothers–one greedy and the other a drunkard–Worie fights to save her home and the orphaned children now in her begrudging care. Along the way, she will discover the beauty of unconditional love and the power of forgiveness as she cares for all of Momma's children.
Storyteller and popular speaker Cindy K. Sproles pens a tender novel full of sacrifice, heartache, and courage in the face of overwhelming obstacles.
A Single Spark
Judith Miller
Releases June 2nd
Wanting to do her part in the war effort, Clara McBride goes to work in the cartridge room at the Washington Arsenal, the city's main site for production and storing of munitions. She's given the opportunity to train new employees and forms a friendship with two of them. All seems to be going well, especially when one of the supervisors shows interest in her.
Lieutenant Joseph Brady is an injured army officer who, no longer able to lead troops into battle, has been assigned to a supervisory position at the Washington Arsenal. While Clara has caught his eye, he also makes it his mission to fight for increased measures to prevent explosions in the factory.
But when suspicions rise after multiple shipments of Washington Arsenal cartridges fail to fire and everyone is suspect for sabotage, can the spark of love between Joseph and Clara survive?
Flying in Love
Chalon Linton
Releases June 8th
Paige Hall's happy ending may just be in sight. She has been dating her boyfriend for months and feels confident their relationship is going in the right direction—until she catches him kissing another woman. Humiliated and hurt, Paige retreats from the dating scene and pledges to never fall hard again as she throws herself into her work as a speech therapist. Her vow is upended in a grocery store parking lot when she is nearly run over by a handsome and very apologetic air force pilot.
Captain Jake Summers is everything a girl could dream of: charming, considerate, and hardworking. Despite Paige's determination to avoid falling into another relationship, her resolve is no match for the whirlwind romance that ensues. When Jake is not flying, he and Paige are inseparable, and Paige begins to believe in happily ever afters again. But when the couple faces a heartrending loss, they must find strength in each other and in their faith or risk losing a once-in-a-lifetime love.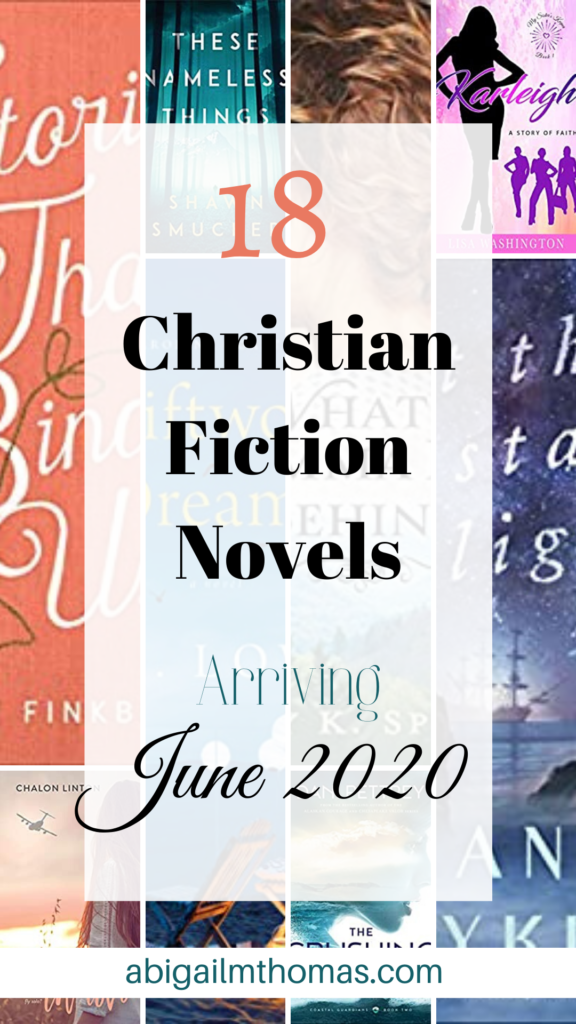 Closer Than She Knows
Kelly Irvin
Releases June 9th
Teagan O'Rourke has always loved murder mysteries. In her job as a court reporter, she has written official records for dozens of real-life murders. She's slapped evidence stickers on crime scene photos. She's listened to hours of chilling testimony. But she's never known the smell of death. And she never thought she might be a victim.
Until now.
A young police officer is murdered just inches away from her, and then a man calling himself a serial killer starts leaving Teagan notes, signing each with the name of a different murderer from her favorite mystery novels.
Panicked, Teagan turns to her friend Max Kennedy. Max longs for more than friendship with Teagan, but he fears she'll never trust someone with a past like his. He wonders how much of God's "tough love" he can take before he gives up on love completely. And he wonders if he'll be able to keep Teagan alive long enough to find out.
As Teagan, Max, and Teagan's police officer father race to track down the elusive killer, they each know they could be the next victim. Desperate to save those she loves, Teagan battles fears that once haunted her in childhood. Nothing seems to stop this obsessed murderer. No matter what she does, he seems to be getting closer . . .
Afraid of the Light
Cythina Ruchti
Releases June 16th
Clinical psychologist Camille Brooks isn't put off by the lifestyle of her hoarder clients and the distress of their families. She lost her mother to the crippling anxiety disorder–so she'll go a long way to help others avoid the same pain.
Despite Camille's expertise, her growing audience for her Let In the Light podcast, and the recognition she's gaining for her creative coaching methods, she's not prepared for the pushback. A client who looks uncannily like her mom catches her off guard and raises long-dormant issues. And the revelation that Camille has her own hoarding problem sends her spinning.
With the help of a cadre of unexpected friends, an enigma of a man who refuses to be discouraged, and the God who created and loves her, can she face her fears, pull back the curtains, and let the light into her own life?
Karleigh: A Story of Faith (Book #1 My Sister's Keeper)
Lisa Washington
Releases June 16th
Karleigh Hammond had to follow her passion and stepped out on faith to open her own hair salon. After a series of unfortunate events that seem to be targeting her salon, Karleigh is strugling with keeping the faith.
Simon Sharp had plans to expand his barber shop, but runs into a hurdle when he meets the beautiful owner of the new salon next door. His genuine care to assist Karleigh become a successful entrepreneur turns into feelings Simon had not expected. Instead of run from his feelings, he chooses to embrace them.
Will Karleigh allow the handsome owner of the barber shop next door be the friend she needs to help overcome her fears and restore her faith.
Set the Stars Alight
Amanda Dykes
Releases June 30th
Lucy Clairmont's family treasured the magic of the past, and her childhood fascination with stories of the high seas led her to become a marine archaeologist. But when tragedy strikes, it's Dashel, an American forensic astronomer, and his knowledge of the stars that may help her unearth the truth behind the puzzle she's discovered in her family home.
Two hundred years earlier, the seeds of love are sown between a boy and a girl who spend their days playing in a secret sea cave, while the privileged young son of the estate looks on, wishing to join. As the children grow and war leads to unthinkable heartbreak, a story of love, betrayal, sacrifice, and redemption unfolds, held secret by the passage of time.
As Lucy and Dash journey to a mysterious old estate on the East Sussex coast, their search leads them to a community of souls and a long-hidden tale that may hold the answers–and the healing–they so desperately seek.
This is a novel I've been waiting for. Amanda Dykes' debut novel, Whose Waves These Are, was a debut to live up to. I'm excited to read this one. Click here to read my review of Whose Waves These Are.
Line by Line (Book#1 Love Along the Wires)
Jennifer Delamere
Releases June 30th
Alice McNeil resolved at a young age to travel through life unencumbered by love or marriage, free to make her own decisions. A seasoned telegrapher, she's recently acquired a coveted position at an important trading firm, but when the company's ambitious junior director returns to London, things begin to change in ways Alice could never have imagined.
For Douglas Shaw, years of hard work and ingenuity enabled him to escape a life of grinding poverty. He's also determined to marry into high society–a step that will ensure he never returns to the conditions of his past.
He and Alice form a friendly relationship based on mutual respect, but anything deeper is not in their plans. However, when Alice accidentally raises the ire of a jealous and vindictive coworker who's intent on ruining her life, Alice and Douglas are forced to confront what is truly important in their lives. Will their growing bond give them the courage to risk finding a better way?
An Appalachian Summer
Ann H. Gabhart
Releases June 30th
In 1933 Louisville, Kentucky, even the ongoing economic depression cannot keep Piper Danson's parents from insisting on a debut party. After all, their fortune came through the market crash intact, and they've picked out the perfect suitor for their daughter. Braxton Crandall can give her the kind of life she's used to. The only problem? This is not the man–or the life–she really wants.
When Piper gets the opportunity to volunteer as a horseback Frontier Nursing courier in the Appalachian Mountains for the summer, she jumps at the chance to be something other than a dutiful daughter or a kept wife in a loveless marriage. The work is taxing, the scenery jaw-droppingly gorgeous, and the people she meets along the way open up a whole new world to her. The longer she stays, the more an advantageous marriage slips from her grasp. But something much more precious–true love–is drawing ever closer.
Bestselling author Ann H. Gabhart invites you into the storied hills of Eastern Kentucky to discover what happens when one intrepid young woman steps away from the restrictive past into a beautiful, wide-open future.
Love's Mountain Quest (Book #2 Hearts of Montana)
Misty M. Beller
Releases June 30th
Young widow Joanna Watson is struggling to make a new home for her five-year-old son, Samuel, in the little mountain town of Settler's Fort. When she returns home from work to find Samuel and the woman watching him missing, with no lawman in town, she enlists a man she prays has enough experience in this rugged country to help.
Isaac Bowen wants nothing more than a quiet, invisible life in these mountains, far away from the bad decisions of his past. But he has a strong suspicion of who's behind the kidnapping, and if he's right, he knows all too well the evil they're chasing.
As they press on against the elements, Joanna fights to hold on to hope, while Isaac knows a reckoning is coming. They find encouragement in the tentative trust that grows between them, but whether it can withstand the danger and coming confrontation is far from certain in this wild, unpredictable land.
These Nameless Things
Shawn Smucker
Releases June 30th
Before Dan opened his door to find a wounded woman who had escaped from the tormentors in the mountain, his life had become rather quiet. He and the eight other people in the mostly abandoned town had become friends. They spent peaceful evenings around the campfire and even made vague plans to journey east one day and leave the ominous mountain behind.
But the woman's arrival changes everything.
Who is she? How does she know so much about Dan's brother, who is still held captive in the mountain? Why are long-forgotten memories rising to the surface? And why does Dan feel so compelled to keep her presence in his house a secret?
The Crushing Depths (Book #2 Coastal Guardians)
Dani Pettrey
Releases June 30th
When an accident claims the life of an oil-rig worker on the first drilling platform off the North Carolina coast, Coast Guard investigators Rissi Dawson and Mason Rogers are sent to take the case. Tensions surrounding the oil rig are high and the death has everyone on edge. Environmental activists are threatening to do whatever it takes to stop the structure from being completed, while rumors are being whispered about ancient curses surrounding this part of the ocean.
Mounting evidence shows the death may not have been an accident at all. Was he killed by one of the activists or, perhaps more frighteningly, a member of his own crew? Rissi and Mason have to sort through not only a plethora of suspects, but also their own past and attraction to each other.
Just as the case seems like it'll break open, worse news arrives. A tropical storm has turned their way and soon they're cut off from any rescue–and right where the killer wants them. It's a race to discover his identity before he eliminates the threat they pose.