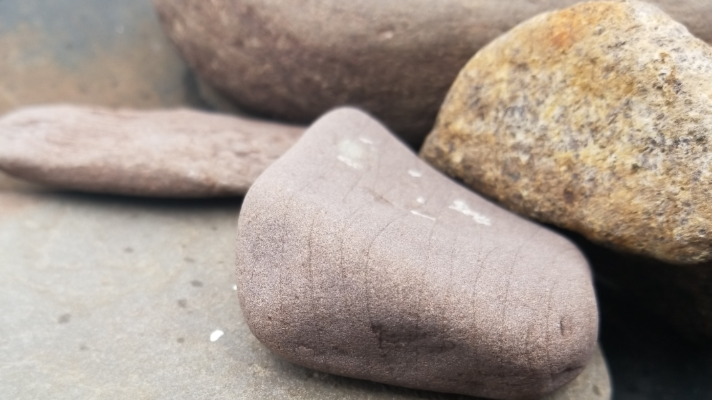 It's week #7 of the Fruit of the Spirit series.
---
Last week, as I was thinking about the story of Stephen in Acts chapters 6-7, the thought, "Stephen is a great example of faithfulness," came to my mind. How perfect that "faithfulness" was the topic of my next blog post.
I would have to say that Stephen truly is the definition of faithfulness.
Acts 6:8-10 Now Stephen, a man full of God's grace and power, did great wonders and miraculous signs among the people. Opposition arose, however, from members of the Synagogue of the Freedmen (as it was called)—Jews of Cyrene and Alexandria as well as the provinces of Cilicia and Asia. These men began to argue with Stephen, but they could not stand up against his wisdom or the Spirit by whom he spoke.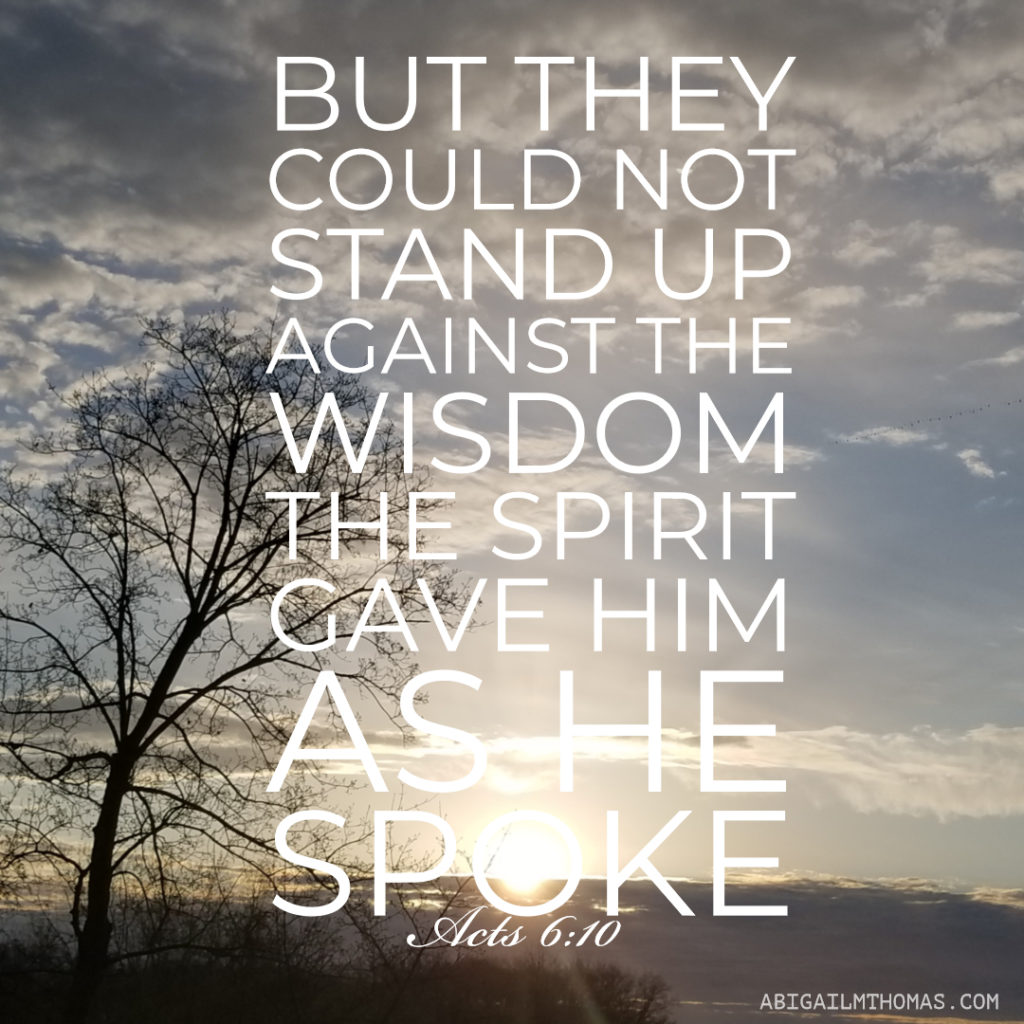 V. 11 Then they secretly persuaded some men to say, "We have heard Stephen speak words of blasphemy against Moses and against God."
V.13-14 They produced false witnesses, who testified, "This fellow never stops speaking against this holy place and against the law. For we have heard him say that this Jesus of Nazareth will destroy this place and change the customs Moses handed down to us."
Acts 7:1 Then the high priest asked him, "Are these charges true?"
And Stephen replied, "What? I have no idea what you're talking about. There's no way I would have done that. Why would they tell you something like that? They're just jealous."
Wait, no. That's not what happened.
Stephen's response is a recitation of the history of the Jewish people from Abraham, to Moses, and up through Solomon. He used the truth of their own history to speak about the faithlessness of the people throughout the ages. Despite God making a promise to Abraham, or using Joseph to help with the famine or Moses to lead them out of captivity, the people still resisted.
Oh, but Stephen didn't stop there. He continued on by addressing the assembly before him:
"You stiff-necked people, with uncircumcised hearts and ears! You are just like your fathers: You always resist the Holy Spirit! Was there ever a prophet your fathers did not persecute? They even killed those who predicted the coming of the Righteous One. And now you have betrayed and murdered him—you who have received the law that was put into effect through angels but have not obeyed it" (vv. 51-53)
To which the people responded, "Oh, you're right! How could we have been so blind?"
Wait. That's not right either.
Verse 54: When they heard this, they were furious and gnashed their teeth at him.
They didn't want to hear the truth. There was nothing Stephen was going to say that would get them to change their minds at that moment. But it didn't stop him from speaking:
But Stephen, full of the Holy Spirit, looked up to heaven and saw the glory of God, and Jesus standing at the right hand of God. "Look," he said, "I see heaven open and the Son of Man standing at the right hand of God" (vv. 55-56)
My pastor last weekend made a great point when he said that upon hearing this, he would be looking up, asking, "Where?" I think I would have that same reaction.
But that wasn't the reaction this mob had. They didn't care what was coming out of Stephen's mouth at that time.
Verse 57: At this, they covered up their ears and, yelling at the top of their voices…
I picture this group as a bunch of temperamental children who don't want to be told that it's bedtime. They cover up their ears and say, "I can't hear you!"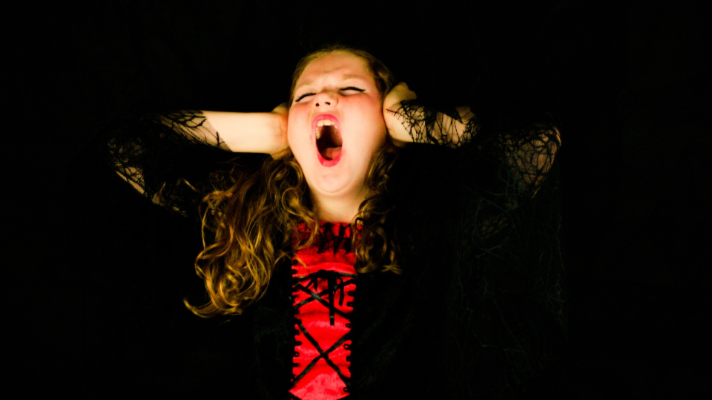 …they all rushed him, dragged him out of the city and began to stone him (v. 58).
This obviously goes beyond the typical childish temper tantrum, but Stephen persevered. We know that in the end, Stephen loses his life and becomes the first martyr for the Name of Jesus Christ. The amazing thing about him, though, is that he never lost his faith. Stone after stone, after stone.
I can't begin to imagine what Stephen felt at that moment.
Yesterday, whenever I walked into my boys' bedroom to put their clean clothes on their beds for them to put away after school, I would accidentally step on what I'm guessing was the button of my youngest son's pants that were laying on the floor. It hurt. But that was nothing compared to stones being hurled at his body by angry men. I was able to remove the object that would hurt my foot. Stephen had no reprieve until he breathed his last breath.
And yet, tp Stephen, God was still good. Jesus was his Lord. Not for one moment did he turn away; not once did he curse the name of God.
While they were stoning him, Stephen prayed, "Lord Jesus, receive my spirit" (v. 59)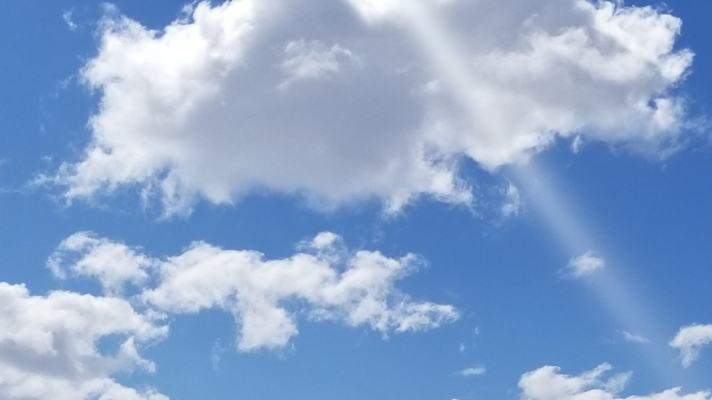 He even took it a step further:
Then he fell on his knees and cried out, "Lord, do not hold this sin against them." When he had said this, he fell asleep.
Not only was Stephen faithful to Jesus by continuing to glorify his Name, but he was also faithful by asking for forgiveness, the way Jesus had on the cross, for the men who were taking his life.
As I sat in Church last Sunday, I typed this in my notes:
Stephen: 1st Christian martyr
(Oh to have faith like him)  

How can we be like Stephen?
Though there are Christians being persecuted and killed every day in countries who cannot call themselves "free," though churches are being destroyed including the recent destruction of a mega-church in China, we have to admit that the majority of us aren't facing what they are. We have been blessed with a freedom that allows us to practice our faith "out loud."
But there are those who try to shut us down, try to silence us. It's no surprise that certain people don't like Christians, call our Bible a fairy tale, and try to belittle us.
Will this stop us? I would hope the answer is, "No." If we have faith like a mustard seed, as Jesus taught, then nothing is impossible. We need to stand up for who we are. There is dark and light in this world, and being faithful to Christ is choosing the light. We can no longer hide in the dark.
The choice is ours to make. Let's choose to be faithful.
How can we live this out?
Share the gospel
Be in the Word and pray faithfully
Never deny who Jesus is or what he has done for us
Never be afraid to speak on Christ's behalf
Live as Jesus has taught us
What does faithfulness get us? Is there a point?
I'm sure Stephen didn't worry about this. He knew where he was going, and that a better life awaited him. We need to remember this very same thing. Heaven waits for those who believe and have accepted Jesus as their Lord and Savior.
And, despite what we may endure, God has already made it worthwhile:
Do not be afraid of what you are about to suffer. … Be faithful, even to the point of death, and I will give you the crown of life.

Revelations 2:10
---
Father God, I thank you for the example lived out in Stephen. Lord, we are safe where we are, but there are those who are not and still remain faithful to you until the end. May they also be an example to us, Lord, when we face trials and are tempted to put you aside. Lord, be our All in All. I love you, Lord. In your name, I pray, Amen.
---