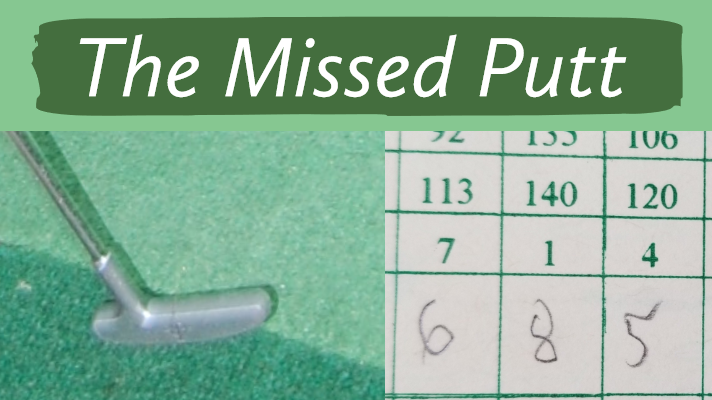 "Nice shot." That was the last phrase my dad would ever speak.
He and my brother-in-law had taken advantage of a warm, sunny, Sunday afternoon after church to play a round of golf at dad's favorite 9-hole golf course in the town where he resided. They walked up to the first hole, and dad carefully pushed his tee into the ground and placed the ball atop the tee. After taking his iron out of his golf bag—it was a small golf course—he lined up his shot, checking for distance, the perfect place to send his ball, the wind. Dad always took this slow, methodical approach whenever he played a round of golf, whether it was at a larger golf course or even a round of mini-golf.
Finally satisfied with the conditions, he took a few practice swings and then let the club come into contact with the ball, sending it flying down the fairway toward the green. By the sixth shot, dad sunk his ball. Three over par. He continued in this manner, hitting the ball from the tee, taking extra care on the green, for the next two holes. Hole number two he shot an eight, and hole three he managed a five.
Dad was now nine over par as he approached the fourth hole. Hoping to do well this time, he let the ball sail down the fairway. It landed with a thud about two-thirds down. After a couple more attempts, his ball landed on the green and rolled slightly away from the fringe.
This was it. He knew it was not going to be par, but if he sunk this shot now it would only add one to his over par total. Perhaps he could start to make it up on hole number five.
But we'll never know what his score would be. Dad placed his feet carefully on the green, gripped his putter, and checked the hole one more time. He judged the slope, his aim, and then
"Pops!" My brother-in-law yelled out. He saw him go down, yet he didn't understand why. He yelled out for help. What happened? Dad seemed fine that morning. It was the perfect day. He sang that Sunday morning at church, leading the congregation in song from the altar, something he enjoyed. With the beautiful day, he made his way to the golf course. They were supposed to play nine holes, stop for a drink, and then head on home to their wives.
But that wasn't meant to be. Hole four on his scorecard would forever remain blank.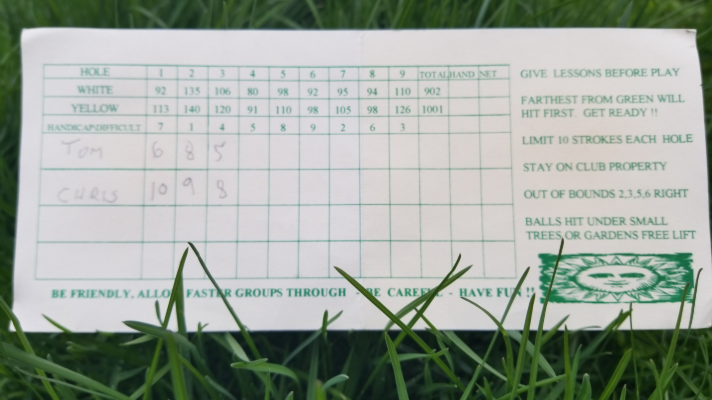 ***
While dad was taking advantage of the beautiful day on the golf course, my husband and I were in our backyard, also taking advantage of it. We were in a season, at that time, of churchlessness, and that morning we had decided to work on our newly built swing set.
We had moved into our very first home not quite two years before, and my husband's brother thought it was about time that our children had a swing set. After he had made the purchase at Toys-R-Us, the swing set was delivered, and a group of willing participants gathered in our backyard to help with the construction. That had been two weeks prior to this day, and dad had been counted among those in the group.
Though the Creator is perfect, our land was not. It sloped in odd places, perhaps made this way by the great lake that once covered it, and the swing set needed some extra help to have a level finish. Dad tried to help with suggestions, but the one I wanted to try confused him. He couldn't visualize what I was planning.
And so, on that Sunday morning, two weeks after the swing set was almost completed, my husband began cutting the wood that would create a flower box at far end of the swings. It was deceptive in looks, as four blocks of wood would be attached to the inside corners where the legs of the set would rest. When all was finished, it would look like the flower box was meant to be there, and the swing set would be level.
I looked on as my husband drilled holes into the wood and thought about how great it would be to show dad the end product of my vision. It felt wonderful knowing that I could come up with a solution that would not ruin the aesthetics of the wooden play set.
The phone rang. It was my sister. I don't remember everything that was said. All I can pull out of my memory now are fragments of that conversation. "Dad is heading to the hospital. We're on our way there, now. They think it was a heart attack."
I remember she told me which hospital and that she and my mom would meet us there.
After hanging up the phone I yelled to my husband from where I was standing on the deck. Why I didn't go down to the yard and make my way over to him, I'll never know. Instead, I yelled his name, trying to be heard over the sound of the drill.
"Dad's heading to the hospital," I yelled in panic. "They think it's a heart attack. We have to go. NOW."
He stopped what he was doing, and we gathered up our three children. They were still so little at that time. Our oldest, our only daughter, was just five-years-old and ending her first year at school. Kindergarten graduation was just over a month away. Our second child was four. He was the first of our children to go to preschool, and his graduation was also just over a month away. And then there was our youngest. In just over a month he would be celebrating his second birthday.
Somehow we managed to get our children into the back of our silver Hyundai Sonata, carefully placing the two oldest into their booster seats and our youngest into his car seat. When they were safely buckled in, my husband and I took our places up front, his behind the wheel, mine next to him in the passenger seat, and began our trek to the hospital two towns and twenty minutes away.
***
We pulled into the parking lot at the hospital, and I went in ahead of my husband and children. Mom met me near the front desk and directed me toward a door that led to a small, private room just outside of the Emergency Department. Before the door closed fully, two words escaped mom's lips.
"He's gone."
"NO!" I screamed. To this day I still wonder if anyone heard me in the waiting area. Was the door still open, or had it closed by then? If they did hear me, I wonder what thoughts went through their minds, what faces they might have made. But I'll never know.
I cried. No, I wept. Did mom really mean what she had said? Was dad really gone? He was only sixty-two. He had decades ahead of him. Dad was supposed to go to my children's graduations. The year before he and mom drove down to Virginia to celebrate the birthday of one of my nephews and my niece's graduation, so he had missed my son's first birthday. He had also missed his birth, the only one of my children he was not there for at the time as work got in the way. That year he was going to attend my son's second birthday.
But he wasn't.
Those of us who were local sat in that small room and discussed who would be making calls to family out of state. I called my little sister. She was a Navy wife, and she and her husband were living in Newport News, Virginia where her husband was stationed. My sister had been aware that dad was heading to the hospital and was waiting to find out his condition.
Her sentiments, when I called her, matched my own. "NO!"
She broke down in tears, and her husband took the phone. He told me what needed to be done—the phone call that needed to be made and the information that needed to be relayed—so that he could be granted leave to come up for dad's funeral. His funeral! I pushed that thought aside as I wrote down the information he was telling me. When we hung up the phone, I handed the paper to my brother-in-law, the one who had been with dad earlier that day. I could not make that call.
After some time, a few of us were allowed into the room where dad's body waited for the next steps. What do you do when you're in a room with your daddy, dead on a hospital bed in the middle of the room?
Well, he was still my daddy. I climbed onto his bed and stretched out beside him, stroking his face. My fingers ran over the creases on his forehead, down to his scraggly, gray, white, and black mustache and beard. I was committing his features to memory. I knew that there was going to be a time all too soon when I wouldn't be able to have that opportunity ever again.
True to my family's personality, I joked around with the people who were in the room with us. "So, mom. Does this mean you can get a new dining room table?" We laughed and joked some more. Humor was used to ease the pain if even just for a little while.
***
On Friday, May 8th, 2009, we buried dad. Five days had passed since his death, and the pain was no less than it had been that Sunday afternoon. We donned our black and said our final goodbyes at the funeral home. We then made our way to the church where dad had sung on Sunday. This mass, however, was solely for him.
Or maybe it was for us. Dad was gone, and we knew where he was. The story he always told me was that my birth back in 1978 was the reason for his coming back to Christ. I was due on Christmas Day of all days. Dad didn't want mom—or the new baby—in the hospital on Christmas, so he prayed and prayed that I would be born before that day. I was born one week before Christmas to the day.
So then, with dad's faith in Christ, there was no reason for us to worry about him. He was already enjoying perfect golfing weather where he was. He could sing praises to God all he wanted. We were the ones left behind.
When mass had ended, it was time to make our way to the back of the church and out to our cars for our trek to the cemetery. As we made our way down the aisle, the song we chose for the recessional was sung by the group my dad was once a part of. They sang and upbeat song, chosen by us, called, "Soon and Very Soon." Mom, my oldest niece, and I, "be-bopped" down the aisle, smiling and bumping each other with our hips while singing along.
We weren't happy that dad was gone, but we were going to enjoy that song for him.
Dad's life had its ups and downs. He was a great father, but he had his issues as we all do. But I will always miss him. This man touched so many lives during his short time on earth, and it was evidenced at his funeral.
As we followed the hearse through the cemetery, we didn't really put any thought into the fact that we went past the small road that ran in front of dad's plot. Instead of turning left there, the driver went around dad's section and circled back. We assumed it was just what he wanted to do. But he made it a point to tell mom the reasoning behind it. He said that there were so many cars in the funeral procession that he wanted to make sure there was enough room for all of them to park.
We hadn't even noticed how many people were following behind; we were caught up in our own little world, in our own grief. He really did touch so many lives. That day, we left the cemetery with a newfound joy in the unexpected knowledge we received.
---
My dad is a part of my testimony, the part I don't always share. Even now, ten years later to the day, I grieve for him. I struggle with the thought that he has missed so much of my children's lives. Birthdays, Kindergarten and Preschool graduations, lost teeth, my son's cancer diagnosis, treatment, and survivor status, school dances. My youngest son, my fourth child, was born six years after dad's death. There are no stories we can share about his Grampa that has anything to do with him. Dad never met him, and he never met dad.
I'll never see my dad as an old man, my mom has been left without her life partner. At times I look at those who are older than me and am jealous that they still have their parents. They'll never know what it's like to lose them at a young age. I was thirty. My little sister was twenty-five.
But then I remind myself that I was lucky to have him as long as I did. I have friends who have lost their parents at a younger age than even my little sister. It's a paradox.
But here's what gives me some comfort:
1. My dad had problems with his eyes, and for all we know the surgery that was scheduled (for a time after his death) could have rendered him blind. My mom and dad might have struggled because of it.
2. After a long grieving time, I eventually felt as though I was no longer tied to my parents' church, the church of my youth. With this knowledge, I was able to make decisions that led me to commit my life to Christ completely.
3. I feel that dad's death ultimately led to my salvation. It's not the reason he died, but God used it for good in my life.
---
If you've stuck with me until the end, thank you. I know my posts are typically much shorter than this, but on the 10th anniversary of my dad's death, I wanted to do something special to honor him.
It's not exactly "fiction" for Fiction Friday–though I had to reach into the fiction realm for the beginning of this story–but I hope that it still touched you in some way. In any case, I wanted to share my dad's story, at least of his last day.
In a few weeks time, I hope to be announcing the release of a new non-fiction book complete with a story, beautifully written poems, and gorgeous pictures. It's not my book, but it does go along with this story. Stay tuned!
---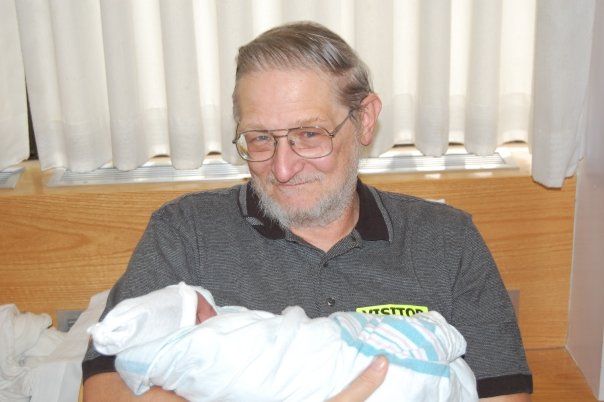 ---