May books are here! It's still pretty chilly here in Western NY, but I'm looking forward to the days when I can relax outside on my hammock and read. Still, reading inside is a blessing! Check out the books below and give me a shout as to which one(s) sound good to you!
---
Releases May 1st
Fiction Based on Strange, But True, History
 
True, riveting stories of American criminal activity are explored through a unique stories of historical romantic suspense. Collect them all and be inspired by the hope that always finds its way even in the darkest of times.
 
Denver of 1900 is still a dangerous place to be following the silver crash of 1893. And of out of the dark comes a shadow intent on harming women. Ambitious young Denver newspaper reporter Polly Blythe is searching for the big story that's going to launch her career. On Friday evening, August 24, 1900, she gets her break when two women are cracked over the head within a two-minute walk of each other. But policeman Edwin Timmer thwarts Polly's ideas of a serial criminal. . .until the shadowy figure strikes again. Will the reporter and the policeman team up to find the culprit before he strikes too close for comfort?
At Lighthouse Point (Three Sisters Island Book #3)
Suzanne Woods Fisher
Releases May 4th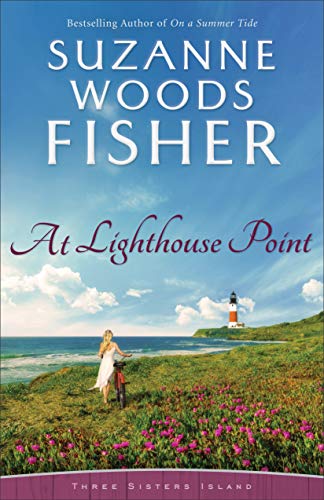 Blaine Grayson returns to Three Sisters Island with a grand plan–to take Camp Kicking Moose to the next level. Her dream starts to unravel when she discovers Moose Manor's kitchen has been badly remodeled by her sister, Cam, who doesn't know how to cook. Added to that blow is the cold shoulder given by her best friend, Artie Lotosky, now a doctor to the unbridged Maine islands.
As old wounds are opened, Blaine starts to wonder if she made a mistake by coming home. Little by little, she must let go of one dream to discover a new one, opening her heart to a purpose and a future she had never imagined.
Bestselling author Suzanne Woods Fisher invites you back to the coast of Maine for a story that reminds you to release what doesn't matter and cling to what does: faith, family, and friendships.
Under the Magnolias
T.I. Lowe
Releases May 4th
This night not only marked the end to the drought, but also the end to the long-held secret we'd kept hidden under the magnolias.
Magnolia, South Carolina, 1980
Austin Foster is barely a teenager when her mama dies giving birth to twins, leaving her to pick up the pieces while holding her six siblings together and doing her best to stop her daddy from retreating into his personal darkness.
Scratching out a living on the family's tobacco farm is as tough as it gets. When a few random acts of kindness help to ease the Fosters' hardships, Austin finds herself relying upon some of Magnolia's most colorful citizens for friendship and more. But it's next to impossible to hide the truth about the goings-on at Nolia Farms, and Austin's desperate attempts to save face all but break her.
Just when it seems she might have something more waiting for her―with the son of a wealthy local family who she's crushed on for years―her father makes a choice that will crack wide-open the family's secrets and lead to a public reckoning. There are consequences for loving a boy like Vance Cumberland, but there is also freedom in the truth.
Releases May 4th
A story about the price of fame, the truth sacrificed on its altar, and the love that brings a prodigal daughter home.
As the Great Depression hits the Midwest, Minerva Sinclaire runs away to Hollywood, determined to make it big and save the family farm. But beauty and moxie don't pay the bills in Tinseltown, and she's caught in a downward spiral of poverty, desperation, and compromise. Finally, she's about to sign with a major studio and make up for it all. Instead, she wakes up next to a dead film star and is on the run for a murder she didn't commit.
Only two unwilling men―Oscar, a Mexican gardener in danger of deportation, and Max, a too-handsome agent battling his own demons―can help Mina escape corrupt police on the take and the studio big shots trying to frame her. But even her quick thinking and grit can't protect her from herself. Alone, penniless, and carrying a shameful secret, Mina faces the consequences of the heartbreaking choices that brought her to ruin . . . and just might bring her back to where she belongs.
Releases May 4th
Former CIA sniper Kadance Tolle possesses a special set of skills and a rare pedigree. She comes from a family of assassins, and by saving Lyndon Vaile's life she risks being found by them. Despite the danger, Kadance feels compelled to help Lyndon discover who is after him–and his research that seems to prove that the Ebola virus was manmade and is about to be weaponized.
With shadowy figures pursuing them and a Mastermind watching their every move, Kadance and Lyndon must scramble to stop an impending bioattack at the State of the Union address. But their warnings fall on deaf ears, and it becomes increasingly clear that there's no one they can trust–except perhaps each other.
Strap in for a breakneck story that will have you up all night, hurtling toward the last page as the clock ticks and time runs out.
The Nature of a Lady (The Secrets of the Isles)
Roseanna M. White
Releases May 4th
1906
Lady Elizabeth "Libby" Sinclair, with her love of microscopes and nature, isn't favored in society. She flees to the beautiful Isles of Scilly for the summer and stumbles into the dangerous secrets left behind by her holiday cottage's former occupant, also named Elizabeth, who mysteriously vanished.
Oliver Tremayne–gentleman and clergyman–is determined to discover what happened to his sister, and he's happy to accept the help of the girl now living in what should have been Beth's summer cottage . . . especially when he realizes it's the curious young lady he met briefly two years ago, who shares his love of botany and biology. But the hunt for his sister involves far more than nature walks, and he can't quite believe all the secrets Beth had been keeping from him.
As Libby and Oliver work together, they find ancient legends, pirate wrecks, betrayal, and the most mysterious phenomenon of all: love.
Banished (The Long Road Home)
Linda Byler
Releases May 4th
It was the early 1900s when Obadiah (Oba) and Merriweather's (May's) parents died tragically, leaving them orphans at ten and eleven years old. When none of their nearby relations volunteer to take them in, they are set on a train to Arkansas to go live on their Amish aunt and uncle's cotton farm. Once there, it didn't take long to discover they would be treated cruelly, no matter what they did. May, always anxious to be a godly young lady, took on more and more responsibility, trying desperately to keep the peace and convince her older brother not to run away. But when they became teenagers and Oba received one especially cruel beating, he disappeared, leaving May to shoulder even more responsibility while navigating the dangerous and lonely world she'd been placed in.
When she encounters Clinton, a young black man, on the road one day, she sees a kindness in his eyes that she's been thirsting for. He is immediately drawn to her, too, but quickly reminds her that he is black and she is white. In that time and place, there is no chance of starting a friendship. But still, they find themselves meeting discretely, spending more time together than is proper, finding joy and solace in each other's company.
When things go from bad to unbearable at the farm, May realizes she must escape from her aunt and uncle. If only she knew where Oba had gone! Can she turn to Clinton for help? Where is God when she needs Him most?
Let It Be Me (Misty River Romance #2)
Becky Wade
Releases May 4th
Former foster kid Sebastian Grant has leveraged his intelligence and hard work to become a pediatric heart surgeon. But not even his career success can erase the void he's tried so hard to fill. Then he meets high school teacher Leah Montgomery and his fast-spinning world comes to a sudden stop. He falls hard, only to make a devastating discovery–Leah is the woman his best friend set his heart on months before.
Leah's a math prodigy who's only ever had one big dream–to earn her PhD. Raising her little brother put that dream on hold. Now that her brother will soon be college bound, she's not going to let anything stand in her way. Especially romance . . . which is far less dependable than algebra.
When Leah receives surprising results from the DNA test she submitted to a genealogy site, she solicits Sebastian's help. Together, they comb through hospital records to uncover the secrets of her history. The more powerfully they're drawn to each other, the more strongly Sebastian must resist, and the more Leah must admit that some things in life–like love–can't be explained with numbers.
A Woman of Words (Jerusalem Road #3)
Angela Hunt
Releases May 4th
Disciple Matthew, a former tax collector, is invited to work with Peter, James, and John in Jerusalem. He dreams of preaching and performing miracles like his fellow apostles, but he finds his dreams postponed because of a request from Yeshua's mother. Well aware of the passing years, Mary asks Matthew to help her record the stories of Yeshua while the eyewitnesses are still alive. Reluctantly, he agrees, though the longer he and Mary work together, the more difficult their task becomes. Not only are they pressured by opposition from friends and foes alike, but Gaius Caesar, better known as Caligula, is determined to raise a statue of himself in the Holy Temple, even if it means killing every man in Israel. As Matthew works to save his people, Mary encourages him to come to terms with issues from his past. When they finally near the completion of their project, Matthew realizes that the job he reluctantly accepted might be his God-given destiny.
Releases May 4th
After a rough mission in Rome involving the discovery of a devastating bioweapon, Company spy Ben Calix returns to Paris to find his perfectly ordered world has collapsed. A sniper attack. An ambush. A call for help that brings French SWAT forces down on his head. Ben is out. This is a severance–reserved for incompetents and traitors.
Searching for answers and anticipating a coming attack, Ben and a woman swept up in his misfortunes must travel across Europe to find the sniper who tried to kill him, the medic who saved his life, the schoolmaster who trained him, and an upstart hacker from his former team. More than that, Ben must come to grips with his own insignificance as the Company's plan to stop Leviathan from unleashing the bioweapon at any cost moves forward without him–and he struggles against the infection that is swiftly claiming territory within his own body.
Award-winning author James R. Hannibal rachets up the tension on every page of this suspenseful new thriller.
Releases May 5th
After growing up in small-town Hearts Bend, Tennessee, Gemma Stone set off to Hollywood to make her mark in the world.
But her ambition turned into a journey of a "thousand" bad decisions and after twelve years of seeking fame and fortune, Gemma returns home with a limp and a dark secret.
Now she runs a rescue ranch and is raising her friends' orphaned daughter. She's keenly aware these defenseless ones are also rescuing her. She just wants to stay hidden in the safe world she's created.
HRH Crown Prince John has learned a royal title cannot shield him from heartbreak. As heir to the revered House of Blue and married to the love of his life, he believed his future reign would strengthen the royal dynasty of Lauchtenland. Then tragedy changed everything. Can anything save him from his grief?
When he travels to Hearts Bend on a mission for his mother, Queen Catherine, he's drawn into the local life and cajoled into a three-legged race with the beautiful Gemma Stone during the 4th of July festivities.
While the event has a disastrous result, Prince John and Gemma form a quick friendship—one of two wounded souls finding comfort in one other. However, love is absolutely not an option. John desperately wants to hold onto the memories of his wife, and Gemma refuses to trust her heart to any man. Even a prince.
Then Prince John is called home for an emergency. How can he leave the woman who lifted him from his sorrows? But can Gemma join him on a royal stage and risk her secret coming to light?
With a touch of divine help, Prince John and Gemma just might find the kind of love that saves and ultimately write their very own fairy tale.
To Save a King is book two in the True Blue Royal series.
Releases May 11th
In 1929, a spark forms between talented watercolorist Eliza and William, a charming young man who has been hired to forge her popular paintings. Her aunt makes it clear Eliza should stay away from him because of a feud between their families over missing heirloom silver. But the source of the rivalry was long ago, and as the two get to know each other, they fall in love. William regrets the job that desperation led him to take and their families' ongoing bitterness, but setting things right comes at a cost.
In present-day Charleston, Lucy Legare has just inherited an old house from a mysterious benefactor, along with all the secrets it holds, including an old silver heirloom. Declan Pinckney is determined to buy the house for his family's development company. But as Lucy uncovers secrets about the house, garden, and silver, she becomes more determined than ever to preserve the historic Charleston property, not only for history's sake but also for her own.
Releases May 11th
Riley McAllister is living the dream in New York City . . . if the dream means being a struggling mixed-media artist, part-time food delivery driver, and having a carefully curated social media to hide all of the above. She refuses to admit defeat and move back to small-town Maple Falls, but when her grandmother breaks her leg sliding into third base during a softball game (she was safe, by the way), Riley reluctantly agrees to go home and help the woman who raised her—while secretly hoping she can convince Mimi to sell her house and yarn shop and move in with a good friend. Then Riley can return to her new life in NYC, on her own and for good.
But Mimi has her own plans, which include setting Riley up with local baseball star Hayden Price, who returned to Maple Falls after an injury ended his major league career. Now he works at his father's hardware store, coaches the church softball team, and worries about the declining town. It's not the life he dreamed of having.
With a little meddling and a lot of kindness from the town, Hayden and Riley find themselves unexpectedly falling for each other as they discover the true meaning of home.
Welcome to Maple Falls, where everyone knows your name and your business. 
Releases May 11th
A devastating explosion.
Three best friends are at the venue to hear their favorite band. Only one makes it out alive.
A trunk full of evidence.
When police stop Dustin Webb with a warrant to search his trunk, he knows there's been a mistake. He's former military and owns a security firm. But he's horrified when the officers find explosives, and he can't fathom how they got there.
An attorney who will risk it all for an old friend.
Criminal attorney Jamie Powell was Dustin's best friend growing up. They haven't spoken since he left for basic training, but she's the first person he thinks of when he's arrested. Jamie knows she's putting her career on the line by defending an accused terrorist, but she'd never abandon him. Someone is framing Dustin to take the fall for shocking acts of violence . . . but why?
Releases May 11th
From the mountains of Virginia comes a spiritually enlightening and captivating tale of survival and trust.
Native American Emerson Coffee is the last surviving member of her tribe. An endling. After an internship in New York, she has returned to her chosen life of solitude in the stone cabin atop the Blue Ridge Mountains of Virginia, where her grandfather trained her to survive by seeking God s guidance in nature.
When US Marshals inform her she is being hunted by a mob hit man, Emerson declines their offer of witness protection, believing she can best outwit a predator on her own turf. But when three innocent children living in the art colony below become caught in the crosshairs, Emerson must decide if she will risk it all her mountains, her heritage . . . even her life to secure their safety.
Can a lone and unarmed endling stop the most ruthless family of all or will everything her ancestors fought to preserve die with her?
Beneath the Seams: A Social Impact Novel
Peyton H. Roberts
Releases May 11th
Fashion designer Shelby Lawrence is launching her mother-daughter dresses nationwide when she receives a photo of the girl who will change her life forever. Runa, the family's newly sponsored child, is a clever student growing up near Dhaka, Bangladesh.
Dresses are flying off the racks when a horrifying scene unfolds in Dhaka that threatens to destroy Shelby's pristine reputation. Even worse-it sends Runa's life spiraling down a terrifying path. Shelby must decide how far she's willing to go to right a tragic wrong.
Both a gripping exposé of fashion industry secrets and a heartwarming mother-daughter tale, Beneath the Seams explores love, conscience, hope, and the common threads connecting humanity.
Releases May 11th
Overwhelmed, Miranda feels she is failing to live up to her mother's perfect image. Perhaps running for Mom of the Year on the 25th anniversary of her mother's win would change that and atone for the role that Miranda believes she played in her mom's death. Unfortunately, Miranda's son's behavior might prove her failure and disqualify any chance she has in the contest. A desperate prayer leads her to a park bench where she meets a remarkable stranger. The bench becomes a path to purpose as old dreams Miranda set on the shelf are rekindled through wisdom imparted from this unlikely friend. When crisis hits and old family secrets erupt, will Miranda follow the woman's advice and continue her journey to personal purpose, or will she hide behind the façade that she, like her mother, worked so hard to build? What advice would you give to your younger self? Miranda Williams, overwhelmed mother of four strives to live up to her mother's perfect image. The opportunity to run for Mom of the Year on the 25th anniversary of her mom's win provides her the chance. Winning would also atone for the role she played in her mother's death years ago. But she fears her son Brendon's behavior will prove her failure as a mom, and disqualify any chance she has at the contest. A desperate prayer leads to a park where she meets a stranger on a bench. The bench soon becomes a path to purpose and old dreams Miranda set on the shelf are rekindled through wisdom imparted from this unlikely friend. Over the course of the visits, the woman teaches Miranda six steps to unlocking her personal purpose: the butterfly effect, engaging in life, finding her core, utilizing obstacles, becoming a master of one, and eternal perspective. As Miranda fumbles through implementing these steps, crisis hits Brendon, old family secrets erupt and Miranda blames her distraction on this self-discovery. Will she follow the woman's advice and continue her journey to personal purpose, or hide behind the façade she, like her mother, worked so hard to build?
Releases May 25th
An emotional slow burn romance of forbidden love, intense chemistry and second chances…
One kiss is all it takes…
When Katie Colter's life was saved during a ferocious storm by Rowan Coblentz, an Amish boy from the neighbouring settlement, she repaid his kindness with a kiss. And in that one moment a forbidden love was ignited. But when Katie's father found the young lovers together, he banished Rowan, and Katie never saw him again…
Now, six years later, with her father dead and the family farm in jeopardy, Katie needs Rowan's help.  But the shy young Amish boy she once knew has grown into a handsome and forceful man.    
The attraction between them is still as strong as ever, but Katie's life is on her family farm, with the horses she loves, and Rowan's place is within his sheltered Amish community.   Can their love find a way, or will it remain forbidden, forever?
Releases May 25th
She's doesn't want any trouble…
Former soldier Veronica "Ronnie" Morales isn't going to let her kid brother, Tiago, get pulled into the gangs of Minneapolis, so, seeking safety and a fresh start, she heads to sleepy Deep Haven on the north shore of Minnesota. She's hoping to put down roots as the paramedic for the new Crisis Response Team, but it's not easy to be the outsider.
He can't seem to escape it…
It's also not easy being the guy related to everyone in town. Especially when you're the holdout vote for a landmark project. Fire Chief Peter Dahlquist might be the loneliest guy in town when both sides of his massive family—the Hatfields and McCoys of Deep Haven—demand that he pick sides. The only one who seems to understand is the newcomer in town…his new, albeit street-tough paramedic.
Can trouble bring them together?
When Tiago finds himself caught up in small town shenanigans and the town blames Ronnie for tragedy, Peter is forced to pick sides. But this choice just might cost him the home—and the woman—he loves.
Releases May 28th
Sinister Secrets. Family Betrayal. A Fortune at Risk Charlotte Dixon loves her life in Manhattan, but her world is decimated, and she finds herself severely in debt when she discovers her mother skimming money from her gallery. When Charlotte receives the news that her estranged father has passed away, she finds herself in small-town South Carolina, forced to partner with her half-sister in running the baseball team and family business. If she can make it through 365 long days of running her daddy's business, she'll inherit half his multi-million dollar fortune—money she desperately needs to rectify the sins of her mother. But can a big city girl overcome small-town sass and the unwelcome guidance of too-handsome-for-his-own-good general counsel Mac Taylor, or will this uptown girl discover she is truly a southern girl of summer.