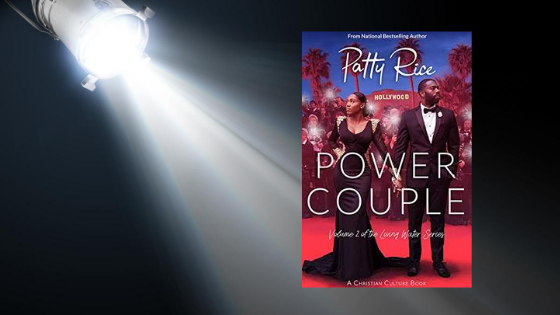 Power Couple is the second book in the Living Waters series by Patty Rice. I have not read the first book yet, but I didn't find it necessary. Power Couple proved to be a stand-alone novel. I gave it 4 stars.
---
Book Description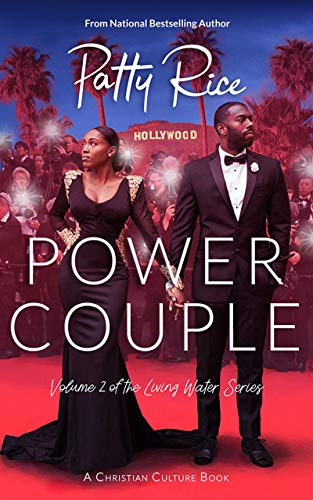 Malcolm and Paris Reese are the world's definition of a power couple with the fame, money, mansion and cars to prove it. He's a handsome, talented movie director on a fast rise to the top. She's his gorgeous trophy wife who put her goals on hold to help her husband acheive his dreams.
To the public, this dynamic duo is #relationshipgoals. Privately, their marriage is on life support and dying more every day. Infidelity, mistrust, vicious arguments and the silent treatment have made their once happy home a war zone. The pressure in their failing marriage mounts when their teenage daughter, Courtney announces that she's pregnant and won't divulge the father's name. Malcolm also discovers that someone is sabotaging his new movie. But who?
Meanwhile, Paris is fighting personal problems that include low self-esteem, an identity crisis from living in her husband's shadow, and trying to compete with Malcolm's glamorous, educated ex, Jade Phillips. Paris is convinced that Malcolm is having an affair and once she learns the truth, the outcome is heartbreakingly explosive.
Malcolm feels he's justified for shutting down on his wife. Though he's madly in love with Paris, his heart is frozen from her past betrayal that nearly broke him. Infidelity becomes Malcom's weapon and a string of steamy affairs pushes his relationship with Paris to the brink of despair.
Just when they reach the end of their rope, a unique marriage ministry challenges them to embrace God's power couple design. Doing it God's way means forgiving each other, having staying power, and walking in the power of the Holy Spirit. But will this troubled couple be able to set aside their pride and find their way back to each other and the incredible love they once shared? Or will another big secret that Paris is keeping from Malcolm rip their marriage apart forever?
---
My Review
Infidelity, secrets, lies, grudges. Sounds like the makings of a doomed marriage. But there's nothing God cannot do, and when He is placed into the equation, the transformations that begin to take place can only be described as a miracle.
For three years, Malcom and Paris Reese's marriage had been on a downward spiral, and though they would blame each other for it, both were at fault. But it wasn't until a car accident and an unexpected announcement from their daughter, Courtney, that they were able to take a small step in trying to fix their marriage. With some urging from friends and family, the couple found themselves on Jasmine Island attending a marriage "boot camp." It was through this camp, and through the pastors, that the truth was able to be revealed one layer at a time.
This novel was powerful. There were times when I wanted to reach into the book and smack some sense into Malcom and Paris, or at least shake them a little, but I see that as a good thing. That means I was invested in their lives and in their marriage. Patty Rice did a wonderful job showing how hard it can be to fix what has been broken for a long time. The ups and downs of emotions, the love shown followed almost immediately by anger and distrust shone through and made it real.
Because of the subject matter, it is not the easiest content to read, but it is a necessary one, and one I feel other married couples would appreciate. We're not alone in our struggles, even if our marriage hasn't taken the same turn the Reese's marriage did. There is a lot any couple can learn from Patty Rices' writing. Power Couple is the second book of the Living Waters series, but it was easy to read on its own. I'm looking forward to reading the first book in this series, He Restores My Soul, as it focuses on characters who were vital in Power Couple.
I received an electronic copy of Power Couple thanks to BookSirens
---

---