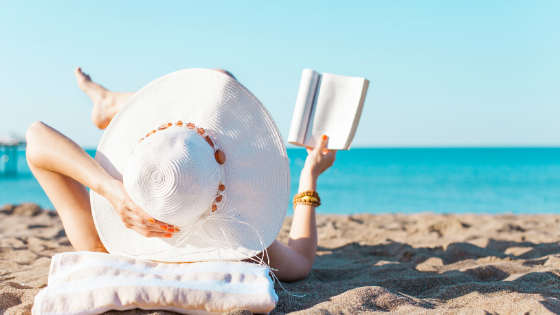 Summer is officially upon us! What better way to celebrate than with a new book? Whether you bury your toes in the sand, relax in a hammock, or sit in the air conditioning, there's just nothing like entering a world someone else has created and getting lost for a while.
As always, the books below have multiple forms to choose from (mostly Kindle and paperback), but I couldn't pass up Rachel Hauck's book which is (so far) only available on Kindle…unless I missed something). But, I mean, it's Rachel Hauck!
Happy reading, and enjoy your summer!
---
Molly (Sewing in SoCal Book #1)
Sarah Monzon
Releases July 2nd
If there's one thing you should know about me, it's that I absolutely refuse to tell a lie no matter the consequences. So don't ask me a direct question unless you're prepared for a direct answer—that's something my SoCal sewing girlfriends have learned the hard way.
But who would have thought my honesty policy would get me fired from my job at the preschool? Or that a desperate—and not to mention devastatingly handsome—single father of one of my (now-former) students would hire me that same day as a nanny for his daughter?
I'm an education professional. How hard can taking care of a four-year-old and her over-stressed, over-worked father be?
Review of Molly coming soon!
Relative Silence
Carrie Stuart Parks
Releases July14th
A powerful family with lots of secrets. A forensic artist with his own tragedies. And a hurricane drawing bearing down on their private island.
Fifteen years ago Piper Boone's only child died in a boating accident, and Piper's almost perfect life came to an end too. After living through a divorce and losing her job, she retreats to Curlew Island and her childhood home—a secluded mansion for the politically powerful Boone family, who are practically American royalty.
But Piper's desire to become a recluse is shattered when a mass shooter opens fire and kills three women at a café where Piper is having lunch. The crisis puts her family in the spotlight by dredging up rumors of the so-called Curlew Island Curse, which whispers say has taken the lives of several members of the Boone family, including Piper's father and sister.
Forensic artist Tucker Landry also survives the shooting and is tasked with the job of sketching a portrait of the shooter with Piper. They forge a bond over their shared love of movies and tragic pasts. But when police discover a connection between the shooting and two more murders on Curlew Island, they face a more terrible lineup of suspects than they could have imagined: Piper's family.
Unraveling the family's true history will be the key to Piper's survival—or her certain death.
Fragments of Light
Michelle Phoenix
July 14th
An impossible decision in the chaos of D-Day. Ripples that cascade seventy-five years into the present. And two lives transformed by the tenuous resolve to reach out of the darkness toward fragments of light.
Cancer stole everything from Ceelie—her peace of mind, her self-image, perhaps even her twenty-three-year marriage to her college sweetheart, Nate. Without the support of Darlene, her quirky elderly friend, she may not have been able to endure so much loss.
So when Darlene's prognosis turns dire, Ceelie can't refuse her seemingly impossible request—to find a WWII paratrooper named Cal, the father who disappeared when Darlene was an infant, leaving a lifetime of desolation in his wake.
The search that begins in the farmlands of Missouri eventually leads Ceelie to a small town in Normandy, where she uncovers the harrowing tale of the hero who dropped off-target into occupied France.
Alternating between Cal's D-Day rescue by two young French sisters and Ceelie's present-day journey through trial and heartbreak, Fragments of Light poses a timeless question: When life becomes unbearable, will you press toward the light or let the darkness win?
Heart of a Princess (Daughters of Peverell Book#2)
Hannah Currie
Releases July 15th
To the watching world, Princess Alina has it all—maids to serve her, a kingdom to revere her, a prince to marry her, and a wardrobe filled with enough frills, flounces, and shades of pink to rival a flower shop. But behind the smiles and designer clothes, Alina has a secret. She's barely holding it together.
After a moment of panic almost ends in tragedy, Alina is sent to a refuge far from the palace to recuperate. Her family claims it's for her own good but—faced with cows, knife-beaked ducks, and far too many of her own insecurities—Alina is pretty sure it will kill her first. And Joha Samson, infuriating man that he is, will laugh as it does.
Only there's more to Joha than she realizes, and more to herself too. When the time comes to make a stand, will she find the courage?
A Blessing to Cherish
Lauraine Snelling
Releases July 21st
Though she has known hardships in her life, Ingeborg Bjorklund chooses to focus on all she has been given. Blessed with children and grandchildren, she enjoys the friendship and support of the entire Blessing, North Dakota, community. And after several years of widowhood, she has reached a place of contentment with her life.
Meanwhile, her stepson Thorliff is raising two children alone since his beloved Elizabeth died. But there is a new schoolteacher in town, Louisa Gutenburg, and Thorliff doesn't seem to be himself whenever she's around. It isn't just his obvious fascination with Louisa, but the fact that he seems completely oblivious to it that makes Ingeborg smile. How long before Thorliff realizes what everyone else can see a mile away?
But not everything is comfortable for Ingeborg. One of her dearest friendships is changing–and she will have to decide if her settled, predictable life is worth more to her than a future she hardly dares to imagine.
Piece by Piece
Laura Bradford
Releases July 28th
A grieving mother learns to heal in Amish country, in this heartfelt, beautifully told novel from national bestselling author Laura Bradford.

Danielle Parker is a gold-medal mom—the kind who volunteers in her children's classrooms, shuttles them between activities, throws legendary birthday parties, and has a remedy on hand for any emergency. Whatever her husband, Jeff, and their children need, Dani is there, always.
Except for one day.
On that day—the day that Dani reluctantly takes some "me time" while her mom and Jeff drive the children to the park—the unthinkable happens. The car crash leaves no survivors. Somehow, Dani gets through the funerals and visits, accepting neighbors' sympathy and dropped-off meals. All the while, guilt and grief make her wish the accident had claimed her life too. Then a call comes from Lydia Schlabach, an Amish woman Dani befriended in childhood. In addition to condolences, Lydia offers Dani something more: a place to escape to.
In Pennsylvania's Amish country, Dani's days take on a new rhythm, marked by the clip-clop of buggies and the bustle of chores. Lydia gives Dani space to mourn, to think, and to realize how long it's been since she felt like a person in her own right. And with the help of friendships old and new, Dani learns about the ways life continues to surprise us—even after the deepest loss—with joy, love, and second chances. . . .
The Mockingbird's Song (Amish Greenhouse Mystery Book #2)
Wanda E. Brunstetter
Releases August 1st
Where Is the Hope in Grief for a Young Amish Widow?
Sylvia has been nearly paralyzed with grief and anxiety since the tragic death of her husband, father, and brother in a traffic accident. She tries to help in the family's greenhouse while caring for her two young children, but she prefers not to have to deal with customers. Her mother's own grief causes her to hover over her children and grandchildren, and Sylvia seeks a diversion. She takes up birdwatching and soon meets an Amish man who teaches her about local birds. But Sylvia's mother doesn't trust Dennis Weaver, and as the relationship sours, mysterious attacks on the greenhouse start up again.
Sea Glass Castle (The Carolina Coast Book #2)
T.I. Lowe
Releases August 4th
Sophia Prescott is still mending from the embarrassment of a highly publicized divorce from a pro football player, and the now-single mother is back in Sunset Cove, surrounded by the supporting love of her family and the Sand Queens. Sophia doesn't think there's any hope for starting over until an unexpected trip to the pediatrician's office gives her a second chance after all.
Dr. Weston Sawyer knows all about lives shattering into millions of pieces. His own all but ended when a truck driver fell asleep at the wheel and barreled head-on into his pregnant wife's sedan, killing her instantly and leaving Wes with a soul so wounded that it has refused to heal. He packed up and left swampy southern Alabama for South Carolina with the hope of fading into the sleepy coastal town of Sunset Cove. Instead, feisty brunette Sophia Prescott will have him braving something different and entirely unexpected. If Sophia and Wes can take the leap to give love another try, they just might find that hope has a way of coming back around and weaving into one's heart.
Click here for a review of Beach Haven, book #1 from The Carolina Coast Series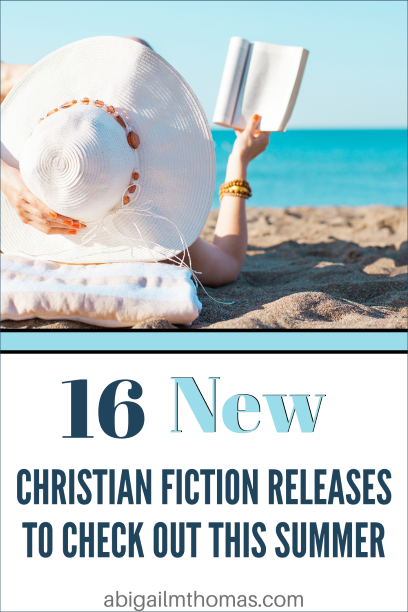 Vying for the Viscount (Hearts on the Heath Book #1)
Kristi Ann Hunter
Releases August 4th
For Hudson, the newly titled Viscount Stildon, moving to England from India where he was born and raised was already an arduous enough endeavor. When he learns the fate of the racing empire he inherited along with his title depends upon him getting in the good graces of another stable owner, he's even more at a loss.
The stable at the neighboring estate has been Miss Bianca Snowley's refuge for years, and when a strange man appears to be stealing the horses, she jumps to their protection without a second thought. Upon learning Hudson is actually the new owner, she can't help but be intrigued by the area's newest eligible bachelor.
Any thought of romance is quickly set aside, however, when Hudson proposes they work together to secure suitable spouses for each other. As their friendship grows, Hudson and Bianca begin to reconsider what they truly want in life. But will societal expectations and the weight of their responsibilities keep them from pursuing their true desires?
A Life Once Dreamed
Rachel Fordham
Releases August 4th
Six years ago, a shocking secret sent Agnes Pratt running in search of a new start. She found it in Penance, a rugged town of miners and lumberjacks in the Dakota Territory, where she became Miss Aggie, respected schoolteacher and confirmed old maid. But the past has a way of catching up with people.
When childhood friend and former sweetheart James Harris accepts a position as the town doctor, Aggie's pleasantly predictable days suddenly become anything but. James wants to know why Agnes left behind the life they had dreamed of creating for themselves–but he is the one person who can never know.
In the shadows of the Black Hills, can a healing light be shed on the past? Or will the secret Agnes can't seem to outrun destroy her chance at happiness?
Fan-favorite Rachel Fordham brings to life the dusty streets of an 1880s frontier town in this story that affirms where you come from matters far less than where you're going.
Love and a Little White Lie
Tammy L. Gray
Releases August 4th
January Sanders grew up believing karma was more reliable than an imaginary higher power, but after suffering her worst heartbreak in 29 years, she's open to just about anything, including taking a temporary position at her aunt's church. Keeping her lack of faith a secret, January is determined to use her photographic memory to help Grace Community's overworked staff, all while scraping herself off rock bottom.
What she doesn't count on is meeting the church's handsome and charming guitarist, who not only is a strong believer, but has also dedicated his life to Christian music. It's a match set for disaster, and yet January has no ability to stay away, even if it means pretending to have faith in a God she doesn't believe in.
Only this time, keeping secrets isn't as easy as she thought it would be. Especially when she's constantly running into her aunt's landscape architect, who seems to know everything about her past and present sins and makes no apologies about pushing her to deal with feelings she'd rather keep buried.
Torn between two worlds incapable of coexisting, can January find the healing that's eluded her or will her resistance to the truth ruin any chance of happiness?
Rahab, Woman of Jericho
Diana Wallis Taylor
Releases August 4th
Some biblical scholars maintain that Rahab, the woman who hid Joshua's two spies, was a harlot or prostitute. So how did she become one of the ancestors of Jesus Christ? Wouldn't the Father ensure a pure lineage for His Son?
In this historical fiction, author Diana Wallis Taylor offers a beautiful story of intrigue that suggests Rahab was a descendent of Ephraim, one of the ten lost tribes of Israel. With no available Jewish men in her town, she marries Radames, a young Egyptian officer who is the new governor of Jericho. When the Israelites approach Canaan with their army, pharaoh sends word that he is withdrawing his troops. Radames fabricates a story to tell Jericho's king, but Hammurabi doesn't believe it…and he has his eye on the beautiful Rahab.
What will happen to Rahab after the lecherous king poisons her husband? How can she save her family from the invading Israelites? God parted the waters of the Jordan River for them—will He likewise provide miracles and blessings to her Ephraimite clan if they can rejoin their people?
Piecing it All Together (Plain Patterns Book #1)
Leslie Gould
August 4th
When Savannah Mast's fiance dumps her a week before their wedding, she flees California for the safety of her Amish grandmother's farm near Nappanee, Indiana. She's not planning on staying long but becomes unexpectedly entangled in the search for a missing Amish girl. She can't leave–especially not when her childhood friend Tommy Miller is implicated as a suspect.
When Savannah accompanies her grandmother to Plain Patterns, a nearby quilt shop, the owner and local historian, Jane Berger, relates a tale about another woman's disappearance back in the 1800s that has curious echoes to today.
Inspired by the story, Savannah does all she can to find the Amish girl and clear Tommy's name. But when her former fiance shows up, begging her to return to California and marry him after all, she must choose between accepting the security of what he has to offer or continuing the complicated legacy of her family's faith.
Acceptable Risk (Danger Never Sleeps Book #2)
Lynette Eason
August 4th
Sarah Denning is a military journalist with the Army in the Middle East when her convoy is attacked and she's taken hostage. When former Army Ranger Gavin Black is asked by his old unit commander–Sarah's imposing father–to plan an extremely risky rescue, he reluctantly agrees and successfully executes it.
Back in the US, Sarah is livid when she's discharged on a false psychiatric evaluation and vows to return to the Army. Until she learns of her brother's suicide. Unable to believe her brother would do such a thing, she puts her plans on hold and enlists Gavin to help her discover the truth. What they uncover may be the biggest story of Sarah's career–if she can survive long enough to write it.
To Love a Prince (True Blue Royal Book #1)
Rachel Hauck
Releases August 11th
Daffodil Caron is not a princess, even though she once dreamed of being one. After all, she grew up as a playmate to royal princes, running through the halls of Perrigwynn Palace and dining with the queen. But the day she stumbled upon a royal secret, everything changed.
Flash forward eighteen years, and Daffy's living a sweet, non-royal life. A skilled art curator for the Royal Trust, she has friends, a flat in the heart of the city, and a handsome, successful fiancée. The last person on her mind is Gus, a prince she once called her best mate.
HRH Prince Augustus is no longer "Prince Pudgy," as caricaturized by the press, he's charming and gorgeous, possessing a world-famous smile. But when he's jilted at the altar by an American heiress as millions of people around the world watched, the spare heir to Lauchtenland's ancient House of Blue escapes, finding solace on a Florida beach.
A year as a regular bloke allows him to rethink his purpose. He's half decided his calling is to pour pints at a tiki bar, rather than serving his country and the Family.
Until an accident on the beach with a Frisbee changes his course.
Despite his long hair and beard, Daffy recognizes her prince, and their childhood friendship is renewed. She assures Gus Lauchtenland needs him, giving him the courage to return home.
When Daffy and Gus find themselves on assignment to Hadsby Castle in preparation for his brother's wedding, their friendship blooms into affection.
But Gus cannot, will not, trust his heart again. Daffy's engaged. And she also remains a royal family outcast because she knows the Queen's secret.
When affection grows into love and secrets are exposed, trust is destroyed. Gus must choose which is stronger: the lies of his past or the hope of his future. And Daffy must face every fear to prove she will forever love a prince.
The London Restoration
Rachel McMillan
Releases August 18th
From author Rachel McMillan comes a richly researched historical romance that takes place in post-World War II London and features a strong female lead.
Determined to save their marriage and the city they love, two people divided by World War II's secrets rebuild their lives, their love, and their world.
London, Fall 1945. Architectural historian Diana Somerville's experience as a codebreaker at Bletchley Park and her knowledge of London's churches intersect in MI6's pursuit of a Russian agent named Eternity. Diana wants nothing more than to begin again with her husband Brent after their separation during the war, but her signing of the Official Secrets Act keeps him at a distance.
Brent Somerville, professor of theology at King's College, hopes aiding his wife with her church consultations will help him better understand why she disappeared when he needed her most. But he must find a way to reconcile his traumatic experiences as a stretcher bearer on the European front with her obvious lies about her wartime activities and whereabouts.
Featuring a timeless love story bolstered by flashbacks and the excavation of a priceless Roman artifact, The London Restoration is a richly atmospheric look at post-war London as two people changed by war rebuild amidst the city's reconstruction. 
---