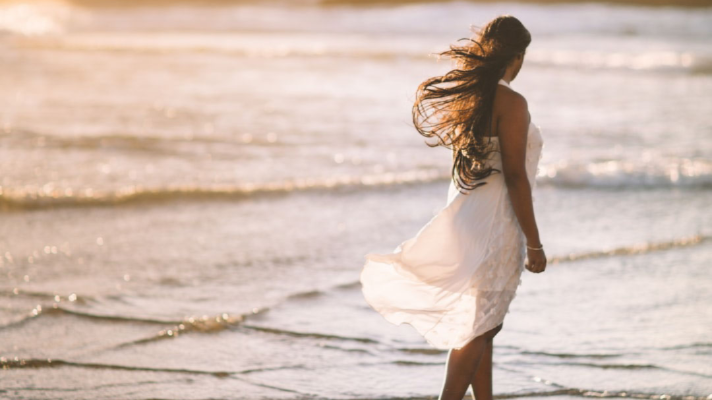 The excerpt below is from the story, A Work of Heart. This is a story I have been working on for a long time and will one day soon return to.
For a little background, Jeremy is a photographer and has been sent to a town in the Finger Lakes in New York to capture a local event, the Hammondsport Seaplane Homecoming.
---
It was a hot day, intensified by the sun and humidity.  Longing to cool off, Jeremy wandered around and found a stream glistening in the sun.  As he made his way toward the stream, he noticed a figure dancing in the water.  Walking closer, he realized it was a young woman with long golden hair that seemed to catch the gentle breeze as she danced.  She was wearing a white dress that seemed to flow as she moved, and her feet were bare.  She seemed to be enjoying herself in her solitude, perhaps driven by the same need he had been.  For an autumn day, it was unseasonably hot.
Mesmerized by the view, Jeremy decided to keep his distance. Interrupting the scene before him was the last thing he wanted to do.  Instead, he found a resting spot beneath an almond tree in full bloom.  Beautiful pink flowers adorned the tree, and the shade it was giving off seemed to cool him in an instant.  Somehow, he felt comforted with the tree towering over him as he rested.  He leaned back and closed his eyes.
When he opened them again he was back in his room.  A few moments passed before he realized what had happened.  The dream.  That very same dream he has been having for over a week now.  He could not figure out what was going on, or why he was having this same dream over and over again.  Every time it came to him it felt so real.  He could hear the sounds of birds, feel the heat, and even smell the flowers that grew all around him.  How strange for a dream.  He was actually conscious of his senses.  Never before has he dreamt vividly.
Putting the thought out of his mind, Jeremy looked at the clock on the bedside table.  Seven-thirty.  It was Sunday morning, and Jeremy had spent the entire weekend focusing his camera on all the town had to offer.  He was content with the outcome of the weekend and was ready to move on. 
 Jeremy slowly climbed out of bed and hopped in the shower.  He then dressed and enjoyed a small breakfast of fruit, yogurt, and coffee, making sure to first bow his head to give thanks to the Lord for all he had.  When he finished, he packed up his stuff and loaded it all into his car. 
He didn't want to leave without taking one last look at the lake, so he made his way to the porch.  He watched the wind play with the water, making waves of different sizes.  He listened to the birds call as they flew overhead in flocks, landing in one place, then flying to another when spooked by a child running toward them, kicking up freshly fallen leaves of orange and red as they ascended.  He breathed in the smell of earth and sea and felt the cool breeze against his face.
Reluctantly, Jeremy headed back to his car, not quite ready to leave the natural beauty that surrounded him.  But he knew it was time to go, and he did not have time to waste.  He planned to leave for home right after church so that he could make a stop here or there in the process.
And that's exactly what he did.  On his way home, he stopped, took some pictures, and then continued on.  It was going well until he found himself back at the stream.  He had already noticed the woman and had sat down beneath the almond tree.  This time, though, when he opened his eyes, he was still at the stream.  The woman he had been watching just a few moments earlier was standing in front of him.  She smiled a beautiful smile and held her right hand.
At that moment he came back to his senses.  He was still driving his car.  Quickly, Jeremy pulled over to the side of the road and put the car into park.  He sat there for a few minutes breathing deeply- in and out- trying to regain his composure.  The dream had come to him before during the middle of the day, but usually while he was working at his desk or sitting down to lunch; never while he was driving.  Thinking it through he realized that, though it was dangerous, for some reason he didn't feel like his life had been put in danger.  He didn't understand it, but he had felt safe.