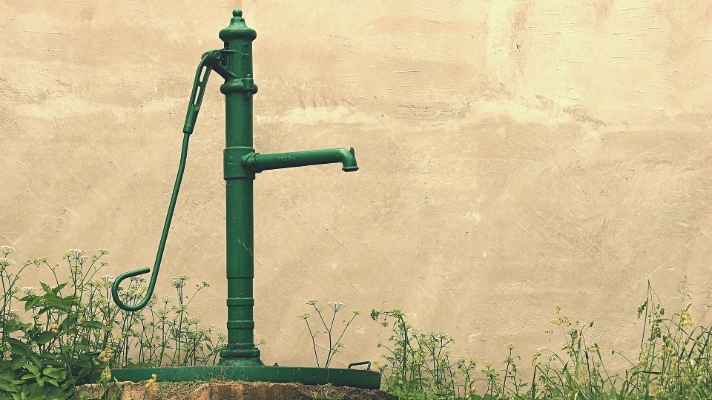 Do you remember when you first chose to follow Jesus Christ as your Lord and Savior? What did it look like? How did it feel? Looking back, before that wonderful day, can you see all that inspired (because conspired doesn't seem to fit) together to get you to that moment?
What brought you there? Was it a friend? A family member? A stranger?
Was it quick, or did it slowly work it's way into your heart?
We all have our stories, our testimonies, that as Christians we are happy to share with anyone willing to listen.
So do not be ashamed to testify about our Lord…

2 Timothy 1:8a
My story is one that may not be high up in shock value. In fact, there really is no shock factor at all. I made mistakes growing up (and still do to this day), but nothing life shattering that brought me to full redeeming redemption. It was more simple.
God was working on me. Slowly, cautiously. He was drawing me in as one who draws water from a deep well.
I grew up in a Christian home. I went to church, learned Bible stories, sang Christian songs. As a child I was in love with Psalty the Singing Songbook (and, I must admit, I still happily sing his songs today). I listened to Amy Grant, and then learned about the News Boys and Third Day when I attended a local concert in my teens.
I was involved with my church's youth group, and a member of our teen choir. Every year I attended our youth retreat, first as a participant, and then as an adult leader. I would come home on a high after those weekends, more in love with Jesus than before.
As I entered my 20s I taught music at my church's week-long VBS program. The last year I taught I was overdue to give birth to my first child (she was due on Sunday, I taught Monday through Friday, and she was born that following Sunday).
I had attended a Christian college and ended up finding the man I was going to marry. This man (the one to whom I've been married for 15 years) was an integral part of my salvation. The reason? He knew I was struggling in my faith, in what exactly I believed. But he was patient with me. He told me one day while we were on vacation driving to the Florida Keys that he wasn't going to push me. Instead, he was going to be there for me whenever I needed him. I could ask him questions and he would answer them to the best of his ability.
A man's wisdom gives him patience…

Proverbs 19:11a
My husband and I did not grow up with the same church background. We came from different denominations, and I was determined to instill mine into my children. Though this didn't completely thrill him, he didn't fight me. He loved me enough to walk beside me.
After we moved into our first house I decided it was time to find a church that I loved, and a church for my husband. We found the first church close to our home for me, and then found a church two towns over for him. Each Sunday we would get up and attend my church. We would then come home for a little while and then head to the church we were trying out for him.
Here's the problem with this: For one thing, that was a lot to ask of any of us, especially our three young kids. The second? I liked his church more than mine.
I became frustrated and didn't know what to do, so we just stopped all together.
The only times we would really go to church were the days when my dad asked me to come to the church I grew up in and sing with him.
In 2009, the year after we gave up on figuring out this church thing, my father died. It was May 3rd, and he died on the 4th green of his favorite 9-hole golf course. Two months later, in July, my husband was riding his bike to work in the city and was attacked. He was whipped with chains, splitting his head open enough to need staples. Two months after that my son was diagnosed with Burkitt's Lymphoma, a type of blood cancer. It was September 10th, his 5th birthday. We pretty much lived in the hospital for the first month of his treatment. At the end of October we found out that a man who married into our family had hurt my 6-year-old daughter. She had to testify in front of a jury and put him away. Then, in November, my grandfather, my last living grandparent, passed away in the hospital while I held onto his hand.
This was, as I like to call it, the "Year from Hell." It's not an easy year to remember, but it's important that I do. People have asked me how I didn't lose my faith at that time. Though I hadn't realized at that time that I hadn't completely accepted Christ as my Savior, God was there, and he was working on me, working with me.
Praise be to the God and Father of our Lord Jesus Christ, the Father of compassion and the God of all comfort, who comforts us in all our troubles…

2 Corinthians 1:3-4a
Though it was painful, God gave me strength to continue on. I didn't always make the best decisions, but I never gave up.
In January of 2010 my son had his appendix taken out. His pediatrician thought he saw something abnormal in his appendix, so it was taken out. His appendix was perfectly healthy, and that marked the ending of his cancer journey. If you ask his oncologist when he became "cancer free," she would tell you December. We celebrate January 14th.
With February came new beginnings. My son went back to school. He was a Kindergartner and had only been to school two days in September. When he went back to school I decided it was time to go back to church. Instead of doubling up on churches, I decided to just attend the church that we picked out for my husband. The reason was that it focused solely on the Gospel, on God's Word, and there was nothing else we needed to deal with (doctrinally).
Why do I say "I decided?" Because, as I said earlier, my husband was patiently waiting on me. He allowed me to make decisions in this walk without pushing me.
About a year after attending (sporadically) this church the pastor said something that threw me into defensive mode, full with an onslaught of tears. I left the sanctuary and headed to my car, but not before a woman who knew me saw me pass by. She spoke with my pastor about this and he called me.
Thankfully, before he called me my husband and I spoke about what happened. He helped me see what I was upset about, and that it really wasn't the fault of our pastor. I told him this when he called me, and we set up a time for me to meet with him and his wife.
During this meeting my pastor asked me a question. He wanted to know if I had accepted Christ, or if God was drawing me to him. He used the visual of the well, which was wonderful since I am a very visual person. I realized at that time that he had been drawing me. Though I thought I had made that commitment, I could see how that really never was the case.
"No one can come to me unless the father who sent me draws him…

John 6:44a
From that point on things began to change. I didn't make the commitment right then and there, it wasn't quite time. But it was coming.
As I was driving home one day from a make-up party I was running I was listening to K-LOVE on the radio (it was all I listened to at that time). Jeremy Camp's song, "There Will Be a Day" came on, and as he was singing, "when we'll see Jesus face-to-face," a thought popped into my head: "I want to see Jesus face-to-face."
That was a Saturday. The next day the words my pastor prayed at the end of service for anyone who hasn't chosen Christ but wanted to were exactly the words I needed. I prayed along with him, and then spoke with him afterward. We prayed again, and then life really started to move.
One thing led to another, which led to another. My husband and I are now members of our church, the one I only sought after for him. He is head of the video projection in the A/V booth, I'm on a worship team, and also the founder and co-leader of an all-girls Jr/Sr High youth group.
Our kids are involved as much as they can be and look forward to going to church each week as well as youth group. My oldest son loves going on the week-long mission trip into the city where he helps fix up the homes of those less fortunate. It's called Flower City Work Camp, and their tag line is: That the city might see Jesus.
God was slowly working on me from the moment I was born, even before. He put people in my life who helped instill a knowledge of Christ and what he has done for us. He brought me a husband who had enough patience and understanding to let me come to my decision on my own. He gave me a church family, and a pastor who was given a gift that helped me to walk.
And he continues to bring people into my life to this day, people who are helping me on this walk, and whom I am able to help with theirs.
I am grateful to God for this gift, the gift of Salvation, that came to me through his grace and mercy, and through the death of his Son, our Lord and Savior Jesus Christ.
I have written a lot here, but to be honest, I could have written a whole lot more. These moments may find themselves in posts later on down the road, as everything God does in my life has a purpose.
Therefore, as God's chosen people, holy and dearly loved, clothe yourselves with compassion, kindness, humility, gentleness and patience.

Colossians 3:12
What's your testimony? Where did you begin? Where are you now, and where are going heading? God is good. No matter what your story looks like, it is yours, and he will put people in your life with whom your story can be shared. Help someone else have their own testimony, but do it with patience and understanding.
---
Lord, you alone have the words of everlasting life. You are patient, kind, and understanding. You are the one who draws us close, in your time. Thank you, Lord, for choosing to draw me and allowing others to point the way. Thank you for the gift of Salvation, Lord. Thank you for helping me to share my story. In your name I pray, Amen.
---