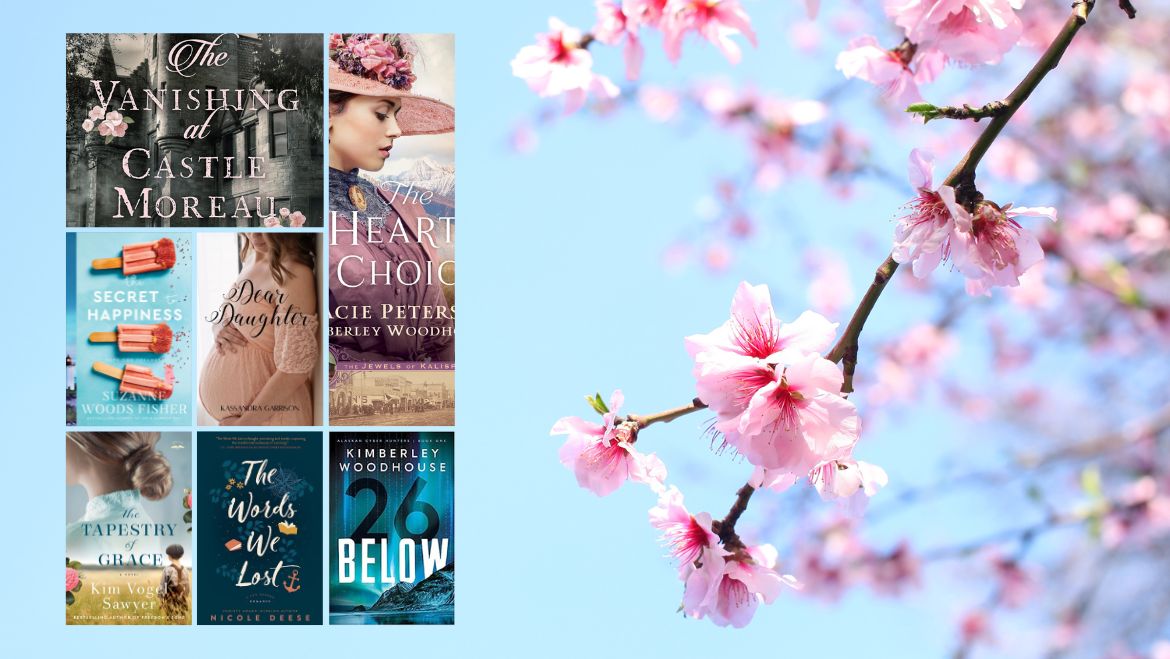 The sun is shining, the grass is…covered in snow. It is officially spring here in New York. And what better way to kick off a new season than with brand new Christian Fiction books!
I can't stop adding more and more of these upcoming tomes to my TBR list. I just can't help it. Every time I read another synopsis I think, "Ooh, and this one." Not a terrible problem to have, really.
At the moment I am reading Nicole Deese's The Words We Lost, with Suzanne Woods Fisher's The Secret to Happiness on deck. Dear Daughter by Kassandra Garrison is one I want to read since she's a new-to-me author, and she's self-published. From that, the list goes on, and on, and on…
Take a look and let me know what you've added to your list! And as always, I choose books that have at least 2 media types.
Happy Reading!
---
April Books
Releases April 1st
Sometimes love finds you where you are, and other times it meets you across distant shores
as four women discover in these four historical stories linked by a shared gold pendant.
More Than Gold (New South Wales, 1851) by Carolyn Miller
Josephine Wilkins is headstrong and heartbroken–why else would she have left all she knew to follow her brother's dreams of finding gold across the seas? Daniel Jardine is simply seeking adventure, in a land far away from family responsibilities and duty, two burdens he's happy to disregard in his quest to be known for himself. When these two finally meet sparks are set to fly, as they discover that digging deeper than first impressions reveals the true value of one's character, and real love and faith is worth far more than gold.
The Veil (Baltimore, 1877) by Kelly Goshorn
After Caroline Wilkins is burned during a suitor's attack, she retreats behind a lace veil and vows only to remove it for a man who will profess his love without seeing what lies beneath. Franz Kohler is a mountain of a man with a gentle heart and a hidden dream of carving intricate Bavarian clocks. When a mutual attraction grows between them, neither is willing to reveal their secrets, jeopardizing any hope of a future together unless two hearts can find the courage to trust again.
Running from Love (Canada, 1905) by Angela K. Couch
Anna Kohler has left her home, and even her country, for the sake of her wayward brother. But when the local Mounted Police takes an interest in them, her hopes for the future collide. Constable Benjamin Cole has a duty to perform, no matter what his heart desires.
Lauren's Song (Outer Banks, NC, 1942) by Cara Putman
Lauren Randolph's world has fractured with the death of her father five years earlier in a boating accident. John Weary defied his father's wishes when he followed his grandfather's footsteps and joined the Coast Guard. When Lauren's brother goes missing at sea, John is determined to do what he can for Lauren, while continuing his work scouring the shoreline for U-Boats. Lauren focuses on her duties with the Civil Defense as they seek to uncover the real reason her brother disappeared. To do so, they have to unravel the truth about the woman who claims to carry John's child and whether fishermen are really seeing U-boats or something else entirely.
Available in eBook and Paperback
26 Below (Alaskan Cyber Hunters Book 1)
Kimberly Woodhouse
Releases April 4th
In her new role as Emergency Operations Center director for Fairbanks, Alaska, Darcie Phillips prevents disasters. But none of her training can prepare her for the terror that's coming.

As a cybersecurity specialist, Jason Myers is determined to ferret out any threats to the town he now calls home–and that includes his reckless brother and his ecoterrorist friends.

When an old woman's wild prediction–widespread destruction as soon as the Fairbanks temperature falls to 26 below–hits national headlines, neither Darcie nor Jason sees a real risk to anything but tourism.

Then the bodies start dropping.

Darcie is relying on her experience and intelligence to stop a killer; Jason is relying on God to guide the way. They'll have to work together to find the truth and prevent their Alaskan town from becoming a city of nightmares. The first in a thrilling new suspense series from best-selling author Kimberley Woodhouse, 26 Below will delight fans of Lynnette Eason, Irene Hannon, and Lynn Blackburn.
Available in eBook and Paperback
Bastille Day: A Novel
Greg Garrett
Releases April 4th
Veteran TV journalist Calvin Jones travels to Paris, where he negotiates love, friendship, and despair in award-winning novelist Greg Garrett's Bastille Day.

With brilliant pacing and gorgeous prose, acclaimed novelist Greg Garrett tells the story of American TV journalist Calvin Jones, who travels to Paris to work with a producer friend he knows from their dark days covering the war in Iraq.

Cal Jones has had a quiet ten years, by design. After surviving the loss of two people he loved in the Iraq war, which he covered as a national correspondent, he fell apart and retreated to a local news job in Texas. Cal is still wrestling with those old demons when he goes to Paris to work with an old friend and encounters Nadia, a brilliant, lovely, and sad Saudi Muslim woman in Paris with plans to wed a Saudi sheikh in a family-arranged marriage.

Against his own better judgment, Cal falls for Nadia, even dragging her from the Seine when she attempts to solve her insoluble problem by taking her own life. He begins to risk a heart he thought was too badly broken to ever love again, and as the wedding ticks closer, to hope that perhaps Nadia can make a choice that includes him. Then their time rescuing each other is interrupted by the terror attack in Nice, which Cal is called out to cover. Back in that setting, Cal is thrown back into the memories of senseless violence and extremism that shattered him in Iraq—and that threaten to shatter him and his hopes now. Garrett's characters wrestle with the ghosts of their pasts, as they long for love, friendship, and faith in the present. Bastille Day is a gloriously-affecting novel about how our histories can damage us, but hope can heal us.
Available in eBook and Paperback
Releases April 4th
A haunting legend. An ominous curse. A search for a secret buried deep within the castle walls.

In 1870, orphaned Daisy François takes a position as housemaid at a Wisconsin castle to escape the horrors of her past life. There she finds a reclusive and eccentric Gothic authoress who hides tales more harrowing than the ones in her novels. As women disappear from the area and the eerie circumstances seem to parallel a local legend, Daisy is thrust into a web that could ultimately steal her sanity, if not her life.

In the present day, Cleo Clemmons is hired by the grandson of an American aristocratic family to help his grandmother face her hoarding in the dilapidated Castle Moreau. But when Cleo uncovers more than just the woman's stash of collectibles, a century-old mystery and the dust of the old castle's curse threaten to rise again . . . this time to leave no one alive to tell the sordid tale.

Award-winning author Jaime Jo Wright seamlessly weaves a dual-time tale of two women who must do all they can to seek the light amid the darkness shrouding Castle Moreau.
Available in eBook, Audiobook, Hardcover, and Paperback
Dawn's Untrodden Green (Regency Wallflowers Book 3)
Carolyn Miller
Releases April 4th
Not much happens in Theodosia Stapleton's tiny Northumberland village. Certainly not to her. She has resigned herself to spinsterhood, caring for her ailing mother in the home of her grandfather, known to the locals as "General Contrary." When her dear friend dies and leaves behind a daughter, it's simple enough to take the child into her own quiet world. That is, until her ward's famous uncle unexpectedly arrives and throws Theo's tidy orbit completely off-kilter.

Fame was the last thing Daniel Balfour sought when he fought in the Peninsular War. But his brave exploits caught the attention of the King, and now the honors he was given hound him everywhere . . . even on his rushed trip to rescue his orphaned niece.

Theo's quick wit and warm smile reassure him that Rebecca is in good hands, and he finds himself free to swiftly return to London and his responsibilities. But those caring hands are beginning to look like they could also safely hold his heart, and he's tempted to linger. Unfortunately, marriage is simply not in the cards; the army is spouse enough for him.

Then an accident and a scandal lead both Theo and Daniel to discover that their best-laid plans may not have been what God designed for them after all.
Available in eBook and Paperback
The Words We Lost (A Fog Harbor Romance Book 1)
Nichole Deese
Releases April 11th
Three friends. Two broken promises. One missing manuscript.

As a senior acquisitions editor for Fog Harbor Books in San Francisco, Ingrid Erikson has rejected many a manuscript for lack of defined conflict and dramatic irony–two elements her current life possesses in spades. In the months following the death of her childhood best friend and international bestselling author Cecelia Campbell, Ingrid has not only lost her ability to escape into fiction due to a rare trauma response, but she's also desperate to find the closure she's convinced will come with Cecelia's missing final manuscript.

After Ingrid jeopardizes her career, she fears her future will remain irrevocably broken. But then Joel Campbell–the man who shattered her belief in happily-ever-afters–offers her a sealed envelope from his late cousin, Cecelia, asking Joel and to put their differences aside and retrieve a mysterious package in their coastal Washington hometown.

Honoring Cecelia's last request will challenge their convictions and test their loyalties, but through it all, will Ingrid and Joel be brave enough to uncover a twice-in-a-lifetime love?
Available in eBook, Audiobook, Hardcover, and Paperback
Blind Trust (Snap Agency Book 3)
Natalie Walters
Releases April 11th
When Lyla Fox receives a threatening letter from a man she put in prison, she uncovers clues that lead to a deadly government conspiracy–making her a target that fellow SNAP Agent Nicolás Garcia will protect at all costs. But working with Lyla proves to be more dangerous than he expects–for the mission and for his heart.
Available in eBook, Audiobook, Hardcover, and Paperback
Releases April 15th
Understanding her past may be the key to her future…
When Olivia Larson finally escaped her childhood home and abusive mother, she never imagined she would have to relive the trauma of her past. Yet, after complications during childbirth, God sends Olivia on a journey back through her life. Desperately, she scrambles to hear God in the midst of her memories. With every moment she relives, Olivia draws closer to a life-changing realization, one that will forever alter how she loves herself, others, and God. Will it be too late for Olivia to get back to her family or will God give her another chance at life?
Available in eBook and Paperback
Releases April 18th
The Year of Jubilee is a lyrical coming-of-age novel set against the backdrop of the turbulent South in the early 1960s.

The Mockingbird family has always lived peacefully in Jubilee, Kentucky, despite the divisions that mark their small town. Until the tense summer of 1963, when their youngest child, Isaac, falls gravely ill. Middle sister Grace, nearly fourteen, is determined to do whatever it takes to save her little brother. With her father and mother away at the hospital, Grace
is left under the loving but inexperienced eye of her aunt June, with little to do but wait and worry. Inspired by a young teacher's mission for change, she begins to flirt with danger―and with a gifted boy named Golden, who just might be the key to saving Isaac's life. Then the unthinkable happens, and the world as she knows it shifts in ways she never could have imagined. Grace must decide what she believes amid the swirling, conflicting voices even of those she loves the most.

From gifted songwriter Cindy Morgan comes this lyrical, tender tale of a girl standing at the threshold of adulthood, learning the depths of the human heart and the bonds of family that bend, break, and bind together over and over again.
Available in eBook, Audiobook, Hardcover, and Paperback
Releases April 18th
When a group of Kansas women start a Frauenverein, a benevolent society devoted to aiding widows and orphans, life changes for more than just the hurting people they seek to help in this heartwarming romance inspired by historical events—from the bestselling author of Freedom's Song.

With classes paused for the planting season, Alexandertol's schoolteacher Augusta Dyck is glad for some meaningful work to occupy her time. She even knows exactly who their town's benevolence society should help first: quiet, reserved widower Konrad Rempel and his young twin sons.

Konrad Rempel, however, is adamant that he doesn't want help. His boys are mischievous but good-hearted. And though Konrad may be struggling, he doesn't want anyone else sticking their nose in and telling him what his sons need. Or what he needs.

For her part, the charity's founder Martina Krahn is relieved to have a reason to spend time outside her unhappy home. It even occurs to her that she may, through her work, encounter a boy in need of a family and so find a son for her husband since they have no children of their own.

Augusta, Konrad, and Martina each have deep needs and desires, and each imagines how they should be met: by reaching out or by being left alone. But God, indeed, knows best. Will the competing agendas of Alexandertol's residents prevent them from receiving God's help? Or will the members of this small Mennonite community find the answers to their prayers in the very last place they expect—in one another?
Available in eBook, Audiobook, and Paperback
May Books
Releases May 2nd
Jimmy Propfield joined the army for two reasons: to get out of Mobile, Alabama, with his best friends Hank and Billy and to forget his high school sweetheart, Claire.

Life in the Philippines seems like paradise–until the morning of December 8, 1941, when news comes from Manila: Imperial Japan has bombed Pearl Harbor. Within hours, the teenage friends are plunged into war as enemy warplanes attack Luzon, beginning a battle for control of the Pacific Theater that will culminate with a last stand on the Bataan Peninsula and end with the largest surrender of American troops in history.

What follows will become known as one of the worst atrocities in modern warfare: the Bataan Death March. With no hope of rescue, the three friends vow to make it back home together. But the ordeal is only the beginning of their nearly four-year fight to survive.

Inspired by true stories, The Long March Home is a gripping coming-of-age tale of friendship, sacrifice, and the power of unrelenting hope.
Available in eBook, Audiobook, and Hardcover
Releases May 2nd
A surprise inheritance. A cache of family secrets. A choice that will change her life forever.

Lillian Doyle has lived her entire high-society life with her widowed mother, believing her father died long ago. But when news arrives that her estranged father only recently passed away–in jail–Lillian is startled to find that the man has left a business and all of his possessions to her, making her a rather unusual heiress.

When she goes to take possession of her father's house in a backwoods Georgia town, the dilapidated structure is already occupied by another woman who claims it was promised to her son, Jonah. In her attempts to untangle the mess, Lillian will discover not only a family she never knew she had but a family business that is more than meets the eye–and has put a target on her back.

To discover the truth and take hold of the independence she's always dreamed of, she'll have to make friends with adversaries and strangers–especially Jonah, the dusty and unrefined cowboy who has secret aspirations of his own.
Available in eBook, Audiobook, Hardcover, and Paperback
In This Moment (Timeless Book 2)
Gabrielle Meyer
Releases May 2nd
Maggie inherited a gift from her time-crossing parents that allows her to live three separate lives in 1861, 1941, and 2001. Each night, she goes to sleep in one time period and wakes up in another. Until she turns twenty-one, when she will have to forfeit two of those lives–and everyone she knows in them–forever.

In 1861, Maggie is the daughter of a senator at the outbreak of the Civil War, navigating a capital full of Southern spies and wounded soldiers. In 1941, she is a navy nurse, grappling with her knowledge of the future when she joins a hospital ship going to Pearl Harbor. And in 2001, she's a brilliant young medical student, fulfilling her dream of becoming a surgeon.

While Maggie has sworn off romance until she makes her final choice, an intriguing man tugs at her heart in each era, only complicating the impossible decision she must make, which looms ever closer. With so much on the line, how can Maggie choose just one life to keep and the rest to lose?
Available in eBook, Audiobook, Hardcover, and Paperback
The Secret to Happiness (Cape Cod Creamery Book 2)
Suzanne Woods Fisher
Releases May 2nd
Fired from her dream job after making a huge mistake, Callie Dixon lands at her aunt's Cape Cod ice cream shop, hoping that in time, she'll bounce back. But she made that mistake for a reason that time won't help. When her cousin drags her to a class on happiness, the instructor–curiously gloomy and demanding–has a way of turning her feelings upside down.
Available in eBook, Audiobook, Hardcover, and Paperback
Releases May 2nd
Leedswick Castle has housed the Alnwick family in the English countryside for generations, despite a family curse determined to destroy their legacy and erase them from history.
1870. After a disastrous dinner at the Astor mansion forces her to flee New York in disgrace, socialite Beatrice Holbrook knows her performance in London must be a triumph. When she catches the eye of Charles Alnwick, one of the town's most enviably titled bachelors, she prepares to attempt a social coup and become the future Marchioness of Northridge. Then tragedy and scandal strike the Alnwick family, and Beatrice must assume the role of a lifetime: that of her true, brave self.
1917. Artist Elena Hamilton arrives in Northumberland determined to transform a soldier's wounds into something beautiful. Tobias Alnwick's parents have commissioned a lifelike mask to help their son return to his former self after battle wounds partially destroyed his face. But Elena doesn't see a man who needs fixing—she sees a man who needn't hide. Yet secrets from their past threaten to chase away the peace they've found in each other and destroy the future they're creating.
1945. Alec Alnwick returns home from the war haunted but determined to leave death and destruction behind. With the help of Brigitta Mayr, the brilliant young psychoanalyst whose correspondence was a lifeline during his time on the Western Front, he reconstructs his family's large estate into a rehabilitation center for similarly wounded soldiers. Alec's efforts may be the only chance to redeem his family legacy—and break the curse on the Alnwick name—once and for all.
Three beloved authors share stories of the Alnwick family through the generations, revealing how love and war can change a place—but only its people can unshackle it from the misdeeds of the past.
Available in eBook, Audiobook, and Paperback
Releases May 9th
If all the world's a stage, Jacci will play her part.

She only hopes her story does not turn out to be a tragedy.

In 1881, Jacci Reed is only five years old when a man attempts to kidnap her from the steamboat her mother, Irena, works on. Badly wounded during the confrontation, Irena takes Jacci aboard the Kingston Floating Palace, a showboat tied up beside them. There, Jacci's actor grandfather tends to her mother and Jacci gets a first taste of the life she will come to lead.

Fifteen years later, Jacci is an actress aboard the Kingston Floating Palace, and largely contented with her adopted family of actors, singers, and dancers. Especially Gabe, who has always supported her, and the gruff grandfather she has come to know and love. Jacci's mother has been gone for years, but the memory of the altercation that ultimately took her life–and the cryptic things Jacci has overheard about her past–is always there, lurking in the back of her mind.

When someone on the showboat tries to kill Jacci, it's clear her questions demand answers. But secrets have a way of staying in the shadows, and the answers she craves will not come easily. Gabe only hopes they come in time for him and Jacci to have a future together.
Available in eBook, Audiobook, Hardcover, and Paperback
Releases May 9th
Home is not a place—it's a feeling.
Casey Black needs an escape. When her picture-perfect vow renewal ceremony ends in her being left at the altar, the former model turned social media influencer has new fame—the kind she never wanted. An embarrassing viral video has cost her millions of followers, and her seven-year marriage is over. With her personal and business lives in shambles, Casey runs from New York City to South Carolina's Lowcountry hoping to find long-lost family. Family who can give her more answers about her past than her controlling mom-slash-manager has ever been willing to share.
What Casey doesn't expect is a postcard-worthy property on a three-hundred-acre farm, history, culture, and a love of sweet tea. She spends her days caring for the land and her nights cooking much needed Southern comfort foods. She also meets Nigel, the handsome farm manager whose friendship has become everything she's never had. And then there are the secrets her mother can no longer hide.
Through the pages of her great-grandmother's journals, Casey discovers her roots run deeper than the Lowcountry soil. She learns that she has people. A home. A legacy to uphold. And a great new love story—if only she is brave enough to leave her old life behind.
Available in eBook, Audiobook, and Paperback
Releases May 16th
They must uncover the truth before it's buried forever.

After witnessing a wrongful conviction as a young girl, Rebecca Whitman–the first female court reporter in Montana–is now determined to defend the innocent. During a murder trial, something doesn't sit well with her about the case, but no one except the handsome new Carnegie librarian will listen to her.

Librarian Mark Andrews's father sent him to college hoping he would take over the business side of the family ranch, but Mark would rather wrangle books than cows. When a patron seeks help with research in hopes of proving a man's innocence, Mark is immediately drawn to her and her cause.

In a race against time, will Rebecca and Mark find the evidence they need–and open their hearts to love–before it's too late?
Available in eBook, Audiobook, Hardcover, and Paperback
Counter Attack (Pearl River Book 1)
Patricia Bradley
Releases May 16th
No sooner has Alexis Stone been sworn in as the interim sheriff for Russell County, Tennessee, when a serial killer dubbed the Queen's Gambit Killer strikes again–this time in her hometown. Pearl Springs is just supposed to be a temporary stop along the way to Alex's real dream: becoming the first female police chief of Chattanooga. But the killer's calling card–a white pawn and a note with a chess move printed on it–cannot be ignored.

Pearl Springs chief of police Nathan Landry can't believe that his high school sweetheart Alexis (he refuses to call her Alex) is back in town, and he can't help wanting to protect the woman he never stopped loving. But as the danger mounts and the killer closes in, can Nathan come through on the promises he makes to himself to bring a killer to justice before it's too late.
Available in eBook, Hardcover, and Paperback
Releases May 16th
She's Insta-famous. He uses a flip phone.
When her business partner is accused of serious financial crimes, superstar influencer Cat Cranwell—an engineered marvel of beauty, energy, and fun—falls from her penthouse perch. Des­perate to get away from the online trolls and paparazzi docu­menting her disgrace, Cat accepts her uncle's offer to work with him in Kannery National Park, Montana. About as far as possible from life as she's known it.
Cat's world shifts from the swirling haze of likes and comments to lit­eral blizzards of frostbite temperatures and waist-deep snow. In place of negotiating brand deals, she finds herself negotiating at the ledge of a frozen lake with her die-hard Polar Bear Plunge coworkers. Instead of padding through the marble kitchen of her Manhattan loft, she's sharing a tent-sized cabin with a roommate eager to bond like characters in sitcoms. But something curious is also happening in this overwhelming breath of fresh air as she reacquaints with the most honest parts of her­self and begins to ask the hard questions. Can Cat love herself with, and without, the world watching?
Then there's that other tiny problem—she's falling for Zaiah, the ruggedly handsome park ranger—and he hates anything remotely connected to social media, quite possibly her included.
Available in eBook, Audiobook, and Paperback