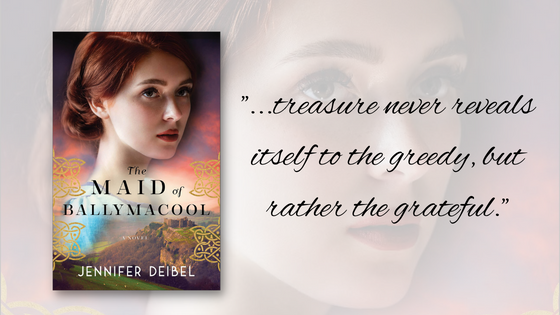 The Maid of Ballymacool is the first book I've read from Jennifer Deibel, but it definitely won't be my last. It takes place in County Donegal, Ireland in 1935, so obviously, it is historical fiction. And romance. Read the description, read my review, and then get yourself a copy!
The Maid of Ballymacool releases February 21st
Book Description
---
Brianna Kelly was abandoned at Ballymacool House and Boarding School as an infant. She has worked there since she was a wee girl and will likely die there. Despite a sense that she was made for something more, Brianna feels powerless to change her situation, so she consoles herself by exploring the Ballymacool grounds, looking for hidden treasures to add to the secret trove beneath the floorboards of her room.

When Michael Wray, the son of local gentry, is sent to Ballymacool to deal with his unruly cousin, he finds himself drawn to Brianna, immediately and inescapably. There is something about her that feels so . . . familiar. When Brianna finds a piece of silver in the woods, she commits to learning its origins, with the help of Michael. What they discover may change everything.

Fan favorite Jennifer Deibel invites you back to the Emerald Isle in the 1930s for this fresh take on the Cinderella story, complete with a tantalizing mystery, a budding romance, and a chance at redemption.
My Review
---
The Maid of Ballymacool is a story of finding our identity in Christ, and His purpose for our lives, even when we feel like giving up the search.
That is exactly what Brianna Kelly wanted: To give up. To accept the fact that she would never know who she truly was, and the fact that she would be nothing more than a maid at the Ballymacool House and Boarding School for Girls. She wasn't even treated like an actual member of staff, but rather as an indentured servant. As to why this was, she could never understand, but she tried to remain grateful for what she did have, and she continued to seek God in all things.
If you're a believer, you know God always has a plan, and that He works all things for the good of those who love Him (Romans 8:28). Sure, His plan for Brianna took twenty years to come to fruition, but we know that God's timing is perfect even if we don't understand the delay.
And we also know that God likes to use others to execute His plan.
Michael Wray was not a stereotypical member of the ascendancy class he had been raised in, and preferred to spend time with the people of the community. That, or getting lost in a good book. Honestly, who could blame him? Originally, he was sent to Ballymacool House to reign in his cousin, Adeline (who was dealing with her own issues of identity). It seemed, though, that there was more Michael was being called to during his stay. It started with small changes to the school's mealtime routines, but expanded beyond the dining hall when he met a certain young maid searching for something she had lost.
When I first started reading this novel, I thought of it as a Cinderella story. I even read other reviews that expressed the same. However, that description isn't completely accurate. I would say this is a Cinderella-meets-Rapunzel story, or even just Rapunzel. Either way, it was an enjoyable read, and I loved watching how the characters interacted with each other. Honestly, all the characters had their own little spotlight at times, each with a personality that came through to add to the story, and some with more knowledge of the past than they let on.
Jennifer Deibel took great care to make sure everything had a purpose in the story as she took us on a treasure hunt, searching for answers about Brianna's past and who she was called to be in the present.
I also appreciated the attention God received in this story. No matter what happened to Brianna, no matter how difficult her life became, she never forgot Who made her, and always sought to please Him.
The one thing I will mention is the use of Irish/Gaelic words. Of course, being set in Ireland you would want to have them in there, but I found myself constantly heading to the net to look up what they meant. Context clues weren't always enough to help with the translation, and I didn't realize at the time that there was a glossary in the back that would have saved me some time. If you read this book, make sure to keep the glossary handy!
Regardless of that tiny little setback, The Maid of Ballymacool is a book I would recommend, especially to those who love historical fiction with a bit of intrigue and a strong Christian message.
I received a copy of The Maid of Ballymacool by Jennifer Deibel thanks to Revell and NetGalley. Opinions are my own.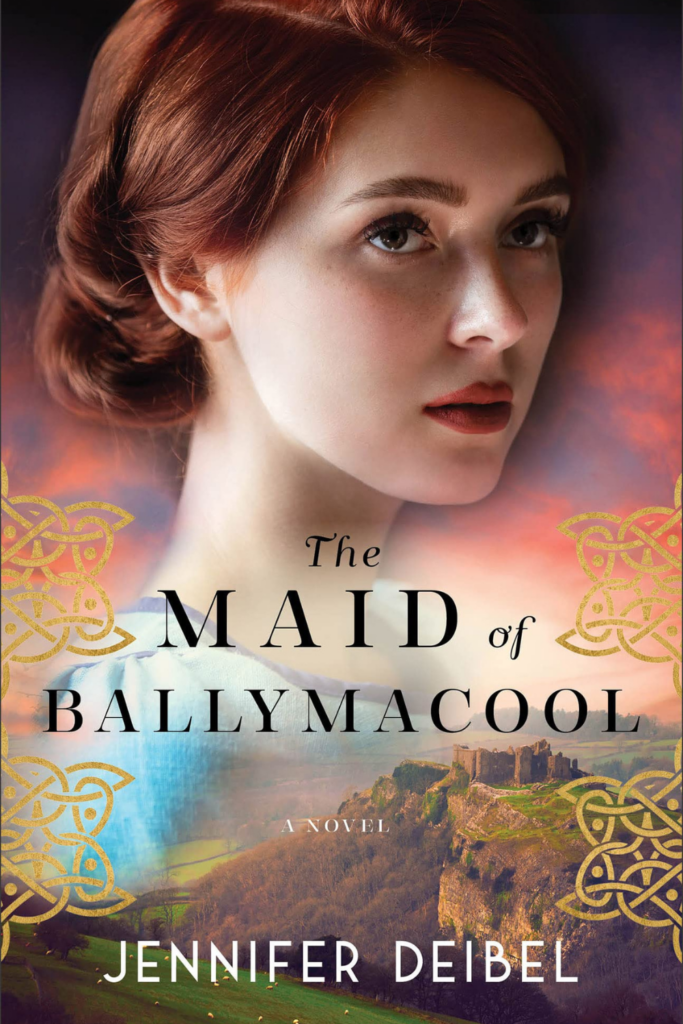 ---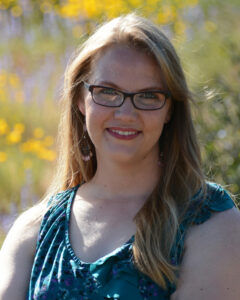 Jennifer Deibel is the bestselling and award-winning author of A Dance in Donegal and The Lady of Galway Manor. She's also a middle school teacher whose work has appeared on (in)courage, on The Better Mom, in Missions Mosaic magazine, and others. With firsthand immersive experience abroad, Jennifer writes stories that help redefine home through the lens of culture, history, and family. After nearly a decade of living in Ireland and Austria, she now lives in Arizona with her husband and their three children. You can find her online at www.jenniferdeibel.com .

Learn more about Jennifer Deibel on her website
---