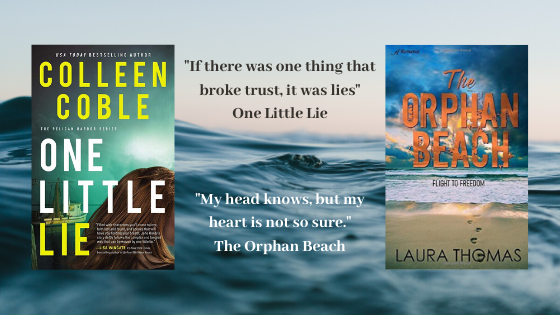 Today I've decided to review two books in one post. Both novels have already released this year and are ready to be read. Both are in the suspense genre, with Orphan Beach having more of a romantic twist. Both are also one book of a series. Orphan Beach is Book 3/3 of the Flight to Freedom series, and One Little Lie is book 1/3 of the Pelican Harbor series. Both get 5 stars from me.
---
The Orphan Beach
by Laura Thomas
The Orphan Beach is the third and final book of the Flight to Freedom series, and I have to say that it is, without a doubt, the best of the three.
On the day of her mother's funeral, Juliet Farr's detective ex-boyfriend Max arrives with news of an unidentified man nicknamed the Red Herring by the police who has been traveling up the west coast attacking nurses with red hair. Though Max was aware Juliet has not been working since she took off time from the hospital to care for her mother, he still feels it his duty to protect her and her beautiful red locks.

Though Juliet begins to fear – a little – for her safety, what bothers her most is the reason why Max broke up with her and headed up the coast, a reason she was never told. When he shows back up in her life, she is unsure what she wants to do, even when Max admits his reason and tells her that he still loves her.
Needing an escape from a man who could be targeting her at that very moment and from a man who gave her no chance to make her own decision, Juliet boards a plane for Mexico where she stays with her two missionary friends, Luke and Madison. This is also the place where Juliet would bury the ashes of her mother's manuscript, one written to reveal her mother's difficult past, something that was always kept hidden from Juliet until her mother passed away.
As the case always tends to be with Laura Thomas' novels, I grew to love the characters. While Juliet and Max were a part of the second novel, The Lighthouse Baby, the main focus in that story was on Bella and Adam. The Orphan Beach not only gave me the opportunity to focus on Juliet and Max, but it also cleared up questions I had about Juliet's mother, Pippa, who was also a character in book two.
The "mini-reunion" of sorts in book three with all six main characters – Madison and Luke started it off with the first book, The Glass Bottom Boat – was a fun addition to the story.
The author has a way of keeping me on the edge of my seat and trying to figure out what exactly is happening, and why. I had a few different scenarios in my head, none of which were correct. I enjoyed the twist that was the truth.
This book hit me personally as Juliet struggled with trusting God. It could not have come at a better time for me, as that week was a rough one. God wasn't shoved down the throats of the reader but was gently placed before them with a chance from them to make their own decisions.
The books in the Flight to Freedom series can be read as stand-alone novels, but I would start with Book one and follow the lives of each main character duo in succession, especially books two and three. I'm sad to see this series end, but I'm looking forward to see what Laura Thomas will write next.
One Little Lie
by Colleen Coble
When you are so invested in a story that you catch yourself suddenly praying for one of the characters, that's when you know the story is a winner. That is exactly what I did while reading One Little Lie by Colleen Coble.
The story begins in a prologue fifteen years prior to the rest of the novel. A fourteen-year-old girl named Button gives birth to a son shortly before a police raid bursts into the compound in which she resides with the rest of the cult her parents entered when she was only five. With the place burning, she and her father make their escape, but not before her father delivers devastating news: Button's son is dead.
Pelican Harbor is a small town in Alabama, and Jane Hardy has been given the news that she is the new chief of police after her father's retirement. Not everyone is thrilled about this news, and with a string of murders recently popping up complete with the murderer's signature – a Kennedy half-dollar – suspicions abound, including Jane's father.
This novel was not just about these murder cases, however, nor did it just focus on the cases the police department had been following, crimes executed by a yet unknown offender the police called the vigilante. There was a human aspect to this story. When Reid Dixon and his fifteen-year-old son Will show up in Pelican Harbor to create a documentary about small-town law enforcement, the past that Jane has tried to forget springs to the surface, bringing with it old nightmares she thought had ended.
The pacing of this novel was perfect; it neither dragged nor did it rush. The characters took on their own personalities, from the most eccentric to the most humble, and I was interested to learn their backstories and see where they were going to end up, especially the three main characters.
Colleen Coble kept me on my toes. I struggled to decide who was guilty, and at times hoped that my assumptions were wrong. What I appreciated most was the fact that not only did the author keep me guessing until the wrap-up, she was kind enough to slowly leak certain information about another aspect I had my suspicions about. I was not left in the dark about everything.
Remember what I said in the beginning? It's true, but it wasn't about any of the main characters. There is a sweet four-year-old boy who got caught up in this whole mess, and when he went missing, I honestly caught myself praying for his safety. The words had already been written. His fate chosen. And yet, I threw up a quick prayer. I was that involved.
And speaking of prayers, God was present in this story. Reid and Will were believers and held strong to their faith while Jane struggled with the idea that God was good. Christianity wasn't in your face, but it was just enough.
By story's end, I wasn't ready to say goodbye to the lives of these characters I had just met. Though the case was solved, their stories were just beginning. I read to the end and was surprised to start reading the author's letter to her readers. What? No! It's done? Ah, but it will be continued in the second book of the Pelican Harbor series, Two Reasons to Run, which comes out in September 2020.
If you're into suspense with dynamic characters whose stories are just as good as solving a murder case, then read this book.
---

Flight to Freedom Series
Tears Trilogy
---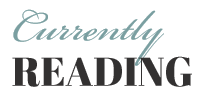 Disclosure: As an Amazon Associate, I do earn a very small commission from qualifying purchases.