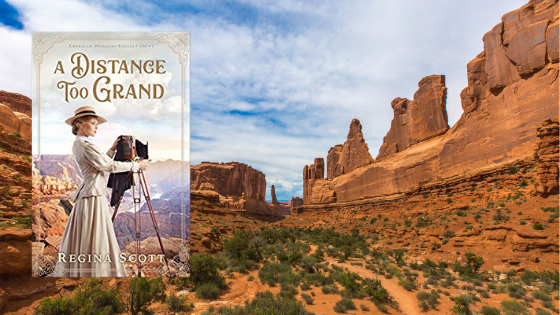 A Distance Too Grand by Regina Scott

My rating: 4 of 5 stars


"Perhaps she could fit in, just as she was. All she had to do was be herself."

In A Distance Too Grand, Regina Scott reminds us to rise above the world's expectations simply by being ourselves. The main characters, Ben Coleridge and Meg Pero, do just that. They go against who they are told to be and embrace who they truly are. Instead of following the generational path his father wants for him, Ben chooses his own, that of an engineer. Meg goes against her aunt as well as the constraints of society placed upon a woman of her time. She defies convention, denies marriage, and follows her father's path of a landscape photographer.

The story follows the sweet romance between Ben and Meg, a romance that once was and possibly could be again. The slow build, the slow kindling of old feelings, was a journey of its own. Though the ending was, perhaps, a little odd, it utilized the humor that wove its way through the story.

I enjoyed the characters, each with their own quirks. Meg and Dot especially were strong female characters with a quick wit I could identify with. The men were given certain insecurities that seemed to resolve in part because of Meg's listening ear and kind words, as well as the ability to meddle.

God was very much present on this journey through the Grand Canyon. Scripture was read, hymns were sung, prayers were spoken. There was even a moment where Ben remembered that God was the One who could always be counted on.

I would love to give this novel five stars, but something was lacking. Plot development seemed to drag, and was perhaps a bit dry, leaving my mind free to wander more often than I would have liked. Though I enjoyed the characters, the minor ones were difficult to keep straight, and character growth was somewhat lacking.

All in all, this was a great book, and I would recommend it to anyone looking for a light historical-fiction read.

This book was provided courtesy of Baker Publishing Group, Revell Division, through Interviews & Reviews.




View all my reviews
---
A little more about this book
A Distance Too Grand takes place in 1871 and follows the journey of a military survey expedition of the Grand Canyon. The two main characters, Ben and Meg, once courted years before back in West Point, New York. But for reasons she once found credible, Meg turns down Ben's proposal and continues on with her travels alongside her father, a landscape photographer.
After her father dies, Meg Pero finds a contract he had with the military to take photographs of the Grand Canyon with the survey team. Seeing this as her only chance at making it on her own and ridding herself of her stuffy aunt (whose name, I'm sad to say, is Abigail), Meg takes advantage of the fact that the contract only says M. Pero, and not Matthew. Meg dreams of the open land, and never once flirts with the idea of giving up the craft her father taught her from a very young age.
Being a woman during this time period, however, tends to make the life she wants difficult, but she is bound and determined to make it work, and she does not take "no" for an answer.
When Meg finally arrives in Arizona after her long trip from Virginia, she finds herself face-to-face with opposition once again based upon her sex. She also learns that the commanding officer of the team she is to assist is none other than Ben Coleridge, the man whose proposal she turned down years ago.
Ben is on a double mission out in the Grand Canyon, one the team knows, and one he must keep hidden until the appropriate time. The first is surveying for a road, and the second is finding a clue to the mystery that surrounds the disappearance of his father.
He is the second man in Arizona to tell Meg "no," but after a convincing speech from her, Ben allows her to assist in the mission.
What follows next is photographic glory, new friendships, the truth of the mystery unfolding, questionable characters, Meg's arrest, and a turning of the tables.
A Distance Too Grand is the first book of the American Wonders Collection.
---

Thanks for visiting my home on the web. As the author of more than forty-five historical romances, I'd love to share my passion for history with you!
You'll find interesting articles on pasttimes and customs sprinkled among information about my sweet historical romance books. Explore and enjoy!
List of Books
A list of all Regina Scott's books can be found here
Find Regina Scott on Facebook