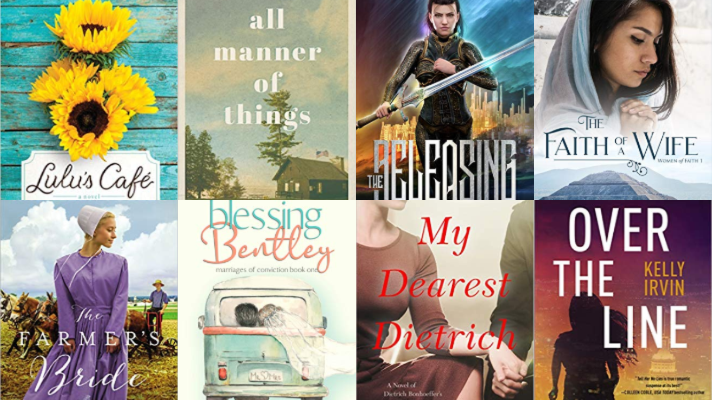 Check out these new Christian Fiction releases for June!
Perhaps you'll find something new and interesting in your favorite genre, or maybe you'll explore a new genre. Either way, I'd love to hear what books you choose and what you thought of them!
All descriptions are from Amazon.com

---
Already released in June:
Susie Finkbeiner
When Annie Jacobson's brother Mike enlists as a medic in the Army in 1967, he hands her a piece of paper with the address of their long-estranged father. If anything should happen to him in Vietnam, Mike says, Annie must let their father know.

Author Susie Finkbeiner invites you into the Jacobson family's home and hearts during a time in which the chaos of the outside world touched their small community in ways they never imagined.
T.I. Lowe
When a damaged young woman is given a chance to reclaim her life in a small South Carolina town, she must reckon with the dark secrets she left behind in order to accept the love she deserves.
Exploring the resiliency of both the heart and the spirit, Lulu's Café gorgeously illustrates how old scars can finally heal no matter how deep they seem.
Cathy Gohlke
For fans of bestselling World War II fiction like Sarah's Key and The Nightingale comes an illuminating tale of courage, sacrifice, and survival, about two couples whose lives are ravaged by Hitler's mad war yet eventually redeemed through the fate of one little girl.
Inspired by true events of Poland's darkest days and brightest heroes, The Medallion paints a stunning portrait of war and its aftermath, daring us to believe that when all seems lost, God can make a way forward.
Roseanna M. White
Three years into the Great War, England's greatest asset is their intelligence network–field agents risking their lives to gather information, and codebreakers able to crack every German telegram. Margot De Wilde thrives in the environment of the secretive Room 40, where she spends her days deciphering intercepted messages. But when her world is turned upside down by an unexpected loss, for the first time in her life numbers aren't enough.
Amid biological warfare, encrypted letters, and a German spy who wants to destroy not just them but others they love, Margot and Drake will have to work together to save themselves from the very secrets that brought them together.

Karen Witemeyer
After fulfilling a pledge to a dying friend, Zacharias Hamilton is finally free. No family entanglements. No disappointing those around him. Just the quiet bachelor existence he's always craved. Until fate snatches his freedom away when the baker of his favorite breakfast bun is railroaded by the city council. Despite not wanting to get involved, he can't turn a blind eye to her predicament . . . or her adorable dimples.
Kathleen Fuller
Martha Detweiler has a problem many Amish women her age would envy: she's the only single woman in a community of young men, and they're all competing for her favor. Overwhelmed by the unwanted attention, Martha finds herself constantly fleeing from her would-be suitors, dismayed at what her life has come to.
Birch Creek's resident matchmaker, Cevilla Schlabach, suggests a solution: Martha and the bishop's son, Seth Yoder, should pretend they are dating. What better way to keep the other young men away?
J.M. MacLeod
The inception of a spiritual odyssey begins . . .

Artka, once a nobleman's son, is now a Carnalian soldier fighting a war against Ecclessa, which is said to be ruled by a ruthless Magician.

Lost in the forest while escaping tophets, Artka is pierced by an Ecclessite's kingsman sword-but the sword does not immediately harm nor kill. To survive the piercing and heal his heart's wound, Artka seeks Logon who waits at the rock where he was slain, only to learn a new brigade is soon to be created and Artka is to be a kingsman of it.
Heather Chapman
The only place Ivy Linfield feels truly uninhibited is within the walls and gardens of Bridgestone. There, she is free of society's expectations and her worries of the future. With the death of Lord Percival Barrington, the only grandfather figure she's ever known, Ivy is torn between the grief of losing him and her beloved summer home.
Losing Bridgestone, even to one as worthy and handsome as Percival's great-nephew Henry, seems cruel and unfair. So when Ivy learns of a provision in the will, she is more than willing to go to great lengths to secure the inheritance for herself. The only catch? Ivy must marry a man that fits a list of requirements before the season ends.
Releasing soon!
Authors love it when you pre-order. This helps their books to be seen from day one. If you're interested in purchasing the book anyway, why not pre-order? This also helps you receive the lowest price!

By Amanda Barratt
Available June 9th
Renowned German pastor and theologian Dietrich Bonhoeffer is famous for his resistance to the Nazi regime and for his allegiance to God over government. But what few realize is that the last years of his life also held a love story that rivals any romance novel.
Maria von Wedemeyer knows the realities of war. Her beloved father and brother have both been killed on the battlefield. The last thing this spirited young woman needs is to fall for a man under constant surveillance by the Gestapo. How can she give another piece of her heart to a man so likely to share the same final fate? Yet when Dietrich Bonhoeffer, an old family friend, comes to comfort the von Wedemeyers after their losses, she discovers that love isn't always logical.
By Kelly Irvin
Available June 11th
Gabriella has never forgiven her former fiancé, homicide detective Eli Cavazos, for breaking her heart. Then a man she's never met shows up at her restaurant, a bullet in his chest and her brother's name on his lips. Gabby soon realizes this man is connected to a powerful ring of criminals who know far too much about her.
Against her better judgment, Gabby turns to Eli for help in finding her brother. When she receives a cryptic text from her brother's cell phone, she realizes she is in deep and may be dragging Eli down with her. With her brother nowhere to be found and pain from her past threatening to overwhelm her, Gabby wonders how she will make it through this unexpected quest unscathed—or alive.
Mary Alice Monroe
Available June 11th
Late August is a beautiful time on the Southern coast—the peach trees are ripe, the ocean is warm, and the sweet tea is icy. A perfect time to enjoy the rocking chairs on the porch. But beneath the calm surface bubbles a threat: it's also peak hurricane season.

When a hurricane threatens the coasts of Florida and South Carolina, an eclectic group of evacuees flees for the farm of their friends Grace and Charles Phillips in North Carolina: the Phillips's daughter Moira and her rescue dogs, famed equestrian Javier Angel de la Cruz, makeup artist Hannah McLain, horse breeder Gerda Klug and her daughter Elise, and island resident Cara Rutledge. They bring with them only the few treasured possessions they can fit in their vehicles. Strangers to all but the Phillips, they must ride out the storm together.

Chautona Havig
Available June 11th
Bentley Girard's about to propose… to a guy she doesn't even love.
Not THAT way anyway.
After studying everything the Bible has to say about marriage, she's decided she wants in. Now. So who's going to take her up on that offer?
And just why did no one reminded her that those vows include that little word, "love?"
By L.A. Pattillo
Available June 14th
It is 85 B.C. in the Ancient Americas, and against all odds, Amulek and Tabitha's arranged marriage has turned into one based on love. Their little family is thriving and life seems to be better than they could have ever hoped for.
Despite her blessed and luxurious lifestyle, Tabitha feels as if something is missing. A part of her yearns for something she cannot see, something to fill the hole inside of her heart. However, no matter where she turns, she cannot find the cure, until she becomes intrigued by a man preaching of God in the town square.
VJJ Dunn
Available June 14th
If I knew that I'd be fighting demons in the afterlife, I woulda thought twice about where I spent eternity.
On second thought…Nah. I'm good here at Camp God. (Don't tell Him I called it that, 'kay?)
But seriously, I had no idea I'd be spending the new millennium training a bunch of halfhearted Remnants how to fight demons. But that's exactly what I've been doing for nine hundred ninety-nine years, eight months and four days.
Give or take.
Lisa Phillips
Available June 24th
Someone has Malvern County in a choke hold. Sheriff's Deputy Ellie Maxwell knows something is wrong in her town. When her boss tells her to drop the case, she reaches out to the only resident who can help her.
Drew Turner is a private investigator with more secrets than the town. But he's the only one Ellie can trust. The only one who can find out the truth.
Ellie and Drew have to figure out what's going on before the fallout destroys an entire town, and loneliness ends both of them.
Lisa Carter
Available June 25th
After aspiring opera singer Tessa loses her voice in a fire, she needs both a place to heal and a way to keep music in her life. She retreats to her aunt's apple orchard in rural North Carolina to collect folk ballads. But amid the autumn splendor of this isolated Appalachian community, she uncovers an unnerving connection between a murder case and a long-ago disappearance. Tessa gets a glimpse into an almost-forgotten world, encounters a corrupt, small-town political dynasty, and finds superstition and prejudice at every turn.
Robin Lee Hatcher
Available June 25th
When Ashley Showalter and Ben Henning meet on Ashley's horse rescue farm, they quickly discover how much they have in common. Both were raised by single moms. Both want to help where they see a need. And both work with horses in the Boise valley. Ben needs Ashley's help and expertise after starting an equine therapy barn on his great-great-grandfather's farm—and the more time they spend together, both Ashley and Ben have the feeling that there could be something more between them.
They also carry the burden of past experiences that may drive them apart if the truth is ever revealed.
Carrie Turansky
Available June 25th
After the tragic loss of their father, the McAlister family is living at the edge of the poorhouse in London in 1908, leaving their mother to scrape by for her three younger children, while oldest daughter, Laura, works on a large estate more than an hour away. When Edna McAlister falls gravely ill and is hospitalized, twins Katie and Garth and eight-year-old Grace are forced into an orphans' home before Laura is notified about her family's unfortunate turn of events in London. With hundreds of British children sent on ships to Canada, whether truly orphans or not, Laura knows she must act quickly. But finding her siblings and taking care of her family may cost her everything.
Anne Margaret Lewis
Dakhar Talin, a member of a cursed, telepathic people, is the new head of security for the Royal House of Emun. When the princess, Tasia, is kidnapped, Dakhar's investigation leads him to a sinister planet called Earth.
But inner demons from his military service torment him, threatening his sanity, integrity, and the success of his mission. Can he bring the princess home before he loses his soul to ever-corrupting madness?
Janet W. Ferguson
Available June 30th
Rivers Sullivan bears both visible and invisible scars—those on her shoulder from a bullet wound and those on her heart from the loss of her fiancé during the same brutal attack. Not even her background as an art therapist can help her regain her faith in humanity. Still, she scrapes together the courage to travel to St. Simons Island to see the beach cottage and art gallery she's inherited from her fiancé. When she stumbles upon recovering addicts running her gallery, she's forced to reckon with her own healing.
---
Just Finished
Reading Next
Listening to on Audible
Disclosure: As an Amazon Associate, I do earn a very small commission from qualifying purchases.