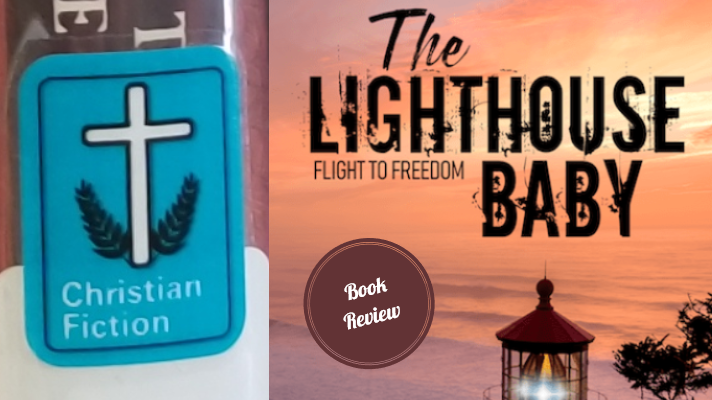 It's time for another book review! This book is the second of three books in
Laura Thomas' Christian romantic suspense series, Flight to Freedom.
---
From the very first word of Laura Thomas' new novel, The Lighthouse Baby, I was on edge. My heart was pumping fast, and I was immediately drawn in. I had not expected the story of Bella King to start off the way it had, but I think it was a great beginning to an enjoyable novel.
Orphaned as an infant, Bella was adopted into a not-so-loving family. Her childhood was rough to say the least, but she persevered. When she left home, she took a small piece of her unknown past with her and longed for the mother who gave her life.
But Bella was constantly running. Running from her known past, running for her life.
She had been on the run for six years and thought she had finally found a home in the small coastal town of Florence, Oregon. She had found new hope in Christ and people whom she could call family.
For the first time, Bella started to let people into her life. She worked for and befriended Pippa, the owner of a small book shop in town. Pippa's daughter, Juliet, and Bella became best of friends and roommates.
And then there was Adam, Bella's boyfriend, a God-fearing man whom Bella allowed herself to get close to.
Bella started to find peace and comfort where she was. The town, the people; it felt like home to her. It was a feeling she had really never experienced before.
She was also able to find comfort in the lighthouses that lined the Pacific coastline, often times taking refuge at her favorite one when she needed to calm her mind or do some writing. Writing was a way for Bella to have an outlet for her feelings.
Finally, Bella was able to start letting her guard down even if very slowly.
But one night threatened to change all of that. Bella's past had caught up to her, and the game of cat and mouse she had been playing with those from her past was coming to an end. Had Bella become too comfortable with her surroundings? Should she have already moved on?
LOVE
This story shows the love and commitment of family, even if those involved were not related by blood.
Bella could no longer hide her past from those she had grown to love, but instead of rejection, each person did their part to help protect Bella, and to find a solution to her very real, very dangerous problem. Though they feared the dangers, they were willing and wanting to do anything they could, even the real possibility of laying down their lives for her.
Their love for Bella was as strong as any close family would share.
TRUTH
Love is definitely a theme that runs throughout the entire length of the novel. Another theme is Truth. Bella's self-proclaimed life verse is John 8:32: "and you will know the truth, and the truth will set you free." It's this truth that Bella struggled with for so long. She hid her past, changed her name, and tried to live in a lie.
But that lie only kept her on the run. Perhaps being courageous and finally sharing the truth really would help to set her free.
Bella wasn't the only one keeping the truth hidden. Her boyfriend Adam had a skeleton in his closet that had once kept him from moving forward with his life, a secret from his childhood. He knew he had to share his past with Bella, but with all that she was going through, was it the right time?
Pippa had a past of her own filled with demons. What was her past like? Would we ever find out? And what about the secret she held onto that, unbeknown to her, would help with the puzzle Bella was trying to piece together?
MY THOUGHTS
I have to admit that I had a harder time getting into the characters of this book than I had in Thomas' previous book, The Glass Bottom Boat. This made for a slightly slower read at first, but eventually the characters found their way in.
As the story continued, I found myself wanting to know more. I wanted to know what exactly Bella's past had been, what had made her run away, who was after her, and how this 'game' would play out in the end.
Laura Thomas did a wonderful job slowly leaking out this knowledge; it kept me from wanting to put the book down. She is an amazing storyteller who has a grasp for detail that allows the scenes and characters to come alive.
Throughout the book, I never knew where my own emotions would take me. At times I was tense, waiting to see what, if anything, would happen at that moment. Other times I would laugh or even come close to tears. I found myself finally immersed in the book and in the lives of the characters.
Perhaps it is my own active imagination shining through, or a bit of cynicism, but there were plenty of times where I wondered if there was going to be a twist. Was this person who they really said they were, or are they working for the other side? Time would tell.
One thing I absolutely loved was the cameo appearances of Madison Grey and Luke Anderson from Thomas' book, The Glass Bottom Boat. Spoiler: They're now married – so, maybe I should say Madison and Luke Anderson?
Would I recommend this book? Very much so. Though it was my second favorite book in the Flight to Freedom series by Laura Thomas, it's well worth the read.
And now to wait for book number 3!
---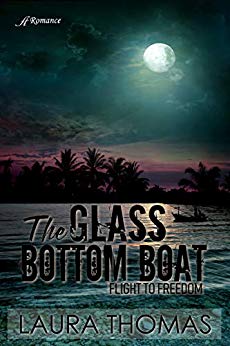 ---
Next up on my fiction reading list
Disclosure: As an Amazon Associate, I do earn a very small commission from qualifying purchases.